March 24, 2009 "In The Crosshairs"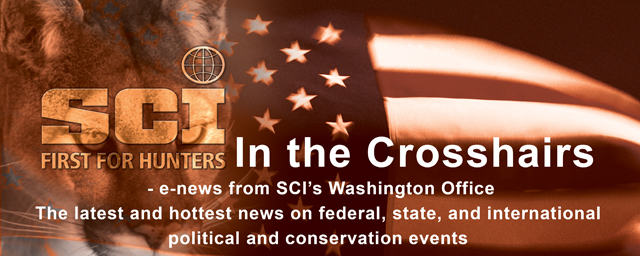 March 24, 2009


Court Reverses Rule Allowing Concealed Carry in National Parks and Refuges

Effective March 19th, 2009, a federal district court in Washington D.C. has set aside recent regulations that allow the concealed carry of firearms in National Parks and National Wildlife Refuges where permitted by state law. The Bush Administration adopted the rules in December 2008 after soliciting public comment on the rule change. In a case brought by anti-gun groups to challenge the concealed carry law, SCI represented the interests of hunters by filing an amicus brief. After a flurry of briefing, the D.C. Court granted a preliminary injunction in favor of the anti-gun plaintiffs, finding that the federal government failed to conduct the proper environmental review before adopting the new rules. Although the ruling is only a preliminary one, it prohibits the government from implementing the law, at least until the Court issues a final order in the case. The Court gave the government until April 20 to determine whether it will pursue the case, prepare the environmental review the Court found lacking, or drop the rules entirely. Prior to the ruling, the Obama Administration had independently decided to conduct a review of these rules and will now have to decide whether it will defend the regulations and appeal the decision. The NRA, who was also a party to the action, has already noticed an appeal.
Under the Court's Order, on March 19, 2009, the concealed carry of firearms in National Park units and National Wildlife Refuges is governed by the regulations that applied before the new rules went into effect last December. In other words, concealed carry is prohibited except in those circumstances specifically allowed by the previous set of regulations. SCI will continue to stay involved in this issue to protect the interests of SCI members.