March 30, 2007 "In The Crosshairs"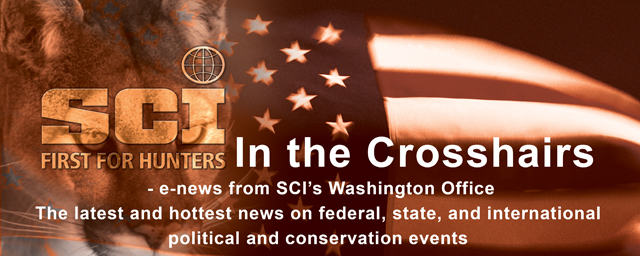 March 30, 2007


NWA Gun Fee Update


As you read in previous editions of In the Crosshairs, Northwest Airlines has eliminated their policy to charge "oversize" fees for overseas travel with long gun cases. Many of you asked about NWA's partner airline, KLM. These new guidelines apply to NWA / KLM flights originating in the U.S. Travelers unsure about regulations pertaining to flights originating or connecting in other countries can always print off NWA / KLM guidelines to present to the ticketing agents.
Many of you also asked how to say 'thank you' for the airline's speedy reversal. Please send your send comments to Doug Steenland, CEO, Northwest Airlines, 2700 Lone Oak Pkwy., Eagan, MN 55121, Fax: 612-726-7123.
U.S. travelers should also be aware that the federal government reviews complaints about airlines and their regulations. Travelers can contact the Department of Transportation by calling 202-366-2220 (record your complaint into voicemail), or by sending an email to airconsumer@dot.gov. Note that federal authorities can only investigate issues where they have jurisdiction, i.e. "lost baggage liability, late refunds, denied boarding on oversold flights, and civil rights, which include disability and discrimination issues," according to the Wall Street Journal. Clearly, hunters who are singled out for overcharge fees -- versus travelers with golf club or other bulky sporting equipment -- are victims of a form of discrimination. SCI members should bear this in mind when reporting your complaint.


USFWS Extends Public Comment Period On Wolf Delisting


The period for the public to comment on the U.S. Fish and Wildlife Service's proposal to delist the gray wolf in the northern Rocky Mountain states was extended until May 9, 2007. Comments should continue to be electronically mailed to NRMGrayWolf@fws.gov, or mailed to USFWS, 585 Shepard Way, Helena, MT 59601.
Also, in response to a request from Congresswoman Cubin of Wyoming, the Service will also hold a second open house and public hearing in the state of Wyoming at the Cody Auditorium in Cody, Wyo., on Thursday, April 19, 2007 with an open house from 3 p.m. to 5 p.m. and a public hearing from 6 p.m. to 8 p.m.
"The minimum recovery goal for wolves in the northern Rocky Mountains is 30 breeding pairs and at least 300 wolves for three consecutive years, a goal that was attained in 2002 and has been exceeded every year since. The Service believes that with approved state management plans in place in Montana and Idaho, threats to the wolf population will have been reduced or eliminated in those states. At this time, Wyoming does not have an approved state management plan for wolves. However, threats to those wolves will be reduced or eliminated by continued federal protection if Wyoming does not have an approved plan by the time the delisting proposal is finalized. The northern Rocky Mountain distinct population segment includes all of Montana, Idaho and Wyoming, the eastern one-third of Washington and Oregon, and a small part of north-central Utah." (Source: USFWS)


USFWS Officially Delists Yellowstone Population of Grizzly Bear


Regarding an issue in which SCI has long been involved, the U.S. Fish and Wildlife Service officially delisted the Yellowstone population of grizzly bear under the Endangered Species Act. With the removal of threatened status, management of the species reverts primarily to the affected States -- Idaho, Montana, and Wyoming -- and other federal agencies, such as the Forest Service and National Park Service, where federal lands are involved. The FWS will continue to monitor the status of the species for at least five years. The delisting represents an ESA success story that SCI had supported through comments and testimony back in 2006. Delisting will allow each State to determine if, when, and under what conditions to open hunting seasons on the grizzly bear and otherwise manage the species. The delisting becomes official on April 30, 2007. It is likely that animal rights and/or environmental groups will challenge the delisting in federal court. SCI will continue to be involved in this issue.


Comment on Giant Sequoia National Monument


There are a number of issues relating to management of Giant Sequoia National Monument in California which should concern you as sportsmen. One is a proposal from national environmental groups to move the Monument from Forest Service jurisdiction to the National Park Service; as you know, access to lands in the NPS system is limited and rarely is hunting allowed. In addition to this movement, the Forest Service is involved in a process called Recreation Sites Facility Master Plan (RSFMP) which would eliminate a number of developed recreation sites, including campgrounds, on Giant Sequoia National Monument and throughout the country. Sequoia National Forest is asking for comments by April 15, 2007. Information is available at the Forest Service website, http://www.fs.fed.us/r5/sequoia/projects/rsfmp/rsfmp.html. Background information on these and other issues relating to Sequoia National Forest can be found at the www.SequoiaFacts.org.


Refuge Funding an Issue


"Members of the House committee that oversees funding for the Interior Department criticized the agency's slim budget for the National Wildlife Refuge System, saying they would like to beef up its accounts to keep refuges from losing staff and shutting down. The Bush administration's fiscal 2008 budget request nearly flatlines funding for national wildlife refuges, and regional directors have said they will have to cut about 275 positions over the next three years. This is close to one-fifth of the refuge workforce. The Bush administration's budget request would allot $394 million for operations and maintenance at wildlife refuges, $12 million more than the refuges received in fiscal 2006 but still no where near the more than $1.5 billion apparently needed to address a maintenance backlog and rising operations costs."(Source: E&E Daily)


Careers: SCIF Looking for Conservation Manager in D.C.


SCIF is looking for a new Conservation Program Manager in our Washington, D.C. Office to replace Bob Byrne who left to join D.J. Case and Associates. Responsibilities include developing and carrying out conservation programs in the U.S., Africa and Asia, managing staff, developing and managing the conservation budget, and internal and external communications. If you know anyone who may be interested, please contact Ken Schwartz at kschwartz@sci-dc.org. This position would be in Washington, D.C.