April 6, 2007 "In The Crosshairs"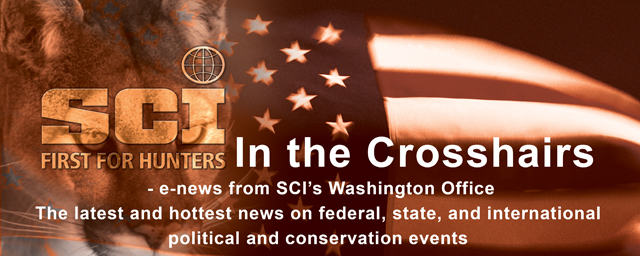 April 6, 2007


Small Victory for Sportsmen in Australia


In late March "The Shooters Party" of Australia managed to double its representation in the New South Wales state elections. This victory brings the grand total to only two Senators in the Legislative Council (out of 42), but still gives the "The Shooters Party" a larger voice in the state and presents a growing political threat for anti-gun, anti-hunting members of the legislative body. Australia introduced very restrictive gun licensing in 1996 and banned the private ownership of all semi-automatic longarms, including pump-action shotguns. They also embarked on a "buyback" of these previously legally owned firearms and turned them into scrap metal, costing Australian Tax payers approximately half a billion dollars. Predictably this action has not seen a decrease in crime. SCI will keep you posted.


Recruitment and Retention Rates Stabilizing


"Recruitment rates of youngsters in hunting and fishing have stabilized after declining through the 1990s, according to a new report based on preliminary data from the 2006 National Surveys of Fishing, Hunting and Wildlife-Associated Recreation and information from previous surveys. 'From 1990 to 2000 there was a steady decline in the percent of kids living at home who had ever participated in fishing and hunting," said Service economist Jerry Leonard, who authored the report. 'During the last five years this decline has stabilized. Now, 42 percent of our nation's youth have gone fishing and 8 percent have gone hunting at least once.' The report also shows that many first time hunters and anglers – about 33 percent of all first timers -- are 21-years-old and older. Recruitment declined the least among those with higher incomes, those living in less populated areas of the U.S., and those living in the Midwest. In contrast, the greatest declines were among people with the lowest incomes, those living in urban areas, and those in the New England and Pacific coastal, Rocky Mountain and Southwestern states. The document [entitled] 'Fishing and Hunting Recruitment and Retention in the U.S. from 1990 to 2005' is available here." (Source: USFWS)


Trapping in the Crosshairs at State and Federal Level


U.S. Congresswoman Nita Lowey (D-NY) has introduced legislation to "end the use of conventional steel-jawed leghold traps on animals in the United States." H.R. 1691 would make it a crime to "import, export, or transport in interstate commerce an article of fur, if any part or portion of such article is derived from an animal that was trapped in a conventional steel-jawed leghold trap." On the same topic, Michigan State Rep. Lorence Wenke has introduced state legislation to outlaw trapping as well. House Bill 4497 would ban foot hold traps and would likely eliminate a safe, humane tool for successful wildlife management and increase the risk of wildlife diseases, and property damage by nuisance wildlife. We will keep you posted on both bills.
State Wildlife Agencies to Receive More Than $600 Million for Sport Fish and Wildlife Restoration "Interior Department Secretary Dirk Kempthorne announced today that more than $600 million will be distributed to 56 state and territorial wildlife agencies to fund conservation efforts, shooting ranges and hunter education. This funding results from an excise tax paid by firearm, ammunition, archery and angling equipment manufacturers as well as boat motor fuels through the Federal Aid in Sport Fish and Wildlife Restoration program.
The Wildlife Restoration apportionment for 2007 totals nearly $267 million with more than $50 million tagged for hunter education and shooting range programs. The Sport Fish Restoration apportionment for 2007 totals more than $349 million. Federal Assistance funds pay up to 75 percent of the cost of each eligible project while the states are required to contribute at least 25 percent." (Source: USFWS)


Accidental Fatalities Hit New Low


"The National Safety Council has released new data that demonstrates that accidental firearms fatalities continue to remain at the lowest levels since the NSC began record keeping. In fact, over the last decade, fatalities have dropped 40 percent, from 1,225 in 1995 to 730 in 2005. There were key findings that say you're less likely to be injured by a firearm than you are by a motor vehicle, poison, falls, choking, flames (and smoke), drowning, suffocation, natural heat and cold, or being struck by or against an object. Here are some other key findings, courtesy of the National Shooting Sports Foundation's Industry Intelligence Reports: Firearms-related injuries have been decreasing consistently since record keeping began in 1903 and dramatically in the past 10 years; Over the last nine years, the number of unintentional firearm related fatalities for children (ages 14 and under) has decreased by 69 percent; Accidental firearm-related fatalities are substantially lower compared to the number of accidental deaths caused by other injury types; Hunting is one of the safest forms of recreation in the United States [emphasis added]; Firearms are involved in fewer than 1.2 percent of accidental fatalities among children; In the past 10 years, firearms-related accidents in the home have dropped by more than 44 percent; Firearms are involved in fewer than 1 percent (0.7 percent) of all accidental fatalities in the United States; Over the last decade the rate of firearm-related injuries per 100,000 people has declined by 60 percent, from 0.5 percent in 1995 to 0.2 percent in 2005." (Source: NSSF & The Shooting Wire)


Alaska's Wolf Bounty Illegal


"A $150 bounty for killing wolves in Alaska was ruled illegal by a state judge on 30 March 2007. The Alaska Department of Fish and Game had offered the bounty to pilots and aerial gunners on 21 March 2007 in an attempt to bolster its predator control program. Through this program, Alaska lethally manages its wolf population in order to increase moose and caribou populations. Volunteer pilots and hunters have been granted permits since 2003 to shoot wolves from airplanes in five targeted areas of Alaska, totaling 60,000 square miles. Since 2003, the aerial-hunter program has killed 607 of the estimated 7,000 to 11,000 wolves in the state." (Source: The New York Times)


Endangered Species Legislation in Canada


"Resource groups across Ontario are warning that the provincial Liberal government is carelessly fast-tracking Endangered Species legislation that it knows will be a bureaucratic nightmare, expensive to implement and unlikely to result in the recovery of species at risk. In doing so, they are poised to duplicate mistakes made by the Chretien government by ignoring the results of an independent audit of the national Species at Risk Act (SARA). The significant findings of the audit appear not to have informed the development of the provincial legislation despite years of experience with the federal Act. This is compounded by the apparent failure to provide the Minister of Natural Resources, with a copy of the audit, by a failure to share the audit with major stakeholders and by the very fact that it was the stakeholders themselves who unearthed the audit. From 2000 through 2005, the federal government spent over $200 million on their National Strategy on Species at Risk. The recent budget added an additional $110 million over two years, but the total funding is still less than 60 per cent of the minimum needed by core departments. In contrast, the province only allocated $4.5 million per year for the next four years in support of the 184 species named under the Act." (Source: OFAH)


Spring Cleaning at SCI DC


We have been cleaning some of our closets here at SCI DC and found a few things that we thought our chapters or members might enjoy. We have come across roughly 150 nice black (faux) leather computer bags/briefcases with the SCI DC logo. These were created to signify the opening of our offices on Capitol Hill 5 years ago. We can send you as many as you'd like for your chapter fundraisers or personal use (until they run out) but you would have to pay the cost of shipping – price TBD. We'll do our best to spread these around equally. Let me know how many you would like and be sure to include a name, address AND phone number for shipping purposes. Allow 2-4 weeks for delivery.