April 17, 2008 "In The Crosshairs"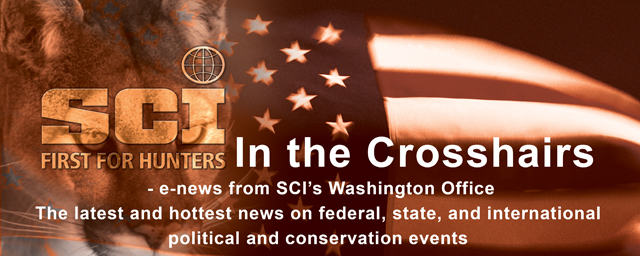 April 17, 2008


SCI Contributes $250,000 to Hunting Heritage Partnership


In collaboration with the National Shooting Sports Foundation, SCI has generously contributed $250,000 to the Hunting Heritage Partnership. SCI's contribution marks a 50% increase in overall funding for grants to state agencies for projects designed to enlist new hunters, and retain existing ones. The 2008 grants totaled a whopping $724,980, with a total of now $2.8 million distributed to state agencies. Grants ranged from $21,000 to over $150,000.
"These grants were awarded on the strengths of the concepts presented to preserve our hunting traditions, by adding to the ranks of hunters and encouraging current hunters to continue their participation," said Doug Painter, president of NSSF.
At a recent SCI breakfast held for State Wildlife Directors in Phoenix, Arizona, SCI Executive Director John Eichinger said "SCI is proud to make such a meaningful contribution to a program that has years of success building the heritage of America's hunting community."
Grant recipients can be found here.


New Firearm Policy for Wal-Mart


Wal-Mart, America's largest firearms retailer, announced this week they would be implementing a new firearms policy in their 1,100 retail stores. New measures include videotaping firearms sales, internal log of individuals who purchase firearms at all their stores, and expanded back-ground checks on all employees who handle firearms. (Source: http://ap.google.com)


Fish and Wildlife Service expects decision on polar bear by June 30, 2008

In papers filed today in U.S. District Court, the U.S. Fish and Wildlife Service said it expected to issue a decision on the polar bear listing by June 30, 2008. SCI is attempting to participate in that lawsuit, which could determine the exact time when the Fish and Wildlife Service issues a final decision. Three groups have sued the FWS over the delay in issuing the final decision. SCI is filing papers seeking amicus (friend of the court) status in that case to argue the Court should give the FWS the time it needs to make a well-considered decision. The Court will hold a hearing on May 8, 2008 to decide whether the Court will set a deadline for the FWS to issue the final decision. SCI will keep you posted.


SCI Among Coalition Defending Polar Bear Hunting in Senate Hearing


Safari Club International was among a coalition of groups representing sportsmen that banded together to defend polar bear hunting before a politically-charged hearing in the U.S. Senate Environment and Public Works Committee. SCI President Dennis Anderson called it "an opportunity to educate the Members of this important committee that a ban on polar bear importation is bad policy."  The entire letter can be viewed here: www.polarbearfacts.org.


"Send Your Teacher to School" with the Help of SCI Foundation and Bass Pro Shops

Safari Club International Foundation (SCIF) has partnered with Bass Pro Shops to sponsor teachers to attend SCIF's American Wilderness Leadership School (AWLS) in Jackson Hole, WY to learn more about hunting, fishing and the outdoors. Attending the Leadership School at the AWLS ranch will help promote positive experiences for teachers and will give them a greater understanding of the outdoors. Each Bass Pro Shop will sponsor one teacher to attend the AWLS Ranch from July 30th to August 6th, 2008. Teacher nominations will be held during May 2008 at all Bass Pro Shops nationwide. Every store will be featuring an AWLS Ranch Video which can be viewed now at www.safariclubfoundation.org/teacher and www.basspro.com/sci. Donations to the program will also be accepted online and at the register in Bass Pro Shops stores.


Female Hunters Boosting Participation Numbers

A recent article in USA Today titled "Girls, women aim for hunting," features the growing number of women who take part in outdoor recreation and particularly in hunting. The article reported that 304,000 girls between the ages of 6 and 15 hunted from 2001 to 2006. This is an increase of 50% compared to participation between 1991 and 1996. This upward trend is in contrast to the overall loss of hunters reported in the National Survey of Hunting, Fishing and Wildlife Associated Recreation conducted by the U.S. Fish and wildlife Service.
SCI has been working to recruit and retain more hunters through our collaborative efforts with the National Shooting Sports Foundation and has especially encouraged the participation of women of all ages through the SCI Foundation Sables Program. To learn more about SCI Foundation's Sables program please visit here.


Namibia: Influx of International Hunters Expected


"More international hunters are expected in the country this year as a result of good rains that have had positive effects on wildlife. According to the Namibia Professional Hunters Association (NAPHA), about 7000 international hunters are expected during the 2008 hunting season…Hunting contributes around N$500 million per year from primary and secondary sectors to the Namibian economy. It employs 12000 people in both sectors." (Source: http://allafrica.com/stories/200804160559.html)