April 17, 2009 "In The Crosshairs"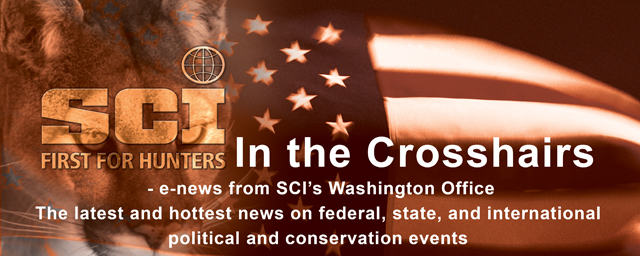 April 17, 2009


Safari Club International Foundation to Represent Hunters at Critical Meeting on Wildlife Trade

"Washington, DC – Next week the Safari Club International Foundation (SCIF) will represent hunters at the 24th meeting of the Animals Committee for the Convention on International Trade of Endangered Species (CITES) to ensure that decisions on trade for species of interest to traveling hunters, notably the African Lion, Elephant and Leopard, are based on science and the principles of sustainable use and not on the agenda of anti-hunting organizations." Read more about how SCI is protecting your freedom to hunt at these critical meetings on wildlife trade by going here.


New Report Shows Waterfowl Hunting's Contribution to U.S. Economy

"Waterfowl hunters spent $900 million on a variety of goods and services from food, transportation, guns and decoys to hunting dogs, clothing and other incidental expenses in 2006, according to a new report issued by the U.S. Fish and Wildlife Service. These trip and equipment-related expenditures generated more than $2.3 billion in total economic output for 2006, which resulted in $157 million in federal and state tax revenues, supported more than 27,000 jobs, and generated more than $8.5 million in employment income." Please view the full economic reports published by the U.S. FWS on the positive economic impact that hunters and hunting have on local economies by going here.


SCI Urges the Ethiopian Government to Maintain Current Trophy Fees

SCI recently wrote a letter to the Ethiopian government urging them to maintain the current trophy fees. The Ethiopian government had previously announced that fees would be increased up to 300% starting in July of this year. This includes an exorbitant fee increase on the Mountain Nyala from $5000 to $15,000. If you would like to see SCI's letter to the Ethiopian government please go here.


Australian Government Investigates Opening First Saltwater Croc Season

It has recently come to the attention of SCI that the Australian government is soliciting comments from the public about the viability of beginning a hunting season for Saltwater Crocodiles in the Northern Territory. The Australian Saltwater Croc species is the largest of the crocodilian family, with measurement reaching up to 19.5ft in length. The Government 's plan currently calls for a 25 croc annual quota for sport hunting. If SCI members are interested in providing comments on the positive benefits of hunting for wildlife and the positive economic factors that are realized by local communities through sport hunting, please visit this website.