April 21, 2010 "In The Crosshairs"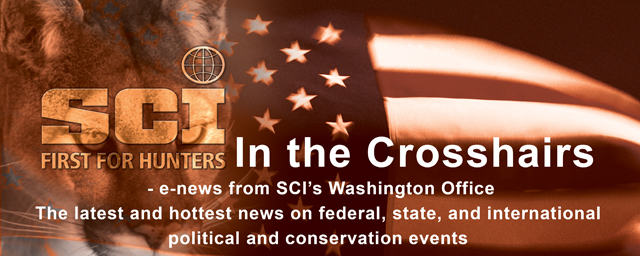 April 21, 2010


Supreme Court Agrees With SCI, Rejects Law Banning Hunting Videos As Overbroad

Yesterday the U.S. Supreme Court, in an 8-1 decision, struck down a law that banned the distribution of depictions of animal cruelty.  Hunting and SCI's contribution to the briefing played an important role in the court's decision.  Although the law was intended to stop the distribution of "crush videos," its broad language could have been used to prosecute the distribution of hunting videos or magazines.  The Supreme Court ruled the law unconstitutional, holding that the law's expansive prohibitions could affect activities protected under the First Amendment.  Safari Club International and the Congressional Sportsmen's Foundation submitted an amicus curiae brief explaining the harmful impact the law imposed on hunting and the hunting community.  Chief Justice Roberts quoted SCI's brief in discussing hunting videos, and the role that hunting videos play in enhancing hunting enjoyment, opportunities and recruitment. The full opinion is available here. SCI Press Release available at http://bit.ly/9DSvtA.


President Obama Launches InitiativeTo Develop 21st Century Strategy For America's Great Outdoors

WASHINGTON, D.C. – President Barack Obama signed a Presidential Memorandum establishing the America's Great Outdoors Initiative to promote and support innovative community-level efforts to conserve outdoor spaces and to reconnect Americans to the outdoors.  The President spoke before leaders representing conservation, farming, ranching, sporting, recreation, forestry, private industry, local parks and academic communities from all 53 states and territories. 
The Presidential Memorandum calls on the Secretaries of the Interior and of Agriculture, the Administrator of the Environmental Protection Agency (EPA), and the Chair of the Council on Environmental Quality (CEQ) to lead the Initiative, in coordination with the Departments of Defense, Commerce, Housing and Urban Development, Health and Human Services, Labor, Transportation, Education, and the Office of Management and Budget.  The Initiative will support a 21st century conservation agenda that builds on successes in communities across the country, and will start a national dialogue about conservation that supports the efforts of private citizens and local communities. (DOI Press Release) http://bit.ly/aQFlmf
View the White House blog at http://bit.ly/azcGeW.


SCI 2010 Convention Member Survey


SCI's Convention Department is conducting a brief survey to garner information for planning future Conventions. The responses we receive will give us insight for improving and maintaining The Ultimate Hunters' Market® as the best hunting show on the planet. Your opinions are crucial to making the results of the survey meaningful and significant. Please take about five minutes to help us make SCI's Convention an even better event! Start the survey HERE or http://bit.ly/bBsyIT.


European Union Commission Restricts Carriage Of Ammunition


The European Union Commission recently released a new air-travel security regulation which, in part, prohibits the carriage of ammunition in checked baggage.  This new regulation could make it very difficult for hunters to leave Europe with ammunition and might even cause problems for travelers transiting through Europe with ammunition, on their way to non-European destinations.  Individual EU countries have the ability to opt out of the regulation, and SCI is working to encourage as many countries as possible to do so in their national air safety rules.   SCI is also working to clarify whether the regulation will affect hunters who must fly through Europe, such as those who simply change planes in a European airport.  Keep watching Crosshairs for further developments on this issue, including details on any country that confirms that it plans to exempt itself from this regulation.  This regulation goes into effect on April 29, so anyone travelling with ammunition through Europe after that date needs to contact the airline to make sure that there will not be any issues.  The full regulation can be accessed from: http://bit.ly/ajdSlf.


U.S. Fish & Wildlife Service Lists Hawaiian Plants, But Acknowledges Hunting


In 2008, SCI commented on a proposal to list under the ESA 44 plants, two birds, and two flies on Kauai, Hawaii.  SCI argued that hunting should be maintained to help control mammals (e.g., pigs, goats and deer) that harm the plants.  In the recent listing and critical habitat designation for these species, the Fish and Wildlife Service acknowledged "that game mammal hunting is a highly valued activity to a portion of the present-day Hawaiian culture, and that hunting is an important tool to manage wild game populations" and said it "supports hunting as a recreational activity."  The Service also explained that the critical habitat designation does not affect bird and mammal hunting.  The 204-page rule can be found at http://edocket.access.gpo.gov/2010/pdf/2010-1904.pdf or http://bit.ly/akvD4m.


Demanding Information From DOI On Secret National Monument Designations

House Natural Resources Committee Ranking Member Doc Hastings (R-WA) and Rep. Rob Bishop (R-UT) introduced a Resolution of Inquiry intended to compel the Secretary of the Interior to reveal specific information related to 13 million acres of potential National Monument designations exposed by an internal DOI document.  House rules provide that the Democrat Majority on the Committee has 14 legislative days to report the Resolution of Inquiry or it can be brought to the Floor of the House of Representatives for a vote as a Privileged Resolution. (Natural Resources Republican Press Office) http://republicans.resourcescommittee.house.gov/


Managing Conflicts Between People And Lions


Not long ago, when large mammals harmed people we talked of accidents; when they damaged people's assets we referred to incidents. Nowadays, human/wildlife conflicts are regarded as common occurrences. It seems that what were once considered exceptional or abnormal events have become normal or usual. Whether this is a result of higher frequency and amplitude is not clear, because we do not have reliable statistics to make accurate comparisons. (Africa Indaba Newsletter) Read the full article http://bit.ly/cTcVvu.  


Gas Exploration Company Wins Wildlife Award


The Bill Barrett Corporation (BBC) was presented a Conservation Achievement Award at this year's Wildlife Society meeting in Moab, Utah. Nominated by the Utah Division of Wildlife Resources, BBC was lauded for its progressive attitude toward wildlife and innovative approach to wildlife mitigation. "BBC representatives have made every effort to assure that potential impacts of oil and gas development on wildlife were minimized or mitigated," wrote DWR Wildlife Biologist Brad Crompton in the nomination application. (Sun Advocate Online) http://bit.ly/bWlxUw.


U.S. National Wildlife Refuge System Subject Of CSF Breakfast Briefing


April 15, 2010 (WASHINGTON, DC) - The Congressional Sportsmen's Foundation, in cooperation with the Cooperative Alliance for Refuge Enhancement (C.A.R.E), held the first Congressional Sportsmen's Caucus Breakfast Briefing of 2010 on Wednesday.  Members of the Congressional Sportsmen's Caucus, including CSC Co-Chair Rep. Dan Boren (D-OK) and former Co-Chairs Reps. Mike Thompson (D-CA) and Ron Kind (D-WI); Rowan Gould, Acting Director of the U.S. Fish and Wildlife Service; members of the CSF Board; and fellow members of the C.A.R.E coalition gathered in the Cannon House Office Building to focus on reaffirming the commitment to the National Wildlife Refuge System. (Press Release: Congressional Sportsmen's Foundation) http://bit.ly/dAiW1U


Helping Tribes In Northwest Deal With Feral-Horse Overpopulation Issues


Make no mistake about it: Native Americans love their wild horses. Although these animals could be considered an invasive species—because the ancestors of today's horses were brought into what became the United States by Spanish explorers and later escaped—nobody wants to eradicate them. But getting their numbers down to a manageable level is imperative. On some reservations in east-central Washington and Oregon and nearby Idaho, feral horses are eating all the vegetation on rolling hillsides, depriving livestock of forage and endangering plants important as sources for traditional foods and medicines. And then there's the salmon. (APHIS Online) Go to page three (3) of this link to read the full article: http://bit.ly/cVtgQB.