April 22, 2009 "In The Crosshairs"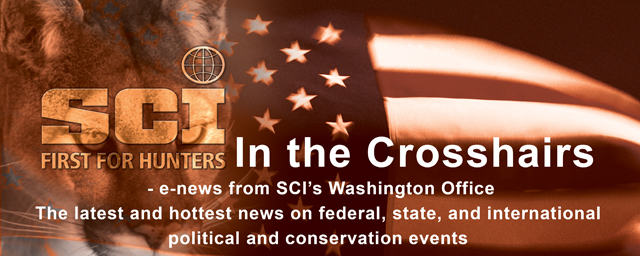 April 22, 2009


SCI President Meets with Senate Democratic Leadership


Today (4/22), SCI President Merle Shepard along with a coalition of approximately 20 other hunting and fishing organizations met with Democratic Senate leadership to discuss the most pressing issues facing the hunting, shooting and fishing community. The meeting was hosted by Senate Majority Leader Harry Reid (NV) and Senator Debbie Stabenow (MI). Congressional Sportsmen's Caucus Co-Chair Senator Ben Nelson (NE) and Co Vice-Chair Senator Jon Tester (MT) reiterated their support of pro-sportsmen's legislation and their dedication to advancing the agenda of the Congressional Sportsmen's Caucus. Also in attendance from the Democratic Caucus were Senators Lincoln (AR), Boxer (CA), Hagan (NC), Feingold (WI), Klobuchar (MO), Durbin (IL), Udall (CO), Udall (NM), Kaufman (DE), Shaheen (NH), Whitehouse (RI), Harkin (IA), Markley (WA), and Burris (IL).
President Shepard voiced support of Senators Baucus (MT) and Grassley's (IA) Bill 812, the Conservation Easement Tax Incentive, which is a permanent tax credit for individuals who relinquish their land's development rights. This legislation protects large tracts of land from fragmentation which consistently ranks as one of the most significant detriments to healthy wildlife habitat in America. He also proposed additional language that would provide greater financial incentives to those landowners who allow public access for recreational activities on their conservation easement. Other topics covered during the meeting included responsible renewable and traditional energy development, dedicated federal funding for state wildlife agencies, conservation programs in the Farm Bill, and making the Sporting Conservation Council a permanent federal advisory council for the Secretaries of the Interior and Agriculture. Other sportsmen's groups represented at the meeting included the Congressional Sportsmen's Foundation, the Boone & Crockett Club, Ducks Unlimited, Pheasants Forever, Theodore Roosevelt Conservation Partnership and the Association of Fish and Wildlife Agencies.


Program Teaches Teachers About the Outdoors


"Every spring, Reese High School teacher Matt Lefler takes a group of teens from the Reese Out-of-Doors Club to the local middle school, where they spend the day teaching sixth-graders everything from finding their way with a GPS to handling a hunting dog. Lefler's inspiration for the outdoor education program? The American Wilderness Leadership School. Lefler is one of nearly 50 teachers who have attended the weeklong outdoor education seminar over the past 15 years, courtesy of the Safari Club International Foundation." (Source: MLive.com Online) Please read the full article by going here.


SCI Requests Change in Ammunition Policy by South African Airlines


SCI recently received reports that South African Airlines changed its policy on ammunition transportation and is now requiring international hunters to use a lockable hard sided ammunition box when transporting ammunition on SAA airplanes. After discussions with the SCI South Africa Office, SCI sent a letter to the CEO of South African Airlines asking that this policy be reversed. Additionally SCI requested that SAA readopt the International Air Transport Association guidelines that are used by most airlines. Those guidelines only require that passengers securely pack ammunition in the original manufacturer's package or in a container designed for ammunition and of sufficient strength to protect it from accidental crushing or discharge (i.e. wood, fiber, plastic, or metal). Please view SCI's letter on South African Airlines' ammunition policy by going to www.safariclub.org.


SCI-London Chapter Pursues Further Clarification from British Airways

"Further to recent press reports regarding the carriage of sporting firearms by passengers transiting the UK on British Airways flights, BA has taken advice from the relevant UK government department, BERR, and can confirm that it is not required to impose additional restrictions on the list of countries to which sporting firearms can be taken as personal baggage by passengers flying through the UK. Passengers will need to satisfy themselves that they fall within the terms of the UK's Open General Export License for Sporting Guns (http://www.berr.gov.uk/files/file50657.pdf) and as before, there are some prominent hunting countries for which this license cannot be used, including Argentina, Armenia, Azerbaijan, Bosnia, Croatia, Ethiopia, Iran, FYR Macedonia, Nepal, China, Serbia, Sudan, Uzbekistan, and Zimbabwe." This above paragraph is a verbatim quote from Peter Jones, General Manager Aviation Security, of British Airlines in an email correspondence with SCI-London Chapter President Abigail Day. Our thanks to the London Chapter for their continued attention to this transportation issue.


SCI-Canada Partners with Ontario Federation of Anglers and Hunters


SCI-Canada's office has partnered with the Ontario Federation of Anglers and Hunters (OFAH) to strengthen the combined efforts of both organizations to eliminate the wasteful Long Gun Registry. The OFAH designed an on-line petition for Canadians to express to the government the need to end the Long Gun Registry. More than 13,400 people have signed the electronic petition thus far. SCI-Canada urges all Canadian SCI members to log-on to the following site and do the same: www.scrapthelonggunregistry.com.
SCI-Canada proudly joins the other Canadian hunting organizations included at the bottom of the petition. Please notice that SCI-Canada's logo is hyper-linked to http://www.safariclub.ca/. The SCI-Canada office thanks the OFAH for this initiative and encourages Canadians to please sign the petition today.


USFWS Proposal to Establish Migratory Bird Hunting Regs


"The U.S. Fish and Wildlife Service proposes to establish annual hunting regulations for certain migratory game birds for the 2009–10 hunting season. We annually prescribe outside limits (frameworks) within which States may select hunting seasons. This proposed rule provides the regulatory schedule, describes the proposed regulatory alternatives for the 2009–10 duck hunting seasons, requests proposals from Indian Tribes that wish to establish special migratory game bird hunting regulations on Federal Indian reservations and ceded lands, and requests proposals for the 2010 spring and summer migratory bird subsistence season in Alaska. …You must submit comments on the proposed regulatory alternatives for the 2009–10 duck hunting seasons by June 26, 2009." For more information, go to http://edocket.access.gpo.gov/2009/pdf/E9-7840.pdf.