April 24, 2008 "In The Crosshairs"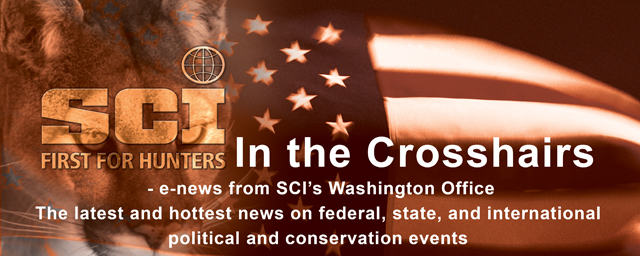 April 24, 2008


California Approves Non-lead Ammunition Certification Regulations


The California Fish and Game Commission recently approved regulations for certifying ammunition as "non-lead" for use in hunting big game and non-game in the area designated as "condor range." A map of condor range is on page 5 of the document found at: http://www.dfg.ca.gov/licensing/pdffiles/2008HuntingDigest-BigGamePages7-13.pdf. Although SCI opposed the adoption of statutory and regulatory bans on lead ammunition in condor range, it supported the adoption of these implementing regulations. Now that the bans are in place, hunters hunting in the defined condor range can only use ammunition certified as "non-lead" by the California Department of Fish and Game. Without certification of the ammunition, no hunting could occur in condor range. Four ammunition manufacturers have submitted applications for certification and the hope is that many more will do the same. The bans go into effect on July 1, 2008. SCI will keep you posted.


SCI Helps Stop Anti-Hunting Legislation


SCI, the Congressional Sportsmen's Foundation and the NRA successfully banded together this week to oppose H.R. 5534, the so called "Bear Protection Act." SCI and other sportsmen's groups have worked hard to educate Congressmen and staffers about the realities of this "Bear Protection Act." Though H.R. 5534 sounds noble in purpose, it contained broad language that plays right into the hand of anti-hunting groups.
The truth is that H.R. 5534 will do nothing to increase conservation efforts for the North American bear, which have healthy and robust populations throughout their ranges as the U.S. Fish and Wildlife Service stated in its congressional testimony on this bill. The North American bear is already protected from poaching for its viscera (internal body parts) by state wildlife agency regulations, and protected from illegal interstate commerce by the Federal Lacey Act. Furthermore, the bill would set the precedent of federal interference in successful state-based wildlife management and conservation.


SCI Moves to Intervene to Defend Yellowstone Grizzly Delisting


SCI recently filed papers with the District Court in Montana to join a second lawsuit challenging the Endangered Species Act delisting of the grizzly bears of the Yellowstone area. The delisting turns over management of this recovered species to the states of Idaho, Montana, and Wyoming. SCI supports state management as more responsive to the needs of sportsmen and women, who often have negative encounters with grizzlies while pursuing recreational activities. In briefing set to begin on June 1, 2008, SCI will argue, among other things, that the Yellowstone grizzlies long ago surpassed recovery goals. SCI is also participating in grizzly delisting litigation in District Court in Idaho.


Minnesota Applies for "Incidental Take Permit" to Allow Trapping to Continue


On April 21, the Minnesota Department of Natural Resources applied for a permit from the U.S. Fish and Wildlife Service to allow the incidental take of threatened Canada lynx during state authorized trapping. This action arose from a lawsuit in federal court in Minnesota in which SCI participated as amicus. Despite the best efforts of SCI, the State, and trappers involved in the case, the Court found the State liable for allowing trapping in lynx range and ordered the State to take action to halt the accidental trapping of lynx and to apply for an "incidental take permit" by April 30, 2008. Minnesota's permit application proposes some changes to how trapping is done in lynx range in an effort to minimize the accidental trapping of lynx. The permit process could take 6-12 months to complete. SCI will keep you posted.


For All You Duck Hunters


"U.S. Fish and Wildlife Service maps of the National Wetlands Inventory are now available for viewing using Google Earth. The wetlands inventory includes wetlands data for approximately 60 percent of the conterminous U.S., as well as portions of Alaska, Hawaii, and Puerto Rico.
The mission of the Service's National Wetlands Inventory office is to provide citizens of the United States and its Trust Territories with current geospatially referenced information on the status, extent, characteristics and functions of wetland, riparian, deepwater and related aquatic habitats in priority areas to promote conservation of these resources. The maps and associated data are used extensively as part of wildlife management and conservation activities by state and federal wildlife agencies, private conservation organizations and others." Read more at http://www.fws.gov/news/NewsReleases/showNews.cfm?newsId=768DD26F-F828-F518-0FF958AF63A372C0.


Federal Subsistence Board Allows Sportsmen Input on Subsistence Hunting Decisions

On April 10, 2008, the Federal Subsistence Board in Alaska finalized rulemaking that allows sportsmen a key role in advising the federal government on subsistence priority decisions. The rulemaking was ordered by a federal district court in Alaska as part of litigation, first filed in 1998, in which SCI challenged the government's failure to include the input of the recreational hunting community in decisions relating to the distribution of game opportunities on federal lands.


This Weekend on SCI's Expedition Safari: Croatia


Tune in to SCI's Expedition Safari television program this Sunday morning for the premiere of an all-new episode featuring SCI's efforts to protect the freedom to hunt and promote wildlife conservation worldwide. Host Mike Rogers will be hunting mouflon on Croatia's rocky coast, then moving inland in pursuit of the fallow deer.
Check your local listings for this week's show times in your area, or log on to www.safariclub.org and click on "Expedition Safari" on the left side of the screen for more information.


Researchers Fear Southern Fence Will Endanger Species Further


"TUCSON -- The debate over the fence the United States is building along its southern border has focused largely on the project's costs, feasibility and how well it will curb illegal immigration. But one of its most lasting impacts may well be on the animals and vegetation that make this politically fraught landscape their home. Some wildlife researchers have grown so concerned about the consequences of bisecting hundreds of miles of rugged habitat that they have talked of engaging in civil disobedience to block the fence's construction." Read more at http://www.washingtonpost.com/wp-dyn/content/article/2008/04/19/AR2008041900942.html?referrer=emailarticle.