May 2, 2008 "In The Crosshairs"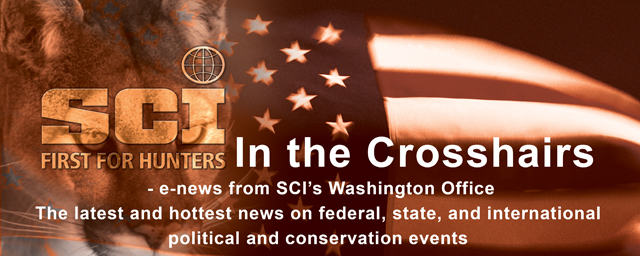 May 2, 2008


Canadian Panel Recommends Polar Bear Remain a "Species of Special Concern"

The Canadian panel responsible for assessing the status of species in Canada for listing under its Species At Risk Act (Canada's version of the Endangered Species Act) has recommended, based on the best scientific evidence, that the polar bear remain listed as a "species of special concern." See report at http://www.cosewic.gc.ca/rpts/Detailed_Species_Assessments_e.html. This status is for species for which there is some concern that it may go extinct, but that is not at the point that it is likely to go extinct unless action is taken. No significant limitations arise from this status. The panel will forward its recommendation to the Minister of the Environment and the Canadian Endangered Species Conservation Council. The Minister has 90 days to act on the recommendation. Then the Council has nine months to add the species to SARA's List of Wildlife Species at Risk, not add the species to the List, or send the matter back to the panel for further consideration. A listing at a higher level, such as threatened, would mean the end of hunting of the species in Canada, absent further action by the government to allow it. SCI will keep you posted.


SCI Attends CITES 23rd Animals Committee Meeting


SCI Foundation's Deputy Conservation Manager, Matthew Eckert, represented SCI and the hunter's voice at this critical meeting. The Animals Committee meets annually to review biological, trade and other relevant information on species that are, or proposed to, be listed by CITES. Of most concern for sportsmen and women at this meeting was the review of cat (felidae) species, the North American black bear, the Saiga antelope and the hippopotamus. After working group discussions, only the hippo was recommended for Significant Trade Review, a vigorous, long term, and costly process that requires extensive research and analysis. SCI will continue to be involved in the review of these species and will keep SCI members informed on important issues.


SCI Seeks to Intervene in Northern Rocky Mountain Wolf Delisting Case


SCI is preparing today to file a request to intervene in a lawsuit, filed in federal court in Montana, concerning the U.S. Fish and Wildlife Service's delisting of the Northern Rocky Mountain gray wolves. SCI hopes to defend the delisting and to represent hunters and conservationists whose hunting opportunities, success and enjoyment have been harmed by the presence of wolves in Montana, Idaho and Wyoming. SCI is already intervening in two other cases in Montana, one to defend the delisting of grizzly bears and another to defend federal regulations that give the states' enhanced authority to manage problem wolves.


Namibia: Trophy Hunting for Black Rhinos in the Cards


"The Ministry of Environment and Tourism is close to granting an annual black rhino trophy-hunting quota in protected areas. No such quota has been granted since CITES gave permission for it in 2004, because Government has been working on a policy on tourism and wildlife concessions on State land, Louisa Mupetami, a conservation scientist in the Ministry, said last week….The 13th conference of the UN Convention on International Trade in Endangered Species (CITES) held in Thailand in 2004 gave Namibia and South Africa permission to allow the hunting of five black rhinos a year." Read more of this article at http://allafrica.com/stories/200804290791.html. (Source: allafrica.com)


SCI Granted Right to Defend Sporting Interests in Yellowstone Grizzly Delisting

The District Court in Montana granted SCI's request to intervene and represent hunters in a second lawsuit challenging the Endangered Species Act delisting of the grizzly bears of the Yellowstone area. The delisting turns over management of this recovered species to the states of Idaho, Montana, and Wyoming. SCI supports state management as more responsive to the needs of sportsmen and women, who often have negative encounters with grizzlies while pursuing recreational activities. In briefing currently set to begin on June 1, 2008, SCI will argue, among other things, that the Yellowstone grizzlies long ago surpassed recovery goals. SCI is also participating in grizzly delisting litigation in District Court in Idaho.