May 5, 2011 "In The Crosshairs"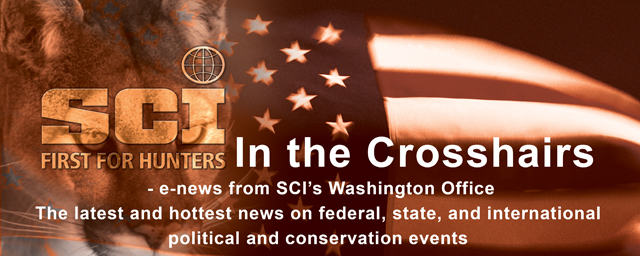 May 5, 2011

SCI Taking Hunters' Message to Capitol Hill
SCI Members Meet with Congress to Discuss Hunters' Rights


Sportsmen Unite In Support Of State Management Of Recovered Wolf Populations

Washington, D.C.– Safari Club International (SCI) members will participate in more than 170 meetings this week with members of the U.S. House of Representatives and the U.S. Senate on behalf of hunters everywhere. Safari Club International's lobby day on Capitol Hill represents the largest annual gathering of U.S. hunters in Washington, DC. This year's focus will be on working with Congress to modernize the Endangered Species Act (ESA) to better manage species recovery and address the Act's numerous failures.
The ESA was originally intended to help recover species at risk of extinction, but unfortunately the ESA has failed in its species recovery efforts. Currently there are over 2000 species listed as "threatened" or "endangered" while only 20 recovered species have been removed from these lists since the ESA was enacted.
In addition, scientific decisions for species conservation are inappropriately being made by the courts and not by the wildlife professionals within the federal agencies tasked to administer the ESA. The ESA also has a detrimental impact on jobs and the economy, particularly in rural communities, and imposes unnecessary and burdensome requirements. Radical anti-hunting and protectionist organizations have spent millions of dollars in an effort to manipulate the mandates of the ESA to list animals for the express purpose of regulating greenhouse gases. This extreme agenda is diverting the scarce resources of the U.S. Fish and Wildlife Service to lawyers and legal fees, rather than to conservation and species recovery.
"SCI's 53,000 worldwide members – particularly the 200 that will be traveling to Washington this week – are insisting that Congress take real action to reform the Endangered Species Act," said SCI President Dr. Larry Rudolph. "Since the late 1980s, there have been over one hundred Congressional hearings on the ESA as well as dozens of public 'listening sessions' across the country. It is time to actually update and modernize the Endangered Species Act so that we can do a better job in recovering species."
Other legislative priorities SCI members will be discussing and supporting this week include:
H.R. 1558/S. 838 - Hunting, Fishing, and Recreational Shooting Protection Act
H.R. 1445 - Outdoor Sports Protection Act
H.R. 1444 - Federal Management Plans include Hunting
H.R. 991 - Importation Permits For Polar Bear Conservation
H.R. 990 - Restoration of the U.S.-Russia Polar Bear Conservation Fund Act of 2011
H.R. 838 - Western Great Lakes Wolf Management Act
H.R. 509/S. 249 - National Wolf Delisting
Contact: Nelson Freeman, Media@safariclub.org