May 7, 2007 "In The Crosshairs"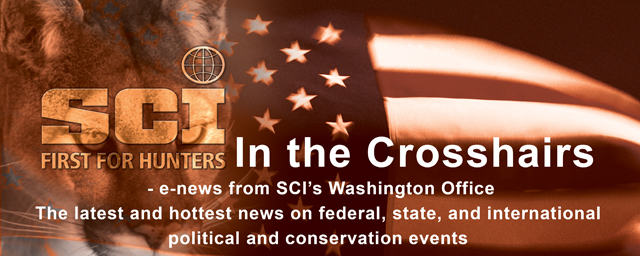 May 7, 2007


South Africa Delays T & E Regs


Due to on-going concerns from the provincial authorities in South Africa about the challenges of implementing the new hunting regulations, Marthinus Van Schalkwyk, Minister of Environmental Affairs & Tourism, has announced that the policy implementation will be pushed back to February 1, 2008. The original implementation date was June 1, 2007. Van Schalkwyk stated that "no further postponement will be considered" and the Minister called on all stakeholders to ensure that they are ready for the implementation on February 1, 2008.
The regulations apply to protected species, such as the black rhino, white rhino, lion, roan antelope, etc. The full list of affected species from today's announcement will be placed on Safari Club's website soon at www.safariclub.org under Government/International. SCI's comments on the proposed rules and the full regulations can be found there as well. As always, we will keep you posted.


SCI Meets With Administration on Access and Shooting Ranges


SCI staff met last week with representatives from the Forest Service, BLM and U.S. Fish and Wildlife Service to discuss the issue of access for sportsmen and for the continued support of shooting ranges on public lands. The meeting was led by the NRA and included SCI, NWTF, Izaak Walton League and other NGO's from the Conservation Community. Discussions included getting pro-hunting policies down to the field level, liability issues and educating shooters not to leave behind their trash and spent casings. As this develops, SCI will keep you posted.


GOP Urges 'Expeditious' Release of New Regulation


"A group of prominent Republican senators…asked Interior Secretary Dirk Kempthorne to "expeditiously" publish the Bush administration's proposed new regulations on the Endangered Species Act. Sen. James Inhofe (R-OK), the ranking member of the committee with ESA oversight, was joined by three of his colleagues on the panel in sending a letter to Kempthorne…requesting official publication of the ESA regulations to "allay continued misunderstandings" on what they might comprise. The GOP letter came in response to a request that committee Democrats made last week, in which they blasted proposed draft regulations and demanded the agency stop action on the rewrite until an analysis of potential effects is delivered to Congress." We will keep you posted. (Source: E&E Daily)


Leopard Trophies from Namibia in Jeopardy?


The U.S. Fish and Wildlife Service has issued a warning to all individuals who are importing their leopard trophies from Namibia. The regulations by which U.S. hunters can import their trophies under the Department of Management Authority states that leopard tags must be self locking plastic or metal. According to the Division of Law Enforcement, a trophy will be seized and confiscated due to improper tagging. The issue does not lie with the Management Authority or the Division of Law Enforcement but Namibia who is using an invalid tag. The Management Authority has made contact with the Namibian government but has yet to receive a reply. The hope is that before the June CITES conference the matter can be resolved and if not they will have the opportunity to deal directly with the Management Authority of Namibia. You should be advised to delay your importing of leopard trophies until this matter can be resolved. SCI will keep you posted.


Victories for Florida Sportsmen


The Florida Legislature concluded its 2007 Regular Session on Friday but not before passing several bills that were favorable to sportsmen. Language was included in legislation to allow sportsmen to donate funds to youth hunting and fishing programs whenever they purchase hunting and fishing licenses. Also, the Florida Legislature adopted legislation to open Babcock Ranch, a newly acquired 75,000 acre property, to hunting. Under the current management plan, hunting was prohibited until such time that the Fish and Wildlife Conservation Commission, working in conjunction with the operating company which manages Babcock Ranch, adopted rules and regulations to implement hunting. Under the proposed legislation, hunting would be allowed on a fee basis until such time that the FWCC rules are adopted. The legislation also places an emphasis on providing hunting opportunities for youth and those persons who have disabilities.


Study Finds That Micro Stamping Needs More Testing


"New technology to link cartridge cases to guns by engraving microscopic codes on the firing pin is feasible, but does not work well for all guns and ammunition tested in a pilot study by researchers from the forensic science program at U.C. Davis. More testing in a wider range of firearms is needed to determine the costs and feasibility of a statewide program of micro stamping, as called for by proposed state legislation [in California]. The technology developed by ID Dynamics of Londonderry, N.H., uses a laser to cut a pattern or code into the head of a firing pin. The method is similar to that used to engrave codes on computer chips. When the trigger is pulled, the firing pin hits the cartridge case or primer and stamps the code onto it. In principle, the spent cartridge can then be matched to a specific gun. [Researchers] fitted engraved firing pins into six Smith and Wesson .40-caliber handguns that were issued to California Highway Patrol cadets for use in weapons training. After firing about 2,500 rounds, the letter/number codes on the face of the firing pins were still legible with some signs of wear. But the bar codes and dot codes around the edge of the pins were badly worn." The full article can be seen at http://www.news.ucdavis.edu/search/news_detail.lasso?id=8148. (Source: U.C. Davis News Service)


Game Warden Documentary


Game wardens are on the front lines of conservation, and yet there are only about 7,000 for the entire nation -- as many as NYPD fields for New Years in Times Square. Nowhere is the scarcity of wardens more apparent than in California, which has 190 in the field for 33 million residents. One consequence of the lack of wardens is an upsurge in organized crime's involvement with illegal wildlife trafficking, which in California has become a $100 million a year black market. SCI member James Swan, Ph.D. is working on a PBS documentary on wardens, especially in California, but also nation-wide, and is looking for stories and support. More about him at www.jamesswan.com. To contact James: e-mail- sgsprod@comcast.net.