May 17, 2011 "In The Crosshairs"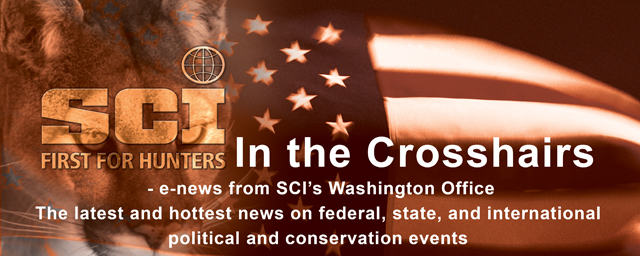 April 1, 2011


Shooting Village At SCIF/QU EPIC Outdoor Game Fair To Provide World Class Hands-On Opportunities

The Shooting Village at Safari Club International Foundation and Quail Unlimited's EPIC Outdoor Game Fair will offer unique and broad hands-on opportunities for Game Fair participants. Headlined by Shooting Sportsman Magazine, Beretta, Laser Shot and John Rigby & Co, the shooting sports program will fulfill every aspect of the event's goal to foster Education, Participation, Instruction, and Competition. The EPIC Outdoor Game Fair will run from September 23-25, 2011 at the Foxhall Resort & Sporting Club outside of Atlanta, GA. www.epicgamefair.org. Read the full release at http://www.facebook.com/EPICOutdoorGameFair.


SCI Applauds Congressional Hearing On Legislation To Import Legally Harvested Polar Bears


Safari Club International (SCI) applauds the House Subcommittee on Insular Affairs, Oceans and Wildlife for holding a hearing addressing Congressman Don Young's (R-AK) legislation allowing the importation of approximately 40 polar bears. Young's bill, HR 991, will amend the Marine Mammal Protection Act (MMPA) to authorize the Secretary to issue import permits for polar bears taken legally from approved populations in Canada prior to the importation ban imposed by the U.S. Fish and Wildlife Service (FWS) on May 15, 2008. The ban deprived hunters who had taken these polar bears in Canada of their rightful property. HR 991 would help rectify this unfortunate situation by allowing only the importation of these already harvested polar bears. The bill would not authorize the importation of bears hunted after the ban was instituted or into the future. Read the full release at http://bit.ly/lnwtYc.


Idaho, Montana Action Alert For Possible Wolf Litigation


Once again, animal rights groups have gone to court to try to return Montana and Idaho's wolves to federally endangered status. SCI reached out to members in Montana and Idaho to help SCI defeat this latest legal challenge. Last week, two suits were filed, challenging the constitutionality of Congress' new law that required the U.S. Fish and Wildlife Service to remove Montana and Idaho's wolves (and portions of Oregon, Utah and Washington's wolves as well) from the endangered species list. Not surprisingly, the plaintiff groups, Center for Biological Diversity, WildEarth Guardians, Friends of the Clearwater, and Alliance for the Wild Rockies, filed their lawsuits in federal court in Montana, and the case has been assigned to Judge Molloy.
SCI has decided to intervene in the case to defend the constitutionality of the law. Many SCI members responded to the alert issued by SCI's Litigation staff. We are in the process of preparing declarations from many members who participated in the 2009 wolf hunts and who plan to participate in the upcoming wolf harvests this fall. Thank you to our many members who offered their assistance. Please read the rest of this action alert at http://bit.ly/k69IhZ.


Montana Gives Tentative Approval To Wolf Hunt


"HELENA - Montana wildlife officials tentatively approved a plan Thursday to allow hunters to kill as many as 220 wolves this fall, marking the state's first wolf management decision since Congress lifted endangered species protections. The unanimous vote opens the door for the public to weigh in before the commission makes a final decision in July. It would be Montana's second wolf hunt since 2009, when 72 wolves were killed, and state Fish, Wildlife and Parks commissioners appeared confident the 2011 hunt will be approved." (Source: Billings Gazette) http://bit.ly/l5KTZb.


Montana Seeks Comment On 2011 Wolf Hunting Season

"Montana's Fish, Wildlife & Parks Commission is seeking comment on a wolf hunt proposed for the 2011 season. Based in part on lessons learned from the state's first regulated wolf hunt in 2009, FWP wildlife managers propose to create 14 wolf management units and an overall harvest quota of 220 wolves. Commissioners approved a harvest quota of 186 wolves across 13 wolf management units for the 2010 season, which was blocked by a federal court." Public comments on the 2011wolf season proposal are due by 5 p.m. on June 20. (Source: The Outdoor Wire) Read the full release at http://bit.ly/iz8S4Q.


Sportsmen Move Closer To Accessing Hundreds Of Thousands Of Acres Of Federal Land


"Hundreds of thousands of acres of Federal public land could soon be open to hunting, fishing, trapping and shooting as legislation was introduced in the United States Senate to guarantee funding for improving public access to federal public lands. The Making Public Lands Public Act, introduced in the U.S Senate today by Congressional Sportsmen's Caucus (CSC) Senate Co-Chair Sen. Jon Tester of Montana and Senate Vice Chair Sen. James Risch of Idaho, would require the Secretaries of Agriculture and Interior to utilize 1.5% or a minimum of $10 million annually of their Land and Water Conservation Fund budgets for projects that secure recreational public access to existing federal lands through easements, rights-of-way, or fee title acquisitions from willing sellers." (Source: Congressional Sportsmen's Foundation) Read the release at http://bit.ly/mcV2xa.