May 20, 2010 "In The Crosshairs"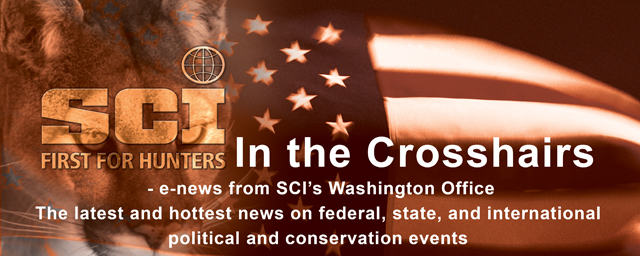 May 20, 2010

SCI Taking Hunters' Message To Capitol Hill
Washington, D.C. – Safari Club International (SCI) board members participated in more than 170 meetings last week with members of the U.S. House of Representatives and the U.S. Senate on behalf of hunters everywhere. Safari Club International's annual "Lobby Day" on Capitol Hill represented the largest gathering of U.S. hunters in Washington, D.C. This year, hunters sought legislative progress on key legislation to help ensure sportsmen and women can continue to hunt on the nation's public lands. (SCI Press Release) bit.ly/cSHQG2

A Win For International Conservation
Safari Club International (SCI) sent representatives to CITES (the Convention on International Trade in Endangered Species of Wild Fauna and Flora) last March prepared for a debate on the definition of what constitutes a hunting trophy. SCI knew getting this regulation right was critical because it will have a big effect on traveling hunters and international wildlife conservation. John Monson, SCI's lead delegate at CITES, said, "For the past 35 years, CITES has not defined the term 'hunting trophy' because regionally there are various interpretations of what a trophy actually is. But these differences have resulted in confusion that has led to the seizure and the destruction of trophies. So we needed to get this thing done right." (NRA American Hunter Online) http://bit.ly/avFchc

Representative Marc Gergely Honored as SCI's 2010 State Legislator of the Year
Washington, D.C. – Safari Club International is pleased to announce Pennsylvania State Representative Marc Gergely as the 2010 State Legislator of the Year. An avid outdoorsman who enjoys fishing and bow hunting, Representative Gergely is the current Democratic Chair of the Pennsylvania Legislative Sportsmen's Caucus (PALSC) and serves on the House Game and Fish Committee where he has made hunting, angling and conservation issues a top priority in the Commonwealth's political arena. (SCI Press Release) http://bit.ly/97XtUe

Hunting Is Saving Africa's Wildlife
Even the most ardent bunny-huggers can't deny what hunting does for wildlife. In a headline about the current state of wildlife in Africa, Conde Nast Traveler begrudgingly and sarcastically proclaimed, "Perhaps the best way to save wildlife in Africa is to kill it." It's true, undeniably so. You could almost hear the Conde Nast editor's fingernails screech across her keyboard as she was forced to acknowledge that, yes, African wildlife is thriving because of hunting. (NRA's American Hunter Online) http://bit.ly/avFchc

SCI Continues To Support Bear Hunting In New Jersey
SCI, our ally the New Jersey State Federation of Sportsmen's Clubs, and individual hunters testified in support of draft black bear management policies that would authorize a black bear hunt in New Jersey for the first time in five years. Governor Christie's administration has vowed to adopt policies based on science and sound wildlife management principles. In contrast, the prior administration bowed to political pressure to flatly reject a bear hunt, although a hunt is the only scientifically proven means to control the burgeoning population. Testifying against the policies were the BEAR group, a local anti-hunting organization, and national organizations like the Humane Society of the United States. The highly emotional hearing was well attended by parties in favor of a hunt and those opposed. SCI will be submitting written comments on the draft policies by June 18, 2010. SCI members are encouraged to submit comments in support of the draft policies. For more information, go to http://www.state.nj.us/dep/fgw/bearpolicy10.htm.

Montana To At Least Double 2009 Wolf Hunt Quota
HELENA, Mont. — The Montana Fish, Wildlife and Parks Commission plans to at least double the number of gray wolves that hunters can kill this year. Commissioners voted Thursday to accept a staff recommendation to increase the quota of wolves in this year's hunting season. After a public comment period, they will vote in July whether that final number will be 150, 186 or 216 animals. (AP Online) http://bit.ly/avFchc

Safari Club Weighs In On Elk Herd Thinning
A hunting group now has the chance to make its case for using sharpshooters to thin the elk herds in Rocky Mountain National Park. The 10th U.S. Circuit Court of Appeals ruled Wednesday that a lower court erred in not allowing the Safari Club to become a party in a lawsuit filed by an environmental group. WildEarth Guardians filed its lawsuit in 2008 after park officials approved a plan to use federal and state employees as well as volunteers to kill elk in the park. WildEarth Guardians said park officials didn't fully consider the release of wolves to reduce the herds before it decided on sharpshooters. Park officials say overgrazing by the elk herd in and around the park has damaged habitat and threatened other species. http://bit.ly/bAiuDw