June 4, 2007 "In The Crosshairs"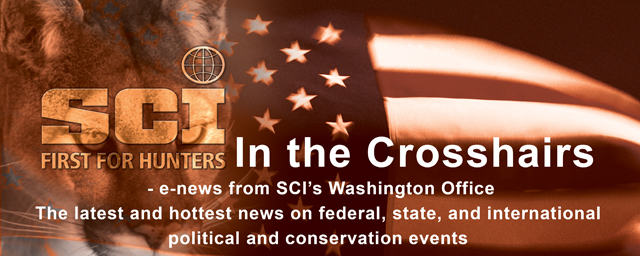 June 4, 2007


Trophy Hunting Cited as Positive Example of Conservation


Trophy hunting was cited today as a positive example of conservation of endangered species. At the opening ceremonies of a 170-nation meeting in The Hague, the Secretary General of CITES, Willem Wijnstekers, singled out trophy hunting as an example of an acceptable and desirable wildlife activity, even with species that are on the international endangered species list.
Speaking to more than 1,000 delegates from around the world, Wijnstekers talked about the need to achieve the conservation of wildlife and plants by recognizing responsible wildlife uses such as trophy hunting when they are done on a sustainable basis, with the benefits going into conservation. This is a far cry from the early days of CITES, when sport hunting was often under attack as an unacceptable form of wildlife exploitation.
CITES has come to realize that wildlife uses such as trophy hunting can also provide incentives and other benefits for the governments that are responsible for conserving wildlife, and for the livelihoods of the local people who live side by side with the wildlife.
Safari Club International was also specifically recognized for its contribution to a special blind trust fund that CITES uses to assist delegates from developing countries in traveling to the meeting. Thanks to this kind of assistance, 67 developing countries were able to bring a full two-person delegation to the meeting.
CITES (The Convention on International Trade in Endangered Species of Wild Flora and Fauna) is a global treaty that regulates the international shipment of wildlife and plants, including hunting trophies. Its goal is to ensure that the trade does not endanger the wildlife.


Potential Ivory Sales Given a Big Boost


Here's the text of a press release issued on Saturday, June 2, by the CITES Secretariat (see CITES website: www.cites.org ):
" The Hague , 2 June 2007 - The Convention on International Trade in Endangered Species of Wild Fauna and Flora (CITES) has approved exports of elephant ivory from Botswana (20 tons of ivory), Namibia (10 tons) and South Africa (30 tons). (emphasis added)
"The exports were agreed in principle in 2002 but were made conditional on the establishment of up-to-date and comprehensive baseline data on elephant poaching and population levels.
"Today's meeting of the CITES Standing Committee (which oversees the implementation of CITES decisions between the major conferences) determined that this condition has been satisfied and that the exports may proceed.
"The CITES Secretariat will closely supervise these new exports and monitor future trends in elephant poaching and population levels throughout Africa. By basing future decisions on reliable field data, CITES can develop an approach to elephant ivory that benefits States relying on elephants for tourism as well as those seeking income from elephant products in order to finance wildlife conservation," said the Secretary-General of the Convention, Mr Willem Wijnstekers.
"CITES banned the international commercial ivory trade in 1989. Then, in 1997, recognizing that some southern African elephant populations were healthy and well managed, it permitted Botswana , Namibia and Zimbabwe to make a one-time sale of ivory to Japan totaling 50 tons. This sale took place in 1999 and amounted to some USD 5 million.
Legal sales of ivory derive from existing stocks gathered from elephants that have died as a result of natural causes or problem-animal control. Today the elephant populations of southern Africa are listed in Appendix II of the Convention (which allows trade through a permit system), while all other elephant populations are listed in Appendix I (which prohibits all imports for commercial purposes). " (Source: CITES.org)
This decision of the Standing Committee was the initial round in the great elephant debate. It was a serious defeat for Kenya, which tried everything it could to stop the ivory sales. The vote of the Standing Committee to approve the ivory sales that were agreed to several years ago may signal the willingness of the CITES Parties to allow limited, controlled trade in ivory. This would spell complete defeat for the Kenyan proposal for a 20-year moratorium on ivory trade.
SCI supports the southern African countries in their efforts to be allowed to trade in ivory. The elephant populations of those countries are large and have been well-managed. The revenues from the ivory sales will be plowed back into elephant management and into helping the poor rural communities that have to live side by side with these large populations of elephants. Elephants are well-known in that region for destroying crops and killing people. The revenues from sport hunting of elephants in the southern African region, which takes a tiny percentage of the elephant population, also contributes to the management of elephants and provides benefits of several kind (including meat) to the people in the area.
The Kenyan proposal for a 20-year moratorium would have also imposed a ban on sport hunting of elephants in Zimbabwe. This was strongly opposed by SCI.
Look for More CITES Updates Soon!