June 5, 2008 "In The Crosshairs"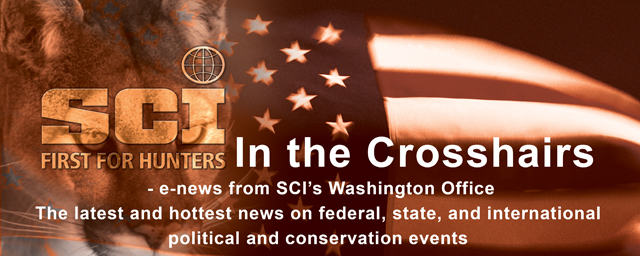 June 5, 2008


SCI Wins Legal Victory on Enhancement Permits


This week, the D.C. Court of Appeals handed SCI an important victory in an Endangered Species Act case. The three judge appellate panel granted SCI's request to vacate a 2006 D.C. district court opinion issued in a case brought by HSUS and other animal rights groups against the U.S. Fish and Wildlife Service. Safari Club International and Safari Club International Foundation participated in the case as intervenors. The district court had ruled that enhancement of survival permits, issued by the FWS to Wisconsin for the lethal removal of then endangered wolves, violated the Endangered Species Act. After the FWS delisted the Western Great Lakes wolves, the question of the legality of Wisconsin's permit became moot, but the lower court's ruling persisted as a deterrent to the issuance of future enhancement permits, which benefit wildlife management. SCI succeeded in persuading the Court of Appeals to vacate the district court's opinion, and effectively wiped the slate clean on the question of whether the FWS has legal authority to issue enhancement permits for the lethal removal of members of an endangered species.


SCI-Canada Director Meets Canadian Prime Minister


New SCI-Canada Director Bob Valcov had an opportunity to meet with Canadian Prime Minister Stephen Harper at a small reception in Ottawa recently. Prime Minister Harper was pleased to learn that Valcov is now managing SCI's Canadian initiative from a new office in the nation's capital. An Albertan himself, the Prime Minister is familiar with SCI and knows that SCI is an aggressive advocate for conservation and hunter's rights. Harper communicated to Valcov his hopes that SCI will grow and continue to promote its mission in Canada. Despite its minority status, Prime Minister Stephen Harper's Conservative government has been the most hunter-friendly administration in Canada in decades.


Economist Article Hails Sustainable Natural Resources Use


The Economist magazine has praised a concept that SCI has long advocated -- sustainable use of natural resources. Sustainable use, if based on sound scientific management, benefits both the wildlife involved and local communities. The concept of sustainable use has been vital to the success of Community Based Natural Resources Management (CBNRM) programs in Africa. Most SCI members have heard of programs in Africa like CAMPFIRE in Zimbabwe and LIFE in Namibia. These two programs have been used as models by other Southern African countries that believe there is a relationship between sound utilization of natural resources and rural community development. CBNRM programs have advocated hunting as both a sustainable use of wildlife and a means for economic and infrastructure growth in some of the most remote regions of Africa. The latest edition of The Economist expounds on sustainable use and investigates the most recent reports from TRAFFIC (wildlife trade monitoring group) that support such efforts. To view TRAFFIC's report, click here. To view the recent article in The Economist, click here.


NEWSWEEK Article on Polar Bear Listing


The recent listing of the polar bear by the U.S. Department of the Interior has raised many eyebrows around the nation and the world due to the far reaching impacts that the listing may or may not have in the not so distant future. The NEWSWEEK article, available at http://www.newsweek.com/id/139537, lists many of the current players and their concerns with the polar bear issue. Omitted from the report was the sound conservation data that SCI has preached since day one. Those who hunt and import sport hunted polar bears from Canada do so only from populations with sustainable hunting programs and for every import permit to the United States, $1,000 goes directly to polar bear conservation. Two glossed-over issues were 1) the economic benefits that indigenous communities realize from foreign hunters paying to come and use the Canadian administered hunting tags and 2) the fact that polar bear mortality does not increase due to foreign hunters because the native communities use for subsistence purposes any tags not used by foreign hunters.
As reported, SCI has filed suit to allow for the continued import of polar bear trophies under the current listing. To learn more about the polar bear issue, please go to www.polarbearfacts.org.


Alberta Canada's Hunting Heritage Act Passes


On May 15th, 2008, Alberta's legislature passed a statutory right to hunt, fish and trap. The Alberta Hunting Heritage Act will secure one of the most culturally important recreational activities for the citizens of Alberta. The Alberta Fish and Game Association fully endorsed the legislation and has worked to have hunting, fishing and trapping recognized as "legitimate, rightful privileges under the protection of law and will serve [Albertans] well in the future." To view the Alberta Hunting Heritage Act please go to http://www.qp.gov.ab.ca/documents/Acts/H15P5_08.cfm?frm_isbn=9780779733002.
SCI's new Canadian office, headed by Director Bob Valcov, sent letters on behalf of SCI's Canadian members to the Ministry of Sustainable Resources Management to express strong support for this vitally important legislation. To view SCI Canada's website please visit www.safariclub.ca.


U.S. Officials Praise Tanzania for Successful Wildlife Conservation


President Bush's Administration staff has praised Tanzania for their extremely successful wildlife conservation model, which includes scientifically based sustainable use of natural resources and implementation of community based natural resources programs. The Administration touts these programs as being one of the key factors that can contribute to the reduction of poverty in Southern African countries. To read the full article about the Administration's visit to Tanzania during the 8th Sullivan Summit, go to http://allafrica.com/stories/200806040507.html.