June 8, 2007 "In The Crosshairs"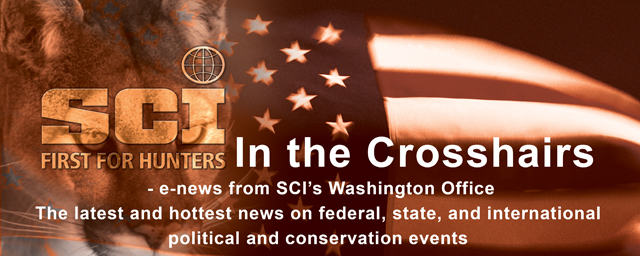 June 8, 2007


SCI and FACE Beat Back Subtle Attacks on Hunting at CITES


Animal rights advocates continued to look for subtle and hidden ways to attack sport hunting at the CITES meeting in Holland. During two very mundane and procedural discussions yesterday, there were attempts to question whether hunting trophies were personal effects and whether the quotas for leopards should be reconsidered as the basis for trophy export permits. SCI was able to detect each of these attacks and to nip them in the bud.
The question about hunting trophies came up during a working group meeting on a resolution that interpreted the treaty's exemption for personal effects. For unknown reasons, the Italian delegate to the meeting kept insisting that the working group include the issue of hunting trophies. The language she proposed as a guideline to the issue was very vague. SCI and FACE (the European hunting federation that is an allied organization with SCI) smelled a rat and got the chairman of the working group to declare that the issue of hunting trophies was off the table. SCI will sit in on the working group's second meeting today to make sure that there is no effort to revive the issue by Italy. FACE has raised questions within the European Union about Italy's actions, as another method of assuring that the issue remains off the table.
During a discussion of a completely procedural and technical issue, an animal rights front group called the International Law Project (ILP) tried to question a basic assumption that has been accepted by CITES, in writing, for many years. The assumption is that when all the CITES parties have approved a leopard trophy export quota for a particular country, permits for trophies can be issued without further findings, as long as the quota is not exceeded. The ILP tried to get the language changed to require additional findings before permits could be issued. SCI immediately took the floor and pointed out that ILP was out of order. The issue was then dropped completely.
We will continue to keep you posted.