June 12, 2009 "In The Crosshairs"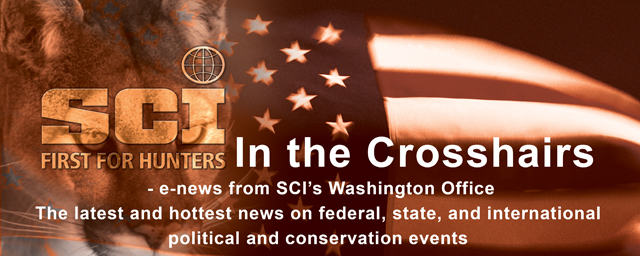 June 12, 2009


Mossy Oak Partners with SCI Foundation


TUCSON, AZ – Safari Club International Foundation (SCIF) and Mossy Oak are teaming up to help hunters and conservation, including funding of white-tailed deer research at the University of Georgia. Mossy Oak is also the newest SCI Corporate Sponsor, supporting SCI's mission to protect the freedom to hunt and to promote conservation. Mossy Oak and the SCI Foundation signed an agreement this week to jointly fund a conservation research project at the world renowned College of Veterinary Medicine's Southeastern Cooperative Wildlife Disease Study (SCWDS) at the University of Georgia. The project will investigate reasons for expansion of epizootic hemorrhagic disease viruses (EHDV) and bluetongue viruses (BTV), better define the impacts of these viruses on deer populations, and then develop recommendations to control and curtail spread of the diseases if possible. Read the full release at www.safariclub.org.


Litigation Begins Over the Delisting of Wolves


SCI is closely reviewing two separate cases filed in two different courts on June 2, 2009 to challenge the U.S. Fish and Wildlife Service's rule to delist the wolves of the Northern Rocky Mountains, with the exception of the wolves of Wyoming. In federal district court in Montana, Defenders of Wildlife and 12 other wolf and environmental groups filed a suit challenging the legality of the delisting of Idaho and Montana's wolves. In a separate suit, filed in U.S. District Court in Wyoming, the state of Wyoming challenged their state's exclusion from the delisting. Additional litigation to challenge the delisting of the Western Great Lakes wolf population is likely to be filed by yet another group of Plaintiffs next week. SCI is reviewing each of these cases to determine whether and how it should participate. In the past, SCI has intervened to defend efforts to delist wolves, which paves the way for better State management of wolves and possible future hunts, in both the Northern Rocky Mountains and Western Great Lakes areas.


UI Investigating Researcher Over Bighorn Study


"MOSCOW, Idaho – The University of Idaho has opened an investigation into whether the head of its Caine Veterinary Teaching and Research Center suppressed information from a 1994 study that appears to show bighorn sheep can get deadly diseases directly from domestic sheep on the open range. The center's leader, Marie Bulgin, is a past president of the Idaho Wool Growers Association who has testified before Idaho lawmakers and in federal court that there is no evidence of such disease transmission… Bulgin has said there may be other factors, including stress, that result in bighorn sheep die-offs, such as ones where 300 sheep died in 1995 and 1996 in Hell's Canyon. Idaho bighorn numbers have dwindled by half since 1990, to about 3,500 animals." (Source: The Olympian Online) Read the full article by clicking here.


California Fish and Game Commission to Consider Expanding Lead Ammo Ban, Again

SCI will be closely monitoring a hearing on June 24-25, 2009, in which the California Fish and Game Commission will take public comments on whether they should again expand the ban on lead ammunition in condor range. Apparently, the proposed regulation will have three alternatives for the Commission to consider: 1) take no regulatory action (proposed by the Department of Fish and Game); 2) ban lead ammo for taking tree squirrels, hares and upland game birds, including migratory upland game birds, such as doves, in the range of the condor; and 3) ban lead ammo for taking all upland game mammals and birds in the range of the condor. The June 24-25 meeting agenda is available at http://www.fgc.ca.gov/meetings/2009/2009mtgs.asp. SCI encourages interested members to file written comments at or before the hearing. You may also testify orally at the hearing, held in Woodland. Final consideration of the proposed regulations is set for the Commission's August 6 meeting and you can file comments at or before this meeting also. SCI also understands that any new regulations will not be in effect for the 2009-2010 hunting season as the regulations booklets have already gone to print and it is considered to be too late for this year.


South Africa and Mozambique Increase Elephant Export Quotas


South Africa increased its CITES elephant export quota from 200 to 300 tusks (100 elephants to 150 elephants) and Mozambique increased its CITES elephant export quota from 80 tusks (40 animals) to 120 tusks (60 animals). The increases were posted to the CITES website on June 6.


Zambia: Zawa Contributes K20 Billion in Last Eight Years


"THE Zambia Wildlife Authority (ZAWA) has in the past eight years contributed more than K20 billion towards the rural developmental projects as an incentive for co-managing the wildlife in the country. And Tourism Permanent Secretary Teddy Kasonso has hailed the World Bank and the Royal Norwegian Embassy for their continued support towards the development of the Kafue National Park. ZAWA director general Lewis Saiwana said more than K20 billion which is also part of the institution's social responsibility had been administered to communities bearing the direct costs of sharing the land with wildlife." (Source: AllAfrica.com) Read the full article here.


Congressional Sportsmen's Foundation Recognizes SCI as Long Standing Partner
"The Congressional Sportsmen's Foundation is fortunate to have a diverse group of partners within the hunting and fishing community, as well as among those allied industries who serve sportsmen and women. Many of these partners have supported us from the beginning and have shared CSF's vision of promoting and protecting hunting, fishing and trapping in the political arena…CSF is proud to recognize Safari Club International for its longstanding support. SCI is a founding supporter of the Congressional Sportsmen's Foundation and with contributions of nearly $750,000, they continue to recognize the value of organizing pro-sportsmen legislators into federal and state caucuses to defend our outdoor traditions and privileges. Just as important, SCI and its members regularly attend CSF functions such as our annual banquet and auction, Childress "Wine, Wheels and Wildlife" event, Congressional Shoot-Out and NASC Annual Meeting." Read the rest of the article at www.HuntingLife.com.