June 13, 2008 "In The Crosshairs"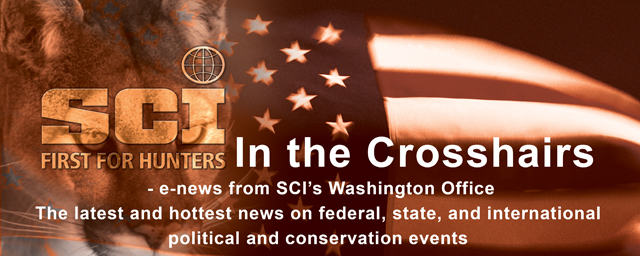 June 13, 2008


SCI Notifies Interior Department it Will Sue over Polar Bear Listing


Safari Club International (SCI) today officially notified the U.S. Department of the Interior and Fish and Wildlife Service (FWS) that it would file a lawsuit challenging the listing of the polar bear as threatened under the Endangered Species Act (ESA). The 60-day notice, required by the ESA, asks the FWS to reverse the listing within 60 days and sets forth nine claims against the FWS. This Notice Letter comes on the heels of a lawsuit filed last month by SCI challenging the FWS's conclusion that the import of sport-hunted polar bears into the United States is no longer allowed because of the ESA listing.
SCI has long opposed the listing of the polar bear under the ESA. In short, tremendous uncertainty exists regarding the nature and extent of climate change over the next 45 years and the impact of any climate change on polar bears. This uncertainty should have prevented the FWS from making the findings the ESA requires for listing. SCI has further pointed out that sustainable sport-hunting of polar bears and subsequent importation by U.S. citizens advances polar bear conservation and supports remote native communities in the Canadian arctic.

 
California Mammal Hunting Regulations Include List of Certified Non-lead Ammo for Use in Condor Range

The California 2008-09 Mammal Hunting Regulations Booklet, including information about hunting in Condor range and a list of certified non-lead ammunition for hunting big game and non-game birds and mammals in Condor range, is now available online, http://www.dfg.ca.gov/regulations/08-09-mammal-regs.pdf, and should soon be available through normal outlets. The certified non-lead ammunition list is effective as of June 1, 2008. Check with the California Department of Fish and Game for updates to this list.

 
Tigers Spill Out of One Indian Sanctuary


"Tigers are doing so well in one of India's top reserves that authorities have agreed to expand its boundary to give them a bigger area to roam, a rare piece of good news for a country struggling to save its big cat. Better conservation efforts have led to a crowding of tigers at the Jim Corbett reserve, and the animals have begun straying into buffer zones from core areas, officials said. The 1,300-square km (500-square mile) reserve at the Himalayan foothills now has 164 tigers, up almost 20 percent over the past five years. Other animal numbers are also up at the reserve." (Source: Reuters) To read the article: http://in.reuters.com/article/email/idINSP24300720080611

 
FWC Resolution Supports Amendment 4


"The Florida Fish and Wildlife Conservation Commission (FWC) unanimously passed a resolution Thursday, expressing support for proposed Constitutional Amendment 4. The amendment, to appear on the general election ballot in November, would create incentives for landowners to set aside land for conservation easements or practice proactive conservation to benefit wildlife. If 60 percent of voters approve the amendment, it will become part of the Florida State Constitution." (Source: The Outdoor Wire) Full release available here.

 
Kilimanjaro's Lions Face Extinction


"Mount Kilimanjaro's lions face extinction at the spear point of Maasai cattle herders, warn conservation experts. Once common in rural Kenya, fewer than 150 lions now roam the eco-tourism haven in and around Amboseli National Park, just northwest of Tanzania's famous mountain. Since 2003, local cattle herders have killed 63 lions, often in retaliation for lost livestock, according to National Geographic Society conservationists." (Source: USA Today) Read the full article here.

 
Secretary Kempthorne Announces Massive Addition to Wildlife Refuge

"As part of a suite of wetlands acquisition and conservation grant approvals, the Migratory Bird Conservation Commission today approved $4 million to purchase more than 18,000 acres of prime prairie wetland and associated grassland habitat for the Glacial Ridge National Wildlife Refuge in northwestern Minnesota – one of the largest purchases ever using dollars generated from Federal Duck Stamp sales and import duties on firearms and ammunition. Chaired by Secretary of the Interior Dirk Kempthorne, the Commission – comprised of members of Congress and federal cabinet secretaries – also approved the purchase of an additional three thousand acres of waterfowl habitat for inclusion in the National Wildlife Refuge System." (Source: FWS) To read the full release: http://www.doi.gov/news/08_News_Releases/080612a.html