June 16, 2011 "In The Crosshairs"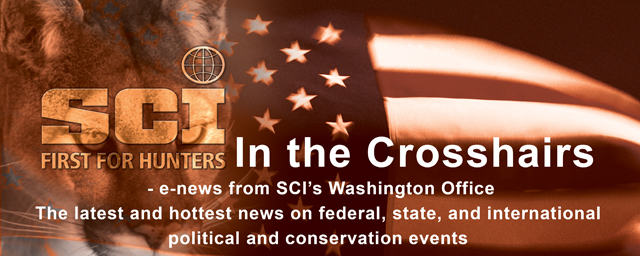 June 16, 2011

The battle over the delisting of the grey wolf in Western states rages on. In a decision made by the U.S. Fish and Wildlife Service on May 4th, 2011, the 2009 decision to delist biologically recovered wolf populations in the Northern Rocky Mountains was reinstated. Although the language in this decision stated that it could not be challenged in court, a coalition of four environmental groups did just that, and filed lawsuits against the decision. The National Rifle Association and SCI fired back immediately by filling intervenor status in the challenges. If the decision is not overturned, Montana and Idaho could allow management hunts and have wolf tags available as early as this fall.


SCI and NRA Continue Fight to Intervene in Wolf Lawsuit
"The National Rifle Association (NRA) and Safari Club International (SCI) will move for reconsideration after being denied intervenor status June 1 by the Montana Federal District Court in a new challenge to the wolf delisting contained in the continuing resolution for FY 2011 by the Alliance for the Rocky Mountains. That court decision was based on the notion that the federal government would adequately represent SCI and NRA's interests in the litigation. The NRA and SCI contend they have a right and indeed a responsibility to defend the interests of their members and the hunting community in general." (Source: nrahuntersrights.org)


Virginia Board of Game and Inland Fisheries Throws Support Behind Sunday Hunting

"At its June 7 meeting, the Board of Game and Inland Fisheries passed a resolution supporting Sunday hunting in Virginia. For years, the board has maintained a neutral stance on this issue. The ban on Sunday hunting is set in the Code of Virginia by the Virginia General Assembly, and repealing it would take legislative action. If the ban on Sunday hunting is repealed, the responsibility for determining hunting dates and times will rest entirely with the Board of Game and Inland Fisheries." (Source: delmarvanow.com)
SCI is a founding member of the Sunday hunting coalition and has been a leader on ending Sunday hunting bans in the 11 states where it still exists, including Virginia.


Obama Administration Announces Federal Council Dedicated to Promoting Outdoor Recreation

The Obama Administration announced on Monday the creation of a new federal interagency council to coordinate and promote outdoor recreation opportunities on public lands in partnership with federal, state, and tribal agencies. The Federal Interagency Council on Outdoor Recreation (FICOR) is part of the presidents America's Great Outdoors Initiative.


USDA Announces New Recreational, Fishing and Hunting Opportunities in Rural Areas
"Agriculture Secretary Tom Vilsack today announced developments in two popular USDA programs that will support conservation of working lands for the benefit of wildlife, water quality, and recreation. The Secretary announced that USDA will accept 2.8 million acres offered by landowners under the 41st Conservation Reserve Program (CRP) general sign-up. The selections preserve and enhance environmentally sensitive lands while providing payments to property owners. Additionally, USDA has approved eight additional states and one tribal government to participate in the Voluntary Public Access and Habitat Incentive Program (VPA-HIP), which encourages private landowners to provide public access to their lands for wildlife-dependent recreational opportunities, including fishing and hunting." (Source: usda.gov)


Four ATF Agents Working on Controversial Operation 'Fast and Furious' Tell their Story

"Oversight and Government Reform Committee Chairman Darrell Issa (R-CA) and Senate Judiciary Committee Ranking Member Senator Chuck Grassley (R-IA) released the report, "The Department of Justice's Operation Fast and Furious: Accounts of ATF Agents." The report includes testimony from four Bureau of Alcohol, Tobacco, Firearms, and Explosives (ATF) agents offering firsthand accounts about the controversial Operation Fast and Furious that allowed suspects to walk away with illegally purchased guns." (Source: usda.gov)


Florida Black Bear Removed from Threatened List

The iconic Florida black bear, considered threatened since 1974, and 15 other species are no longer considered threatened now that new studies have shown they are no longer at high risk of extinction. This could open the door to bear hunting in Florida, which has been banned since 1994.


Move Now to be Fit for Fall Hunting

Fall hunting season is just around the corner. Make a few changes now to ensure you are ready to find your trophy this season.


Your Investment in SCIF will make a difference

Our Annual SCIF Fund Drive is about to close for 2011. This is your Foundation's most important fund drive of the year. Your generosity will help us carry out numerous wildlife conservation efforts at home and around the world. To make your donation today, please click on the following link:


Tickets are now available online for the 2011 EPIC Outdoor Game Fair

The EPIC Outdoor Game Fair is being held from September 23 - 25, 2011 at the Foxhall Resort & Sporting Club in Atlanta, Georgia. This is a great opportunity for sportsmen, women, and youth to engage in outdoor sporting activities that promote education, participation, instruction, and competition.