June 22, 2007 "In The Crosshairs"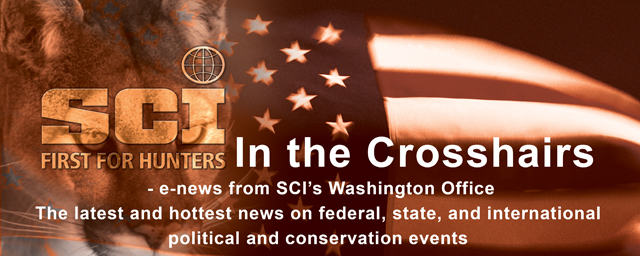 June 22, 2007


Polar Bear Hunting Ban Moves Forward in Congress – Call your Congressmen Now to Oppose


The so-called "Polar Bear Protection Act" was added to an Interior Appropriations Bill late last night by Senator Jack Reed of Rhode Island. This bill would ban the importation of trophies of polar bears legally taken from healthy populations in Canada. Stand-alone bills H.R. 2327 and S.R. 1406 would do the same thing. Sportsmen's groups, including SCI, have sent a letter to Congress urging them to consider the facts and not support this bill on its emotional appeal. The attached letter and "Myths vs. Facts" document explain the whole issue in detail.
An import ban would harm polar bear conservation and management and would do nothing to reduce the number of polar bears harvested in Canada. The native communities who own the polar bear "tags" assigned to them by the Canadian government would simply use the tags for subsistence purposes if they couldn't sell the tags to American hunters. A ban also would severely harm the economic well-being of the native communities that must live with the polar bear on a day-to-day basis, taking away millions of dollars from their economy, which provides the incentive for polar bear conservation and research. SCI, the NRA, the Congressional Sportsmen's Foundation, and others are fighting this legislation as it makes its way to the Senate Floor. Calls, letters, and e-mails to your representatives in Congress to oppose these anti-hunting bill would help. Find your legislator at http://http://www.senate.gov/ or http://http://www.house.gov/. We will keep you posted.


Hunting Numbers Drop Again…


According to the 2006 U.S. Fish and Wildlife Service survey of outdoor recreation, the number of anglers has dropped 12 percent since 2001 and the hunter count has fallen off by 4 percent during the same five-year period. Wildlife watching, however, is up 8 percent. Migratory bird hunters dropped a whopping 22 percent while small-game stalkers fell by 12 percent. The number of big-game hunters has remained relatively stable over the last half decade, falling only 2 percent. "Though the final report won't be available until November of this year, the preliminary findings reveal a downward pattern that worries many sportsmen: over the last 15 years or so, millions fewer people have been hunting and fishing in a country with a rapidly expanding population. There are countless reasons for the trend, chief among them urbanization and changes in America 's rural culture. Video games and cable television vie for the attention of young kids, and their parents can't find the time or gain access as readily to the nation's rapidly disappearing hunting fields and fishing holes." SCI will alert its members when the final report is released. (Source: USFWS)


…But Money Spent on Recreation Increases


"Preliminary data from the 2006 National Survey of Fishing, Hunting and Wildlife-Associated Recreation shows the importance of wildlife-related recreation to the American people. Of all Americans age 16 or older, 30 million or 13 percent fished and spent $41 billion on their activities, 12.5 million or 5 percent hunted and spent $23 billion, and 71 million or 31 percent observed wildlife and spent $45 billion. These numbers do not reflect the entire hunting fishing and outdoor community, but it gives a solid look at the economic benefits that are generated through proper wildlife conservation and management annually. Please click on the link below to read the full article. Full Article... (Source: USFWS)


PHASA Advises Early Form Submission


The required form that allows foreign individuals to enter the RSA with their firearms is the SAP form 520. Normally it takes anywhere from 2 - 4 hrs to get firearms checked through customs, but now PHASA is marketing a service of registering your firearm early that will help to expedite your time spent in South Africa's airports. This service is available for $110 from the Professional Hunters Association of South Africa website, www.phasa.co.za. Click on "General Hunting Information", then "Temporary Importation of Firearms," and you will see step by step instructions to walk you through the process of filling out for your SAP 520. Other organizations in South Africa offer this service as well so as always, check with your outfitter before leaving for your hunt.


Canada to Ban Handguns Part II


" Quebec seeks to ban firearms in schools and on public transit and will require gun club owners to report suspicious behaviour. The measures are part of new provincial legislation introduced to control firearms and weapons in the province. The bill will restrict ownership of semi-automatic weapons to gun club members; force owners of restricted firearms to leave their weapons at gun clubs; limit the right of the owner to transport guns from one place to another; require people to apply for gun permits in person at a police station and pass an aptitude test; require gun club owners to report any suspicious or unusual behaviour detected among members; require other professionals, such as physicians and teachers to report suspicious behaviour even if it contradicts doctor-patient or any other confidentiality; and create gun-free zones on public transit, and at day cares, schools and colleges. Someone who does not comply with this ban will have to pay a very high fine of as much as $5,000." (Source: Yahoo! Canada News and CTV.ca News)


Group Files Suit Against Wyoming Wells


"A conservation group has appealed a federal plan to allow the drilling of 2,000 new wells in the Atlantic Rim area in Wyoming. The Theodore Roosevelt Conservation Partnership appealed the Bureau of Land Management decision to increase development in the area, which is coveted by hunters for its wildlife. BLM's plan does not include adequate monitoring to ensure that wildlife is not harmed, according to the group. TRCP is concerned that the Atlantic Rim will suffer wildlife losses similar to those seen at the nearby Pinedale gas fields." SCI will keep you posted. (Source: Outdoor Wire)


Cape Cod Hunting Plan Out in July


The National Park Service hopes to make available to the public by the end of July its Final Environmental Impact Statement ("FEIS") on its Hunting Plan for the Cape Cod National Seashore. One of the major issues of this Hunting Plan is whether the Park Service, in conjunction with Commonwealth of Massachusetts, should continue to hold a pheasant hunt within the Seashore. Before a lawsuit challenging all hunting in the Seashore halted the pheasant hunt a few years ago, Massachusetts had held the hunt for about 60 years. The Park Service preliminarily proposed phasing out the hunt over 15 years in favor of native bird hunting. SCI filed substantive comments supporting the reinstatement of the pheasant hunt for as long as hunter and Commonwealth interest remained. The Park Service likely will take public comment on the FEIS, then issue a final decision sometime 30 days after publication of the FEIS. Interested members should be prepared to comment on the FEIS.