June 23, 2009 "In The Crosshairs"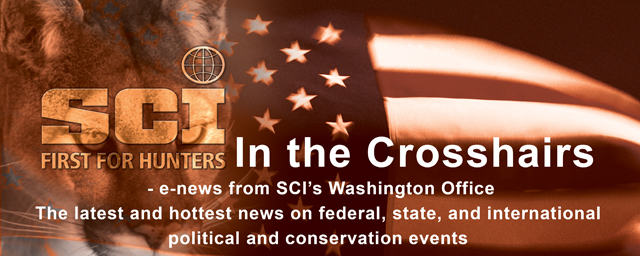 June 23, 2009


SCI Moves to Defend Wolf Delisting and Fight Thirteen Anti-Hunting Groups

Washington, DC – Safari Club International (SCI) asked a U.S. District Court in Montana for permission to intervene in defense of the Northern Rocky Mountain wolf delisting. SCI's request comes in response to a lawsuit brought by thirteen animal rights and environmental groups on June 2, 2009 to challenge the U.S. Fish and Wildlife Service's (FWS) decision that removed wolves in Montana and Idaho from the "endangered" species list. SCI seeks to participate as a party to defend the federal agency's decision to recognize the recovered status of the wolves and to turn management of the species over to the states where it belongs. Over the years, SCI has actively participated in multiple cases concerning the status and management of wolves, including litigation in Oregon, Vermont, the District of Columbia and Montana. MORE…


Pennsylvania Legislative Sportsmen's Caucus holds first spring banquet

"HARRISBURG, June 10 – The Pennsylvania Legislative Sportsmen's Caucus, a bipartisan organization with members of the state House of Representatives and Senate, recently held its first annual spring banquet. State Rep. Marc Gergely, D-Allegheny, chairman of the caucus, called the event a tremendous success. 'The banquet was a wonderful opportunity for members of the Pennsylvania Legislative Sportsmen's Caucus to interact with leading sportsmen's groups, industry and the media,' Gergely said. 'We're striving to promote hunting, fishing and wildlife management across the Commonwealth and bring those issues to the forefront of the political discussion in Harrisburg.' During the banquet, the members heard keynote speeches from Craig Kauffman, vice president of Safari Club International, and Alan Probst, a producer and television show host with The Sportsmen's Channel. Kauffman praised the caucus for its advances since its establishment in 1995 and subsequently becoming a member of the National Assembly of Sportsmen's Caucuses." (Source: Rep. Marc Gergely Press Release) The full release is available here.


Chattanooga Safari Club Chapter Donates $4,000 to Elk Program


"A $4,000 check to aid in the restoration of elk in Tennessee was presented at the Tennessee Wildlife Resources Commission meeting on Thursday by the Chattanooga Area Chapter Safari Club International (SCI). The check was presented by Bill Swan, President of the Chattanooga Area Chapter and David Watson, Regional Field Staff Representative of SCI. This brings the total amount donated to date to $13,000 by the Chattanooga Chapter; with matching funds from Safari Club International Foundation. The Chapter, along with the Foundation, has pledged $20,000 towards the project of restoring elk to its former habitat." (Source: www.thechattanoogan.com) Read the full release here.
This conservation project was funded in part by the SCI Foundation "Matching Grants Program." If an SCI chapter is interested in receiving a matching grant for a conservation, humanitarian services or education program please click here to learn more.


SCI Opposes Customs and Border Protection's Attempt to Ban Importation of One-Handed Opening Knives

SCI filed comments Friday opposing proposed rulings by U.S. Customs and Border Protection (CBP) that would ban the import of spring-assisted opening knives into the United States by designating them as switchblades, which are illegal under the 1958 Switchblade Act. These proposed rulings, if adopted, would be a reversal of long standing CBP policy. SCI is concerned because the CBP could read the rulings so broadly as to disallow the import of all one-handed opening knives, whether spring-assisted or not. One-handed opening knives make up over 80% of the sporting knife market. Additionally, many state laws banning switchblades mirror the federal Switchblade Act, so CBP's rulings, if adopted, could cause the criminalization of possession of one-hand opening knives. SCI is working to make sure that the CBP does not finalize these proposed rulings. SCI is also working with our friends the American Wildlife Conservation Partners and the Congressional Sportsmen's Foundation to inform the Secretary of Homeland Security of our opposition to these proposals. A copy of SCI's comments can be found here.


South African Court Rules on Lion Hunting Policy


South Africa's court has ruled that previously adopted regulations requiring captive breed lions to be released two years prior to hunting them has been upheld. SCI has been working with our South Africa office to stay abreast of the situation. Thank you to SCI's South Africa Office and Barbara Crown of The Hunting Report for distributing this information. For more detail from The Hunting Report click here.


Namibian Government Reaches 2009 Quota for Issuing Leopard Export Permits

"The 2009 CITES export quota for leopard is now exhausted. Hence the Ministry of Environment and Tourism would like to inform [international hunters] that, as of the 15th of June 2009, the Permit Office will no longer issue permits to trophy hunt leopards for the rest of the 2009 hunting season." Quoted news release from Namibian Professional Hunters Association.


Hunting in Rural Communities Can Bring Security to Villages and Protect Farming Economies

Two recent articles published on AllAfrica.com from the newspaper "The Namibian" tell the story of how rural villagers are constantly competing with wildlife. Human and animal conflict is becoming more prevalent as game animals lose their fear of villagers. One such community (that you can read about here) relates a well known fact that hunting provides not only a massive economic boost to rural communities but also assists local villagers in controlling the wildlife with which they share the environment.