June 16, 2011 "In The Crosshairs"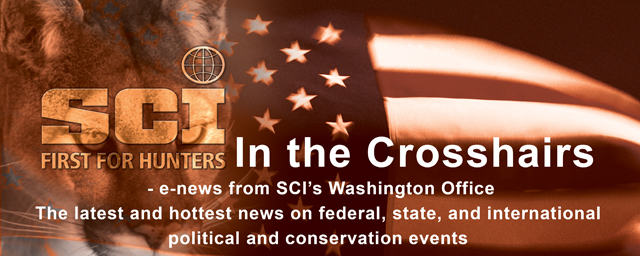 June 24, 2011


SCIF Partners With The International Conservation Caucus Foundation
Safari Club International Foundation (SCIF) is honored to announce their new partnership with the International Conservation Caucus Foundation (ICCF). SCIF has joined the ICCF as a member of the prestigious ICCF Conservation Council. "SCIF is extremely excited to join as a leading partner with a foundation so completely dedicated to conservation like the ICCF," said SCIF President Joseph Hosmer. "SCIF is proud to represent the sustainable-use community on the Conservation Council. With ICCF's emphasis on market-based solutions to our global conservation challenges, we believe that we are natural partners to promote the sustained-use and management of natural resources." (Source: SCI Press Release) http://bit.ly/j5pWlB

Safari Club International Continues Fight To Keep Wolves Delisted
Safari Club International (SCI) moved forward late last week in its fight to represent hunters in the constitutional challenge to wolf delisting legislation. SCI, joined by the National Rifle Association (NRA), filed a motion asking Judge Donald Molloy of the U.S. District Court for Montana to reconsider his decision to exclude SCI and NRA from the latest lawsuit over the status of the wolves in the Northern Rocky Mountains. (Source: SCI Press Release) http://bit.ly/lBIKKe

OR Lawmakers Will Vote On Bill Compensating Ranchers For Livestock Killed By Wolves
A bill that will compensate ranchers for livestock killed by wolves is being sent to the Oregon House of Representatives for a vote. The bill would direct the Oregon Department of Agriculture to establish and implement a wolf depredation fund. State officials have confirmed 41 cases of livestock being killed by wolves, the most recent case occurring on June 5, 2011. http://bit.ly/ii27Ag

Anti-Hunting Campbell-DeFazio Amendment Voted Down In Congress
"A proposal by Congressmen John Campbell (R-CA) and Peter DeFazio (D-OR) to prohibit necessary and legal practices used to effectively manage wildlife and predator species was overwhelmingly defeated in the House of Representatives. The amendment to H.R. 2112, the Agriculture appropriations bill, was strongly opposed by the NRA and other pro-hunting organizations. It was pushed by the Humane Society of the United States and other radical anti-hunting groups" (Source: nra.com) http://bit.ly/l9OhK4

Wisconsin State Legislature Passes Landmark Right-To-Carry Legislation
"Both chambers of the Wisconsin state legislature have voted to approve one of the nation's strongest Right-to-Carry license bills, by solid bipartisan margins. Senate Bill 93, which was strongly backed by the National Rifle Association, now goes to Governor Scott Walker for his expected signature. When signed, it will leave Illinois as the only state that provides no way for citizens to carry concealed firearms for self-protection outside their homes or places of business." (Source: nra.com) http://bit.ly/k5KQWq

SCI Proudly Announces End To Lawsuit Challenging Refuge Hunting
After eight years of litigation, animal rights groups have failed to defeat the proud tradition of hunting in National Wildlife Refuges. Earlier this year, the D.C. federal court delivered a victory to the U.S. Fish and Wildlife Service and its defenders, including Safari Club International. Plaintiffs had attempted to interfere with hunting on close to 70 refuges throughout the system, claiming that the FWS had failed to adequately consider the environmental consequences of those hunting opportunities. In April, the court rejected their challenge. The Plaintiffs had sixty days to appeal the ruling, but did not do so, bringing an end to a long and contentious battle. SCI was joined in intervention by U.S. Sportsmen's Alliance, Ducks Unlimited and other groups.

Wolf-Control Funds Will Continue In Minnesota
"Minnesota ranchers can breathe a sigh of relief knowing that the federal funding for wolf-control measures will continue through September 30th of this year, when the 2011 budget cycle ends. The funding for wolf-control in Minnesota, Wisconsin and Michigan was severely cut by nearly $727,000 back in March. These ranchers lose hundreds of livestock every year from wolf kills and are hopeful that Congress will approve new funding to manage these wolves for the next budget year, which begins in October." (Source: AgWeekly.com) Read the full article at http://bit.ly/kAeZYU

Wolf Photos – Showing Wolves As Predators
Have you taken any photos of wolves preying on elk, moose or deer; bearing their teeth; covered with blood; or otherwise looking aggressive? If so, would you be willing to share them with SCI's Litigation team? We are looking for pictures that our members have taken that show wolves as they really are – predators. We hope to use those pictures in some presentations we will be making over the next few weeks about SCI's efforts in wolf litigation and legislation. If you have any such pictures and are willing to let us use them, please send your photos to media@safariclub.org.

SCI Thanks Members For Call To Action Response
SCI recently asked you for help and, as expected, you rose to the occasion. SCI is planning to go to federal court to oppose a settlement agreement that involves the ESA listing of hundreds of species, including several game animals. To do so, SCI needs to show the court that SCI members hunt these species. More than 100 members enthusiastically responded to an alert asking about hunts for New England cottontail or plains bison and if they would be willing to sign a declaration that would help SCI demonstrate to the court its interest in these species. From these responses, we found members who could sign strong declarations demonstrating SCI's interest in this case. Even if you were not chosen, SCI greatly appreciates your willingness to help. Stay tuned to Crosshairs for further developments on this case.