July 1, 2009 "In The Crosshairs"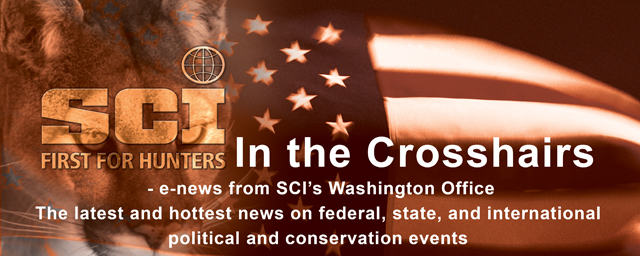 July 1, 2009


Safari Club International Names Larry Rudolph New President


Tucson, AZ – Safari Club International (SCI) and Safari Club International Foundation (SCIF) are pleased to announce that today, Larry Rudolph of Pittsburgh, Pennsylvania has become their 32nd President. "I am pleased to announce Larry Rudolph as the new President of SCI," said SCI Executive Director John Eichinger. "Larry brings a great deal of experience to the position and we look forward to working with him as we continue promoting the freedom to hunt for our members world-wide." (MORE)


Bear Hunting In British Columbia Under Attack


Bear hunting in British Columbia is under greater and greater scrutiny in the run-up to the 2010 Vancouver Olympics. Many Canadian based anti-hunting organizations have been publically criticizing hunting without recognizing any of the science behind the sound management of the population, the strong economic factors that help sustain rural economies, or the cultural importance that hunting represents. Thankfully, hunters have had support from government officials, particularly the Honorable Barry Penner, Minister of the Environment, British Columbia. SCI members are encouraged to express their support for Minister Penner as he continues to promote hunting in British Columbia. Emails can be addressed to The Honourable Barry Penner, Minister of Environment, env.minister@gov.bc.ca.


Western Great Lakes Wolves Poised to Return To Federal Endangered and Threatened Species Lists

On Monday, June 29th, the U.S. Fish and Wildlife Service announced its decision to withdraw the rule to delist the wolves of the Western Great Lakes. Faced with litigation challenging the delisting, the FWS decided to return the wolves to federal management and to issue a new proposed delisting rule in order to give the public the opportunity to comment on the proposed change to the wolves' status. The FWS's decision to relist the Western Great Lakes wolves has no impact on the Northern Rocky Mountain wolf population. A lawsuit has been filed in federal court in Montana to challenge the delisting of Montana and Idaho's wolves and SCI has been granted permission to intervene to defend the delisting. SCI will continue to keep readers apprised of developments with wolves in the Western Great Lakes and Northern Rocky Mountains.


SCIF Wins Advance America Award of Excellence


WASHINGTON, D.C. - The American Society of Association Executives (ASAE) & The Center for Association Leadership, Washington, D.C., announced recently that Safari Club International Foundation (SCIF) has won an Award of Excellence. SCIF will also be a finalist for the coveted Summit Award to be selected later this year. (MORE).


Gun Bills Have Stores Up In Arms -- Ammunition Registration


"Two new pieces of legislation related to guns are making their way through Sacramento — and making gun store owners in the Mid-Valley frustrated at what they call political myopia. The bills, AB 962 by Assemblyman Kevin de Leon, D-East Los Angeles, and SB 697, by Senator Mark DeSaulnier, D-Concord, are aimed at reducing gun violence and improving gun safety. But gun store owners like Lee Smith said the bills are pointless at best, and full of unintended consequences at worst." (Source: www.appeal-democrat.com) Read the full article HERE or by going to http://www.appeal-democrat.com/news/stores-79105-making-arms.html.


Global Warming Enthusiasts Perhaps Not Looking At All The Facts


As the US Congress debates climate change and all the effects that legislation could have on Americans and the American economy, it is important to stay attuned to climate change debates that concern wildlife and wildlife conservation efforts worldwide. HERE is an article that raises questions about how scientists are promoting their agenda for the future management of wildlife species.


Follow-Up Article By Washington Times On Hunting Knives


If you'll recall from last week's "In the Crosshairs," SCI filed comments on behalf of its members to the Department of Homeland Security (here) objecting to proposed changes in policy that would prohibit the importation of commonly utilized hunting knives. Read the Washington Times' follow-up article on the issue by clicking HERE.