JuLY 01, 2011 "In The Crosshairs"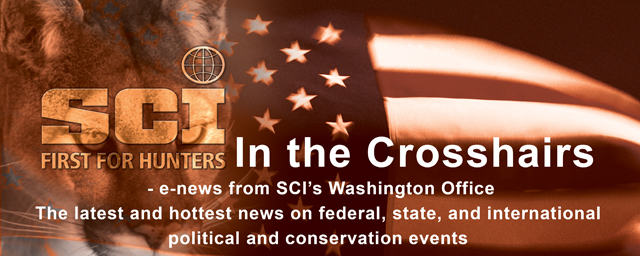 July 01, 2011


PA Board Of Game Commissioners Asks State To Remove Ban On Sunday Hunting
"On Tuesday, the Pennsylvania Board of Game Commissioners passed a resolution calling on state legislators to remove a ban on Sunday hunting. The ban is one of the state's last remaining "blue laws" that were passed in the 1700s. Pennsylvania Game Commission will present the resolution to the House Game and Fisheries Committee, which has been holding public hearings on this issue. The resolution notes the decline in hunting participation in Pennsylvania, along with the potential economic benefits to rural areas and businesses." (Source: PennLive.com) http://bit.ly/ka9BIN.

SCIF Partners With International Conservation Caucus Foundation
Safari Club International Foundation (SCIF) is honored to announce their new partnership with the International Conservation Caucus Foundation (ICCF). SCIF has joined the ICCF as a member of the prestigious ICCF Conservation Council.
"SCIF is extremely excited to join as a leading partner with a foundation so completely dedicated to conservation like the ICCF," said SCIF President Joseph Hosmer. "SCIF is proud to represent the sustainable-use community on the Conservation Council. With ICCF's emphasis on market-based solutions to our global conservation challenges, we believe that we are natural partners to promote the sustained-use and management of natural resources." (Source: SCI Press Release) http://bit.ly/j5pWlB.
Wouldn't your child love to catch his or her first fish? Even if they aren't new to angling, the kids will enjoy fishing in a Foxhall pond that has been specially-stocked just for them! The EPIC Outdoor Game Fair promises to be the largest event of its kind focused on outdoor activities for the entire family. Fishing, shooting, archery, equestrian events, birding, and more! Join SCIF on Facebook to stay up to date on all the latest news about the E.P.I.C Game Fair. http://www.facebook.com/EPICOutdoorGameFair.

Parties Plan High-Level Wolf Talks In WY
"Interior Secretary Ken Salazar and U.S. Fish and Wildlife Service director nominee Daniel Ashe will visit Wyoming next week to work toward a deal on delisting Wyoming wolves. Wyoming has been fighting Fish and Wildlife for years to accept the state's wolf management plan and remove the state's roughly 300 wolves from the federal endangered species list." (Source: trib.com) http://bit.ly/kOVl2k

Court Deals Blow To SCI's Effort To Reinstate Beneficial Polar Bear Imports
Yesterday, a U.S. District Court in Washington D.C. rejected SCI's legal efforts to reverse the unwarranted listing of the polar bear throughout the world. Because of that listing, the U.S. Fish and Wildlife Service ended imports to the U.S., eliminating the beneficial sustainable use conservation of the polar bear in Canada by U.S. hunters. Several parties, including SCI and the State of Alaska, sued to undo the listing. After years of hard-fought litigation by the parties, the Court upheld every aspect of the FWS's decision. On the positive side, the Court also rejected the Center for Biological Diversity's claims that the polar bear should have been listed as endangered (SCI helped defend against CBD's claim). SCI will analyze its appeal options. SCI is also still pursuing separate litigation trying to reverse the import ban itself. The Court gave no indication of when it might rule on this separate challenge.

July 2011 Quarterly Newsletter In 3-D
The Humanitarian Services July 2011 Quarterly Newsletter in 3-D is now available. Please click here or cut and paste the following link into your browser http://bit.ly/jDWyYv to read wonderful stories about numerous projects undertaken recently by our chapters and by individual members in the realm of the Disabled Hunter, SafariCare/SafariWish, Sensory Safari and Sportsmen Against Hunger programs.

Public Comments Pour In On MT Proposed Wolf Hunt
"Public opinion on gray wolves remains sharply split as Montana and Idaho wildlife officials prepare to resume hunts for the predators after Congress removed their endangered species protections. More than 450 people submitted comments on the Montana proposal in recent weeks. There were an estimated 566 wolves in Montana at the end of 2010. Once this year's pups are factored in, wildlife officials say the fall hunt will reduce the number by 25 percent to approximately 425 wolves." (Source: ravallirepublic.com) http://bit.ly/lYWrui
Safari Club filed comments in support of the hunt and recommended that Montana use data obtained from the hunters to demonstrate how hunting increases social tolerance of predator species.


NY's New Plan For Deer Hunting
The New York State Department of Environmental Conservation (DEC) has proposed a five-year deer management plan. The plan notes six primary goals, including promoting and enhancing deer hunting as an important recreational activity, tradition, and population management tool." (Source: http://1.usa.gov/lXQNrc)


Zimbabwe: Trophy Hunting, Crocodile Farming Help Rural Poor Adapt
"The mostly dry Chiredzi district in southeastern Zimbabwe will grow drier as rainfall becomes increasingly uncertain, but trophy hunting and rearing crocodiles for their meat and skins can become major money earners to help rural households overcome poverty while adapting to climate change." (Source: irinnews.org) http://bit.ly/m7N2xp

Canada: June-July Newsletter -- Bulletin de juin-juillet
Please click here to view the exciting 7th Edition (June-July) of your 3D Online SCI-Canada Newsletter, Venator Borealis. http://bit.ly/mnTL4R.

Victory for Valley Forge National Historical Park Deer Management
The Third Circuit Court of Appeals affirmed a ruling in favor of the National Park Service's deer cull in Valley Forge National Historical Park. The court rejected Friends of Animals' claims that the NPS should have increased the historical park's coyote population instead of utilizing sharpshooters to reduce the overpopulation of deer. SCI participated as amicus in support of the deer cull in both the district court and the appellate court proceedings. SCI has consistently supported culls on National Park Service lands to reduce wildlife populations, including, where feasible, the use of hunters as agents to assist in the cull. Introductions or enhancement of predator populations are not realistic solutions to wildlife population problems. Predators do not respect park boundaries and are often indiscriminate in terms of prey. The National Park Service is finally recognizing the role that hunters can play in wildlife management and SCI has been and will continue to be at the forefront of the campaign to promote hunting and hunters in wildlife management and conservation on all types of federal land.