July 02, 2010 "In The Crosshairs"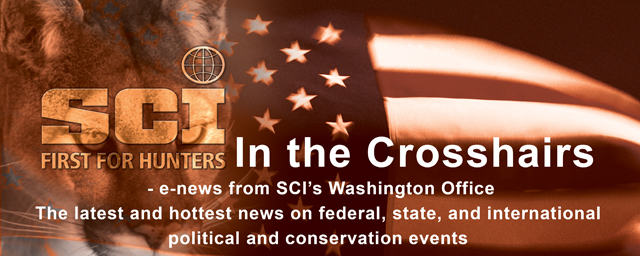 July 02, 2010

Supreme Court Applies The Second Amendment To The States
Washington D.C. – In McDonald v. City of Chicago et al., the U.S. Supreme Court, in a 5-4 opinion, struck down a Chicago law banning the possession or ownership of a handgun. In striking down the ordinance the Court has, for the first time, held that the Second Amendment applies to the States thus requiring all states and localities to recognize an individual right to keep and bear arms. Safari Club International filed an amicus brief with the Court supporting incorporation (the legal doctrine through which the Second Amendment applies to the states) and discussing the popularity of urban and suburban hunting, both as recreation and as a tool of wildlife management. Safari Club's brief also explained the difficulties faced by the traveling hunter who must learn and understand the often inconsistent and confusing patchwork of state and local firearms laws. http://bit.ly/aJ55NS.

SCIF Becoming An Outdoors Woman
"AWLS For You" – Just a reminder that a Becoming An Outdoors Woman (BOW) Program is scheduled for August 13 – 18, 2010 at SCI Foundation's American Wilderness Leadership School near Jackson, Wyoming. Scheduled activities include firearm safety, shooting sports, fishing, campfire cooking, survival training, geo caching, white water rafting, field trips to Teton National Park, the Wildlife Art Museum and much, much more. Click here BOW for details. Make your reservations now and come join BOW for a fantastic learning experience nestled in the Bridger-Teton National Forest. This workshop is primarily aimed at women, but is an opportunity for anyone 18 years or older to learn outdoor skills. Please contact Karen Crehan, 877-877-3265 or kcrehan@safariclub.org for any questions or concerns.

USFWS Working On Strategy To Help Waterfowl, Migratory Birds
WASHINGTON - In a few weeks, millions of waterfowl and other migratory birds will begin their fall migration to wintering and stopover habitat along the Gulf Coast. In anticipation of this event, the U.S. Fish and Wildlife Service is working with partners to anticipate and minimize the impacts of the Deepwater Horizon/BP oil spill on these birds. The Service will continue to monitor the impact of the ongoing spill on waterfowl, and will take those impacts into account when establishing waterfowl hunting frameworks for the upcoming season. (U.S. Fish and Wildlife Service via www.TheOutdoorWire.com) http://bit.ly/cL0xT8

SCI Wins Amicus Battle In Valley Forge Deer Management Case
SCI has just been granted amicus (friend of the court) status in a case involving deer management on Valley Forge National Historical Park. The lawsuit involves a challenge to the National Park Service's decision to manage the park's deer overpopulation via a cull. Animal rights groups have sued to stop the cull, and claim that the NPS should have considered increasing the park's coyote population to address the deer management problem. Despite opposition from the plaintiffs, the federal court in Philadelphia granted SCI the right to participate and accepted SCI's amicus brief in defense of the cull. The case is now fully briefed and a ruling should come in the next few months.

Wildlife Trade Regulation Needed More Than Ever
Geneva, 30 June 2010 – From medicine to musical instruments and from fashion and beauty products to delicacies, wildlife items in trade must be properly regulated to ensure the continued survival of animals and plants in the wild. This is the main message coming from the Convention on International Trade in Endangered Species of Wild Fauna and Flora (CITES), which celebrates its 35th anniversary on 1 July 2010. "While not a single one of some 34,000 CITES-listed species has become extinct as a result of international trade until now, growing pressures on biological resources make regulating global wildlife trade even more relevant today than it was in 1975 when countries brought this unprecedented global treaty into force," said CITES Secretary-General John Scanlon. (CITES Press Release) http://bit.ly/9xCHqA

Geese Behind Plane's NY River Landing Still Around
NEW YORK – A year and a half after Canada geese forced an airliner to splash down in the Hudson River, officials are rounding them up in almost every part of the city — but flocks are still free to take off around John F. Kennedy International Airport. The wild birds were at the center of a government vs. government battle on Tuesday. A National Park Service official told The Associated Press that, for now, his agency won't touch the hundreds of birds living in a refuge near Kennedy airport's runways. (Associated Press via Yahoo News) http://yhoo.it/aZjd0b.

NYS Senate Passes Crossbow Hunting Bill
ALBANY, N.Y. (RELEASE) - Senator George Maziarz (R-C, Newfane) is pleased to announce that the State Senate has given final passage to legislation (S.6793-B) he co-sponsored to allow for hunting with crossbows in New York State. "Normally I'm forced to spend a lot of time in Albany fighting against new laws that infringe on sportsmen's rights," Senator Maziarz said. "Today, I'm very pleased that we're doing something positive for the hunting community. By incorporating the use of crossbows, we are opening up more hunting opportunities for a variety of New Yorkers, including seniors and the disabled. This is a step in the right direction that is long overdue." http://bit.ly/9Bk1r4.

Land Trusts Would Lose Responsibility For Endowments Under State Proposal
A long-simmering battle between the state and conservation land trusts is moving into a new phase as the California Department of Fish and Game seeks to shift responsibility for endowments worth millions of dollars away from the trusts. The department says the shift is necessary because it doesn't have the resources to monitor the financial health of myriad land trusts. The trusts say the move could lead to delayed payments and higher fees and thus discourage the protection of vital habitats. (Sacramento Bee Online) http://bit.ly/bBmdqH

FROM THE SCI FOUNDATION – Supporting Wildlife Conservation, Outdoor Education, Humanitarian Programs
Many SCI members work for organizations or companies that have a United Way canvass. Many may not be aware that they can direct their payroll giving to non member agencies including the SCI Foundation. They just need to fill out the form at their workplace and direct their one time gift or payroll giving to the SCI Foundation. All gifts are tax deductible.