June 3, 2007 "In The Crosshairs"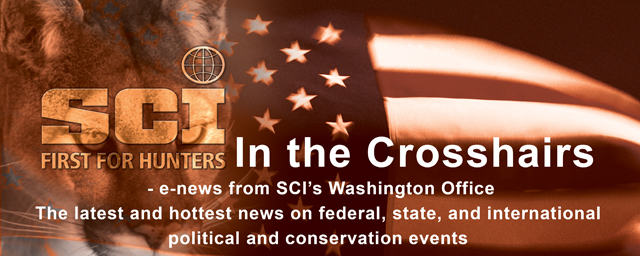 June 3, 2007


Argentina Goose Season Follow Up - One Province Closed


As a follow-up to the June 1 Crosshairs concerning the moratorium on the goose season in the Buenos Aires province of Argentina, SCI has learned that the season has officially been closed for this year. We recently received word from Argentine government officials that they were going to close this season down for one Province – Buenos Aires. They stated: "...we would like to inform you that present regulations on goose hunting in Buenos Aires province - geese wintering area - strictly forbid hunting of any goose species at the moment...Therefore, any geese hunting activity is clearly illegal and offenders will be prosecuted." The government officials said that this is in response to a severe decline in the ruddy-headed goose population. While other goose populations are thriving, the ruddy-headed is not, and unfortunately the government says that this creates a look-alike problem and that the best way to protect the ruddy headed goose from accidental shootings is to prevent all species of goose from being shot in the Buenos Aires province. This information was confirmed by SCI's Argentinean Chapters who have been working to protect the hunting season and prevent such strict regulations. As always, check with your outfitter as well.


Marco Polo Update


The Hunting Report is reporting that the U.S. Fish and Wildlife Service is issuing argali sheep permits for Tajikistan and continues to work with Kyrgyz officials to open the way for Americans to hunt in Kyrgyzstan this season as well. Contacts at the USFWS state they expect to have all permits issued by late July. They are still waiting for some data from Kyrgyzstan before going forward but were assured that data is forthcoming. The Hunting Report also mentions reports that some Kyrgyz outfitters have allowed hunters unsatisfied with their trophies to shoot a second Marco Polo. If found to be true, this could slow down or completely halt the permitting process. We will keep you posted.


U.N. Security Council Calls on States to Destroy Surplus Arms


"Noting with grave concern the destabilizing effect of the accumulation and illicit manufacture of small arms and light weapons have in many regions of the world, the Security Council called on all Member States to observe the arms embargoes established under its resolutions, and encouraged them to destroy surplus and obsolete small arms and light weapons. The Council encouraged States to strengthen stockpile management and to ensure that all small arms and light weapons were marked at the time of manufacture and import. It also stressed the need to implement the 2001 United Nations Programme of Action to Prevent, Combat and Eradicate the Illicit Trade in Small Arms and Light Weapons in All its Aspects, and the international instrument to enable timely identification and tracing of such weapons. The Council noted that the trade and circulation of small arms and light weapons around the globe was increasing the intensity and duration of armed conflicts, undermining the sustainability of peace agreements, impeding the success of peace building and frustrating efforts aimed at the prevention of armed conflict." SCI is involved in this issue to make sure the rights of international hunters are not caught up in this dragnet. (Source: U.N.)


Montana Seeking Input to Manage Growing Elk Population


"The state is asking two-thousand Montana elk hunters, outfitters and landowners for their ideas on how best to deal with a growing elk population. Montana's Department of Fish, Wildlife and Parks has mailed surveys to members of the three groups, seeking feedback on options for hunting regulations, aimed at reducing elk numbers. The state's elk population has grown from 55-thousand in 1978 to nearly 150-thousand today. State wildlife officials say mild winters, the aging of Montana hunters and limited public hunting access to private lands have all led to the increase. Wildlife officials hope to learn what hunting options the groups prefer, and how they would help the agency better manage elk populations. The survey results are expected by September, and will be used in drafting regulations for the 2008-2009 hunting seasons." For additional information on how to take part, visit http://fwp.mt.gov/hunting/default.html (Source: Kxmc.com)


The Alaska Experiment


The NRA reports that "Ricochet Television, a major network television producer, is conducting a nationwide search to find daring outdoorsmen and women to take part in a brand new adventure docu-series for an undisclosed high profile cable network. The television series will be shot on location in Alaska and is about survival in the great outdoors. A wilderness expert will assist the cast once they are selected. Hunting with firearms, building shelter, preparing for the cold, and gathering food are an integral part of the new show. Adventurers interested in applying should call (888) 7CASTING, or log onto www.TheAlaskaExperiment.com for the application and more information."
HAPPY 4th OF JULY
Please be safe.