June 10, 2007 "In The Crosshairs"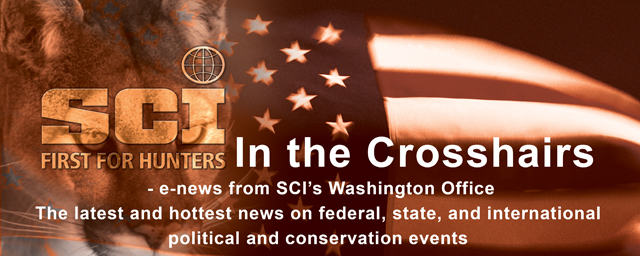 June 10, 2007


Legislative Win for Pennsylvania Landowners and Hunters


Regarding an issue actively monitored by SCI, Pennsylvania recently passed a bill that will further protect landowners who open up their private property for public recreational activities, including hunting. The bill, which passed on a 50-0 vote in the Senate and 199-0 vote in the House, went to Governor Rendell, who signed it into law on June 30. Carl G. Roe, Executive Director of the PA Game Commission stated, "For decades, the Recreational Use of Land and Water Act stood to protect landowners who agree to open their land to hunters. However, a recent civil case in Lehigh County demonstrated that there was a need to strengthen the law, and thereby continuing to provide liability protection for landowners who generously open their lands to hunters." SCI praises the Pennsylvania legislature and Governor for quickly and effectively addressing this issue, which could have discouraged public use of private property for hunting.


Western Wolf Issues


On July 6, 2007, the U.S. Fish and Wildlife Service issued two new proposed rules that will 1) help solve the long-term dispute between Wyoming and the FWS about the state's ability to manage its own wolves; 2) move the Northern Rocky Mountain gray wolf population closer towards delisting; and 3) improve regulations that allow Wyoming, Montana and Idaho to lethally take wolves that harm the states' ungulate populations.
Written comments on the proposed rule to delist Wyoming 's wolves as part of the Northern Rocky Mountain population may be submitted to the FWS until August 6, 2007. Hearings on the proposed rule to include Wyoming 's wolves in the delisting of the Northern Rocky Mountain population will be held in on July 17th in Cody, Wyoming. The full text of the proposed rule can be found here.
Written comments on the rule allowing lethal take may be submitted to the FWS until August 6, 2007. Hearings on the proposed change to rules allowing for lethal take of wolves affecting ungulate populations will be held in Cody, Wyoming on July 17th, in Helena, Montana on July 18th and in Boise, Idaho on July 19th. The full text of the proposed rule can be found here.


SCI Sponsors Outfitters Summit


SCI coordinated a meeting of U.S. and Canadian Guides and Outfitters this past weekend at SCIF's Granite Ranch outside Jackson Hole, Wyoming. The purpose was to discuss common issues as part of on-going cooperation between SCI and the North American Guide and Outfitter Associations, which has been taking place since 2001. Highlights of the meeting included a discussion on wolf delisting in western states and a status report on the issue of resident vs. non-resident license fees. Canadian issues included border crossings, insurance and the long gun registry. The event also featured a keynote address from Randall Luthi, Deputy Director of the U.S. Fish and Wildlife Service.


Anti-Hunting Group Dismisses Second Grizzly Delisting Lawsuit


As SCI awaits a ruling on its request to intervene in a lawsuit to challenge the FWS's delisting of grizzly bears in the Yellowstone area, the Humane Society of the United States voluntarily dismissed a second lawsuit it filed in District Court in Idaho challenging the delisting of the Yellowstone area population of grizzly bear. The delisting paves the way for state management of grizzly bears and, when appropriate, public hunts of the species. HSUS provided no explanation of its reasons for the dismissal. SCI will remain involved in the first lawsuit and will keep you posted.


OSHA Proposes New Ammunition Rules


"The link below goes to an NRA-ILA page that explains a proposed rule change by the Occupational Safety and Health Administration (OSHA). The proposed rule indiscriminately treats ammunition, powder and primers as 'explosives'." Among many other provisions, the proposed rule would: prohibit possession of firearms in commercial 'facilities containing explosives' require evacuation of all 'facilities containing explosives' prohibit smoking within 50 feet of 'facilities containing explosives.' The public comment period ends July 12. The time to file your own comment, or learn more about the OSHA proposal is NOW! Use the link above to the NRA-ILA page and read more about the problem and find a draft letter opposing the OSHA rule on explosives." http://www.nraila.org (Source: NRA)


Survey Finds that Canadians Do Not Want Tougher Gun Laws


"A federally commissioned poll of 'stakeholders' selected by the government to comment on potential changes to gun control found more opposition than support for tighter restrictions. When tougher screening measures were presented to participants in the survey, they were more often poorly received, while changes that appeared to lessen the burden on gun owners, such as dropping a five-year license renewal requirement, were supported by a majority of participants. The tougher screening measures included such options as requiring more background references, mandatory interviews with spouses, and a requirement to have a firearms officer personally contact all references listed. Currently, background references from two adults who have known an applicant a minimum of three years are required. Overall, it found 50 per cent opposed to a requirement for 'a more robust set of background references,' saying the current system is already sufficient. About 38 per cent supported more references. About 10 per cent were 'neutral.' There was a low turnout for the survey, however, which could skew the results." The full survey can be found here. Or if you are interested in obtaining more information on the study, please contact the study group directly at POR-ROP@PS-SP.GC.CA (Source: Toronto Star)


B.C. Wants to See More Hunter Gatherers


"Ramping up the number of hunters and allowing ownership rights to road kill are among sweeping changes proposed by the [ British Columbia ] Ministry of Environment in the first major overhaul of the provincial Wildlife Act in 25 years. The recommendations, contained in a Wildlife Act review discussion paper, include a liberalization of hunting regulations to meet a provincial goal of generating 20,000 new hunters by 2014. In doing so, the government hopes to reverse a trend against hunting. A B.C. Stats report shows resident and non-resident hunters contributed $48 million to the provincial gross domestic product in 2003, less than half of freshwater angling. The government is looking at initiatives that would make it cheaper and easier for young and new hunters to get into the sport, allowing two people to share in certain hunts, and encouraging more hunting of nuisance wildlife such as deer on agricultural land. Other considerations would allow bow hunters to hunt within a current no-go zone of 400 metres of a highway, and hunting courses taught by women to encourage more female participation in the sport. The province is also looking at a special tag or season that would allow hunters to access private land (still with the permission of landowners) in hopes of resolving agricultural-wildlife conflicts. Other suggestions include: extend the age range for junior licences -- currently 10 to 14 years -- to 18 years old: for one time only, allow new hunters to try the sport under the direct supervision of a licensed adult hunter, without the requirement to take the Conservation Outdoor Recreation Education exam; provide open seasons for mule deer does and white-tailed deer does for hunters under 19 years of age and new hunters; enable successful limited-entry hunting applicants to share their hunt with a hunting partner." For more information, click here. The public has until July 15 to submit comments. (Source: Vancouver Sun).