July 10, 2009 "In The Crosshairs"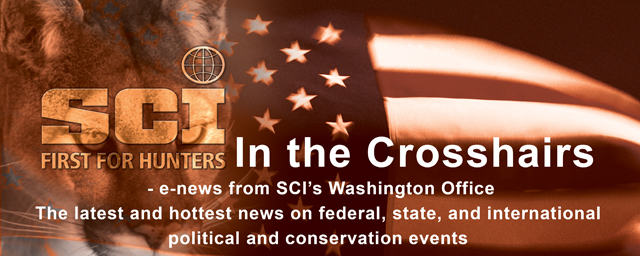 July 10, 2009


SCI Featured On FoxNews.com –  How Green Is Hunting?


This week Safari Club International Vice President Joe Hosmer was featured in an on-going story called "How Green Is It?" on FoxNews.com discussing the environmental impacts of various activities. This week's edition of "How Green Is It?" focused on hunting. What better organization to act as the voice of hunters and hunting than SCI, truly being First For Hunters. Please read the full story by clicking here or http://www.foxnews.com/story/0,2933,531205,00.html and please, share this story with both hunters and non-hunters alike.


SCI's Ultimate Hunters' Market ® – Easy Online Registration Now Open!

You're invited to join us at the SCI 38th Annual Hunters' Convention in Reno, Nevada. Reserve your room today at the Peppermill Resort & Casino, SCI's Official Headquarters Hotel for evening events. Nine other nearby host hotels offer attendee shuttles to the sold-out show floor with more than 2,000 exhibits. To visit the impressive show floor, view SCI's exhibitor list and make online hotel reservations go to www.showsci.com. Hurry, reservations are filling up fast!  For great fun, comedian Frank Caliendo will delight audiences during our grand opening Wednesday night dinner program. To connect interested hunters on a grand scale, George W. Bush, 43rd President of the United States, will deliver a keynote address during the gala finale Saturday night dinner and auction. Don't wait to buy your tickets for these and other sure-to-sell-out day and evening events. You can still receive a $50 discount on the fabulous four-night dinner package. Find up-to-date convention information and register today online at www.safariclub.org. Mark your calendars for January 20-23, 2010. MORE…


Listen to New Safari Club International President Larry Rudolph On NRA News

SCI President Larry Rudolph was recently interviewed by NRANews.com's Cam & Company. Larry shares his history with hunting and also his vision about what SCI can accomplish in the next year. 1) Click here or www.nranews.com. 2) Click on "Program Archives".  3) Click on "July 7th".  4) Finally scroll down until you see "Larry Rudolph – Safari Club International." MORE…


FWP To Reconsider Sheep's Place On Public Land


"Montana Fish, Wildlife and Parks plans to take another look at whether it should allow sheep ranchers to trail their livestock across a 28,000-acre swath of land in Southwestern Montana. Earlier this month, three conservation groups challenged the agency for allowing domestic sheep to cross the Robb-Ledford Wildlife Management Area, a practice the groups say makes the habitat inhospitable to bighorn sheep due to diseases the domestic sheep can give to bighorns." (Source: Bozeman Daily Chronical) MORE…
"Barring legal intervention, Montana will have its first official gray wolf hunting season this fall, after the Fish, Wildlife and Parks Commission unanimously agreed Wednesday to a 75-wolf quota.  State officials said the historic decision represents a victory for wildlife conservation in Montana and for the often maligned federal Endangered Species Act.  'Today, we can celebrate the fact that Montana manages elk, deer, bears, mountain lions, ducks, bighorn sheep, and wolves in balance with their habitats, other species, and in balance with the people who live here,' said FWP Director Joe Maurier. 'Montanans have worked hard to recover the Rocky Mountain wolf and to integrate wolves into Montana's wildlife management programs. That's always been the promise of the Endangered Species Act, and we're pleased so see it fulfilled here in Montana.'" (Source: www.helenair.com) MORE…


Tanzania: Controversial Hunting Fees For Discussion


"The contentious issue of hunting blocks fees is due for discussion once again in Parliament this week, when Natural Resources and Tourism Minister Ms Shamsa Mwangunga tables her ministry's budget on Friday.  A timetable released by the Clerk of the National Assembly at the weekend indicates that Ms Mwangunga will on Friday be required to table a detailed statement on fees for hunting trophies prior to presentation of her ministry's budget proposals." (Source: AllAfrica.com) MORE…