July 15, 2008 "In The Crosshairs"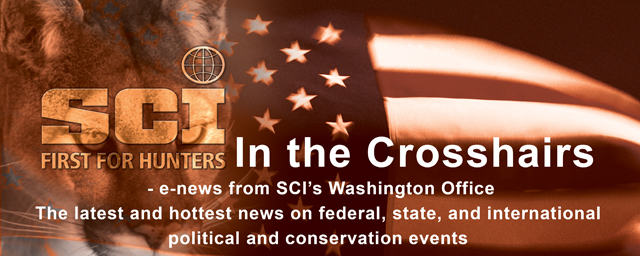 July 15, 2008


New York Legislature Passes Youth Hunting Bill


At the eleventh hour, the New York State Legislature sent Senate Bill 8228/Assembly Bill 11033 to Governor Paterson. This bill has now passed both the state Senate and the state Assembly and if signed by the Governor, youths aged 13 and older will be able to hunt big game in the state of New York after passing a hunter education course. Passage of this bill into law will be a great step forward for youths interested in hunting big game and will help generate more revenue for the Department of Environmental Conservation through license sales. The original bills, S. 8228 and A.B. 11033 were sponsored by New York Legislative Sportsmen's Caucus Co-Chair Senator Dale Volker and Caucus Member Assembly Woman Francine DelMonte.
SCI commends the New York Legislative Sportsmen's Caucus for their diligence to make sure that the youths of New York have the opportunity to hunt and carry on such a vital tradition in their home state. The New York Governor's office is currently reviewing the Youth Hunting bill and SCI hopes that it will be signed in the very near future.

 
Wood Bison Alaskan Reintroduction


Safari Club International Foundation has worked very closely with the Alaska Department of Game and Fish, Alaska Wildlife Conservation Center, the Canadian Wildlife Department, the U.S. Department of the Interior and the U.S. Department of Agriculture to transport 53 wood bison from Elk Island National Wildlife Refuge in Canada to the state of Alaska for eventual reintroduction to their historical range within the interior of Alaska. The process of reintroduction began over 10 years ago, and the final hurdles of state and federal permitting were overcome in June of this year.
SCIF's Dr. William Moritz will be discussing this most recent conservation success story this Saturday, July 19th on the Bob Bauer Outdoor World radio show. The Bob Bauer Outdoor World radio show streams live via the internet every Saturday morning from 8am to 10 am Eastern on http://www.camp2fires.com/.

 
Lawsuit Filed To Challenge Disney Gun Ban


"A man fired by Walt Disney World after he brought his gun to work filed a lawsuit Friday against the entertainment company. Disney officials claimed the company doesn't have to follow a new state law allowing people to bring firearms onto business properties…Edwin Sotomayor worked at Disney as a security guard for 13 years. He was suspended on July 4 and later fired after bringing his .45-caliber pistol to work at Disney's Animal Kingdom…Sotomayor showed up at the Orange County Courthouse with his attorney to file the lawsuit. It is a petition claiming his constitutional rights were violated and asks that Disney give him his job back and remove a no trespass warning to allow him back on the property…Sotomayor claimed that Florida's new bring-your-gun-to-work law, which took effect on July 1, gives him the right as a holder of a concealed-weapons permit to bring his weapon and keep it locked in his trunk in a Disney parking lot." (Source: www.wesh.com) To read the full article on the lawsuit, http://www.wesh.com/news/16854329/detail.html.

 
Supreme Court Decision Scrambles National Park Firearm Plan
Many State Laws Will Be Subject to Legal Challenge and Uncertainty

"A plan by the Bush administration to tie firearms regulations in national parks and refuges to state law will compound the legal chaos created by last week's U.S. Supreme Court decision striking down the District of Columbia's gun law, according to comments filed by Public Employees for Environmental Responsibility (PEER). Today is the final day of public comment on the plan which would drop park rules dating back a century in favor of changing and uncertain state firearms laws. On April 30, 2008, the U.S. Interior Department proposed to repeal nearly century-old national park rules requiring that firearms be unloaded and unavailable for ready use. In its place, the Bush administration would substitute the various laws governing 'any state park, or any similar unit of state land, in which state the federal park, or that portion thereof, is located...' Under the plan, national parks within the District of Columbia, such as the National Mall and even the White House, may have no enforceable firearms restrictions if the D.C. government is unable to fashion a new, legally defensible set of firearm restrictions once the ruling takes full effect in July." (Source: Yuba.net) To read the full article: http://yubanet.com/usa/Supreme-Court-Decision-Scrambles-National-Park-Firearm-Plan.php

 
2008 Waterfowl Survey Shows Ducks Breeding Farther North, Bypassing Dry Prairies

The preliminary estimate of total ducks from the 2008 Waterfowl Breeding Population and Habitat Survey was just over 37 million, which is a nine percent decline from last year's estimate, but still 11 percent greater than the 1955-2007 average. In the U.S. and Canadian prairies, population estimates of many species declined; while populations increased in the boreal forest to the north, likely reflecting in part those birds that overflew the prairies because of drier habitat conditions there. (Source: www.fws.gov) To read the full release: http://www.fws.gov/news/NewsReleases/showNews.cfm?newsId=1343A288-ED86-9F4C-104B27E863D65DCF

 
Namibian Economic Diversification Project.


"The Namibia Professional Hunting Association (Napha) and the Emerging Commercial Farmers' Support Programme will host a workshop on trophy hunting as a lucrative form of land utilisation this month…The one-day event will take place on Monday, July 28 in partnership with the Lazarus Shinyemba Ipangelwa Foundation at the NamPower Convention Centre in Windhoek…According to a strategic plan issued by the Environment and Tourism Ministry in March this year, trophy hunting is estimated to generate around N$500 million per year…Hunting quotas granted to communal conservancies in rural areas in the past two years earned the conservancies around N$11 million annually." (Source: www.Namibian.com) To read the full article on the economic development project by the Namibian Government and the Namibian Professional Hunters Association please visit http://www.namibian.com.na/2008/July/environment/08160D6727.html
Are you going to be joining us for the big SCIF Foundation sporting clays shoot in San Antonio? Date: October 2 & 3 - Call 1-800-SHOWSCI or visit www.safariclubfoundation.org/shoot now!