June 17, 2007 "In The Crosshairs"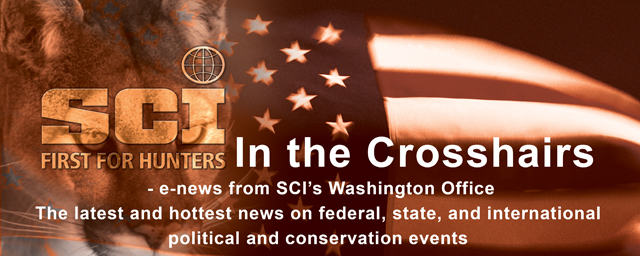 June 17, 2007


Tanzania Hunting Situation


Last Friday, SCI heard that trophy fees and concession fees in Tanzania had been raised significantly. After doing some fact-finding, SCI found that this was apparently true, by as much as 500% in some cases. Today, SCI sent a letter to the Tanzanian Minister of Natural Resources and Tourism asking him to investigate these increases and to consider changes. We will keep you informed of the situation in the coming days. As always, please check with your outfitter before any upcoming trips as outfitters may have no choice but to raise fees to stay in business.


U.S. State Department Issues New Warning for Travel to Zimbabwe


The State Department has issued a new travel warning for U.S. citizens who are planning to visit Zimbabwe. The travel warning states that individuals should limit their time in crowded cities such as Harare and Bulawayo, but they should also be aware of growing violence in rural communities. Military suppression of dissent against the government is becoming more regular with the government issuing statements that severe abuses of force will continue to occur. The State Department announced: "The Government frequently uses road blocks to enforce order. Road blocks can be particularly dangerous, and extreme caution should be used when approaching them. Travelers should comply with instructions from police or other security officials to stop at road blocks." Please read the full Travel Warning. And as always, please check with your Outfitter before traveling to hunt.


OSHA Rules Will Be Revised


The NRA is reporting that "The Occupational Safety and Health Administration (OSHA)…will significantly revise a recent proposal for new "explosives safety" regulations that caused serious concern among gun owners. OSHA had originally set out to update workplace safety regulations, but the proposed rules included restrictions that very few gun shops, sporting goods stores, shippers, or ammunition dealers could comply with. Gun owners had filed a blizzard of negative comments urged by the NRA, and just a week ago, OSHA had already issued one extension for its public comment period at the request of the National Shooting Sports Foundation. After continued publicity through NRA alerts and the outdoor media, and after dozens of Members of Congress expressed concern about its impact, OSHA has wisely decided to go back to the drawing board. The public comment website for the proposed rule is no longer accessible. The Labor Department will publish a notice in the July 17 Federal Register announcing that a new rule proposal will soon be drafted for public comment." For the full alert, visit www.nra-ila.org. (Source: NRA)


Duck Numbers Increase


"Preliminary results from the U.S. Fish and Wildlife Service and Canadian Wildlife Service's Waterfowl Breeding Population and Habitat Survey indicate a total duck population estimate of more than 41 million birds in the traditional survey area. This represents a 14 percent increase from 2006 and is 24 percent above the 1955-2006 average. The Waterfowl Breeding Population and Habitat Survey, the largest and most comprehensive survey of its kind in the world, samples 1.3 million square miles across the north- central United States, south-central and northern Canada, and Alaska. The survey estimates the number of ducks in the continent's most important nesting grounds. The entire 2007 Trends in Breeding Duck Populations Report is available on the Service's Web site at http://www.fws.gov/migratorybirds/. The 2007 Waterfowl Status Report will be available at the same site in late July."


Judge's Endangered Species Ruling Aids Builders


"A federal judge in Orlando has ordered a status review of almost all of Florida 's endangered and threatened wildlife, a ruling developers hope will lead to lifting building restrictions on lands across the state. U.S. District Judge John Antoon II rejected arguments from the U.S. Fish and Wildlife Service that it couldn't keep up with five-year reviews required under the Endangered Species Act because of money and staff shortages. Florida, with more than 100, has the third highest number of federally listed species in the nation. But he agreed to give the service three more years to wade through a backlog of 89 species, some unreviewed for decades, dismissing a one-year deadline urged by the Florida Home Builders Association as "unrealistic, if not impossible." Builders also anticipate reviews could improve the status or even remove some creatures from the list, including the wood stork and several beach mice in the Panhandle, reducing or eliminating regulations and expenses that complicate or even prevent development. The association, in its suit, argued that needless protections for some healthy populations drive up construction costs and impede vital economic growth." We will keep you posted. (Source: Miami Herald)