July 17, 2009 "In The Crosshairs"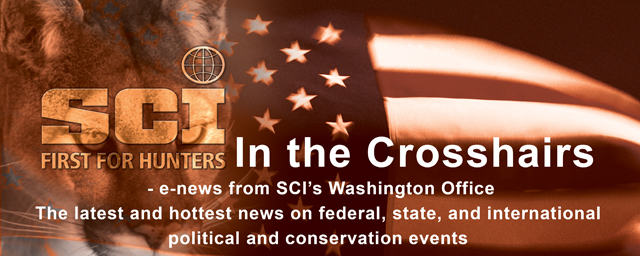 July 17, 2009


Chance To Bid On Tennessee Elk Conservation Tag – Bid Today!
Safari Club International's Chattanooga Chapter and the Tennessee Wildlife Resources Foundation (a 501(c)(3) entity) announce that a Tennessee Conservation elk tag has gone up for auction on eBay.  The auction will run for 10 days.  Please use this link:  www.ebay.com and enter item number 200360985418. Last month, four winners were drawn from the more than 16,000 applicants to receive an elk tag.  This elk hunt will be Tennessee's first in more than 150 years.  A fifth tag -- the one placed on eBay -- will be auctioned with 100% of the proceeds going to the Tennessee Wildlife Resources Foundation's elk restoration fund.
A huntable population of elk in Tennessee has long been a goal of SCI's Chattanooga Chapter, which, along with the Safari Club International Foundation, donated $13,000 to date towards the $20,000 targeted for this project.


Sen. Byron Dorgan Introduces Amendment To Authorize Hunters as Volunteers For Elk Management In Teddy Roosevelt National Park

Senator Byron Dorgan (D-ND) has introduced an amendment to the Senate Interior Appropriations budget that will require the National Park Service to enlist the assistance of volunteers in the cull of elk on Teddy Roosevelt National Park. This amendment directs the park to deputize North Dakota residents, possessing a State hunting license, to assist in reducing the park's burgeoning elk population.. Individuals who participate will be allowed to keep and remove the carcass of one animal taken in the cull.    If adopted this law would be cost effective, a positive step for herd management, and a realistic recognition of the role the hunting community can play in wildlife management on federal lands. SCI has supported similar legislation introduced by Sen. Dorgan in the past and SCI stands ready to support this amendment as the Interior Appropriations Budget goes to conference. Click here for more information.


Legal Guns In D.C. Not Used One Year Later


It's been a year since a Northwest D.C. housewife carried a Ruger .357 Magnum into police headquarters in a blue plastic grocery bag and became the District's first legal handgun owner since the Supreme Court overturned a decades-old ban. Today, Amy McVey's handgun is one of just 515 that have been legally registered with the Metropolitan Police Department -- a number that pales compared with more than 2,000 illegal weapons that have been seized in the same period. MORE…