June 20, 2007 "In The Crosshairs"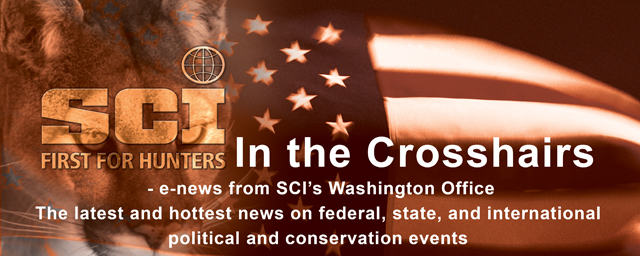 June 20, 2007


Tanzania Update


Because the situation in Tanzania (In the Crosshairs 7-17-07) is fast moving and fluid, SCI has created a website to place the latest available information. Please visit http://www.tanzaniahunt.org. When any new data is available, we will do our best to get it up there as soon as possible.


SCIF Status Approved by U.N.


Preliminary approval was given several months ago but late today, The SCI Foundation received final and formal approval and recognition of its status as an Non-Governmental Organization (NGO) certified to work with the United Nations on conservation issues. This will help increase our status as a worldwide conservation organization.


Mexico Bans Polar Bear Hunting


Apparently the U.S. wasn't the only country with polar bears on their mind this month. A law passed the Congress in Mexico recently that will prohibit any hunting or importation of any 'sea mamiphers' which specifically includes the polar bear. The law was promoted by the green group Partido Verde Ecologista Mexicano. The Mexican hunting federation, Federacion Mexicana De Caza, or FEMECA, will begin work to overturn this law. SCI is affiliated with FEMECA and we will keep you posted. (Source: FEMECA)


SCI Testifies at Wolf Hearings


On July 17, SCI presented public testimony in Cody, Wyoming to support two new federal rules governing wolf delisting and management. Montana Chapter President, Dave Lundin, spoke for SCI and SCIF, offering statements to support the U.S. Fish and Wildlife Service's proposed rule to include Wyoming 's wolves as part of the Northern Rocky Mountain gray wolf population. Lundin also gave testimony to support the FWS plan to give Wyoming additional management authority over wolves that are causing unacceptable impacts on the state's wild ungulate populations. Written versions of the testimony can be found here.


SCI Moves to Save Arizona Desert Bighorn Sheep


Safari Club International asked a court in Arizona for permission to intervene in a lawsuit targeting Arizona Desert Bighorn Sheep conservation. The lawsuit, filed by Wilderness Watch and Arizona Wilderness Coalition seeks to prevent the U.S. Fish and Wildlife Service from continuing work on the restoration of two man-made water devices on Kofa National Wildlife Refuge. These water sources provide badly needed water for the refuge's bighorn sheep and other wildlife. The sheep population on the refuge has suffered a serious decline and the water sources under attack are part of an aggressive plan between the State of Arizona and the U.S. Fish and Wildlife Service to prevent the population from disappearing. Kofa's bighorn sheep are important not only to the refuge, but are the seed population for sheep reintroductions throughout the Southwest. SCI, together with several other local and national sportsmen and conservation groups, seek to intervene in the litigation to prevent any interference with federal and state efforts to help this important wildlife.


State Wildlife Agencies Receive Grants to Work With Landowners to Conserve At-Risk Species

"The U.S. Fish and Wildlife Service announced nearly $13 million in competitive funding for 17 State fish and wildlife agencies under the Landowner Incentive Program. The program supports cooperative efforts with private landowners interested in conserving natural habitat for species at risk, including federally listed endangered or threatened species and proposed or candidate species. The competitive grants are funded through the Land and Water Conservation Fund and establish or supplement existing landowner incentive programs that provide technical or financial assistance to private landowners. All grants need to be matched by funding of at least 25 percent from a non-Federal source. For more information about the grant programs, please visit http://federalaid.fws.gov/lip/lip.html." (Source: USFWS)


Armed Angels of the Wildlife Wars -- Documentary


Inspired by the successful March Wildlife Conservation/Entertainment Retreat for 20 Hollywood players that was sponsored by SCI, event co-producers Patrick Kilpatrick and James Swan, Ph.D. have crafted "Armed Angels of the Wildlife Wars," a frontline, action-instilled, globally attractive 90-minute theatrical quality documentary shot with a Hollywood cast and crew to (1) explore the world of the East African anti-poaching patrols that daily put their lives on the line to fight poachers, and (2) compare Kenya's resistance to allowing sport hunting to its detriment -- socially, politically and environmentally -- that has resulted in a loss of 2/3 its wildlife in the last three decades with the success of Tanzania's pro-sport hunting course that has brought economic wealth and wildlife abundance. The documentary is being produced by Uncommon Dialogue Films (www.udfilms.com), and casting for co-hosts is currently in process. For further information, contact UDF at events@udfilms.com.