JuLY 20, 2011 "In The Crosshairs"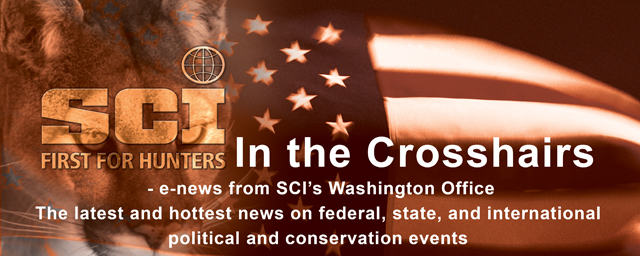 July 20, 2011


Mossy Oak Sponsors Archery Village At EPIC Outdoor Game Fair
Tucson, Arizona – Mossy Oak is the title sponsor of the Archery Village at the EPIC Outdoor Game Fair this fall. The village will provide many hands-on opportunities for anyone with an interest in bow hunting or the archery sports. Hosted by Safari Club International Foundation (SCIF) and Quail Unlimited (QU), the EPIC Outdoor Game Fair is anticipated to be the Southeast's largest game fair. The three-day event is September 23-25, 2011 at the Foxhall Resort and Sporting Club just outside of Atlanta, GA. (Source: EPIC Outdoor Game Fair Press Release) Read the full release at http://pitch.pe/160272.

SCIF Board Approves $196,000 In HLF Grants
Education, conservation and humanitarian services grants totaling $196,000 by the Hunter Legacy Fund have been approved by the Safari Club International Foundation Board of Directors. http://bit.ly/oNkmK8.

Alert To SCI Members Who Own Herds Of Scimitar-Horned Oryx, Dama Gazelle, Addax
The U.S. Fish and Wildlife Service has announced a proposed rule that will change the existing system for the take and use of U.S. captive bred scimitar-horned oryx, dama gazelle and addax. The proposed rule was published on July 7, 2011 and the public has until August 8, 2011 to submit comments. If you are a Safari Club International member who owns a herd of one or more of these three endangered antelope species, please contact crosshairs@safariclub.org for information on commenting on the proposed rule.

Delisting Of Wolves In Wyoming, Great Lakes Moves Forward In U.S. House
"Wednesday, July 13, 2011 (Washington, DC) – A coalition of sportsmen's groups working toward delisting of recovered gray wolf populations from the Endangered Species Act (ESA) sent a letter to Rep. Mike Simpson, Chairman of the Subcommittee on Interior and Environment, and committee member Rep. Cynthia Lummis last week, supporting their efforts in advancing Sec. 119 of the 2012 Interior-Environment Appropriations bill, approved yesterday by the House Appropriations Committee, to address the issue of recovered wolf populations in Wyoming and the Great Lakes region." (Source: Congressional Sportsmen Caucus Press Release) http://bit.ly/qCuDZP

Dan Ashe Confirmed As New Director of U.S. FWS
"Secretary of the Interior Ken Salazar praised the U.S. Senate's confirmation of Daniel M. Ashe as the 16th Director of the U.S. Fish and Wildlife Service. Ashe, a career employee of the agency, will assume his duties immediately." (Source: USFWS Press Release) http://1.usa.gov/ppvHP8

Mule Deer Foundation Joins SCI As Affiliate Member
Washington, DC – Safari Club International (SCI) has announced the Mule Deer Foundation (MDF) as an affiliate member. Through strategic affiliation SCI and MDF will advance federal policy objectives for species conservation and public land access that will benefit all hunters. (Source: SCI Press Release) Read the full release at http://bit.ly/nONh4D.

Montana Sets Quota Of 220 Wolves For Fall Hunt
"Hunters will be able to shoot as many as 220 gray wolves in Montana this fall under rules adopted Thursday by state wildlife commissioners. The hunt is scheduled to begin in early September and is expected to reduce the predator's Montana population by about 25 percent to 425 wolves. A wolf hunt is also planned in Idaho, where officials have proposed no statewide harvest targets or quotas…Wolves were taken off the endangered species list in an unprecedented move by Congress this spring in Montana, Idaho and parts of Utah, Washington and Oregon." (Source: Billings Gazette) Please read the full article at http://bit.ly/mTtmwW

Minnesota's Waukesha County Moves To Open Public Lands To Hunting
"After a nearly 60-year ban, hunting will be allowed in some of Waukesha County's undeveloped parkland if the County Board agrees this month…Parks and Land Use Director Dale Shaver said that under new state rules, the county must allow hunting and fishing on land it buys using grants from the Warren Knowles-Gaylord Nelson Stewardship Program - or get an exemption from the Department of Natural Resources Board." (Source: Milwaukee-Wisconsin Journal Sentinel) Read the full article at http://bit.ly/ocFvpc.

Hunting's Greatest Threats
"It's no secret that the hunting lifestyle faces daily attacks from many sides. But which fronts are the most effective at impeding or even ending the pursuit and management of game animals? While some threats are old battles that have raged for decades, others might surprise and even provoke you." (Source: NRA American Hunter) Please read the full article at http://bit.ly/nhaSDE

Safari Club Moves To Defend Bear Hunting In Nevada
On July 11, SCI moved to defend against a lawsuit challenging Nevada's first ever black bear hunt. The well-regulated hunt is schedule to occur in the Lake Tahoe area, and will involve the harvest of up to 20 bears. Tags were issued to 45 hunters (three of which are SCI members). A group opposed to the bear hunt sued in Nevada State court to stop the hunt. SCI moved to intervene and filed a strong opposition to the efforts to stop the hunt, which is scheduled to start on August 20. The Court set a hearing for Aug. 1.
As reported in the Reno Gazette Journal: http://bit.ly/qryNLG

Sandoval Announces Appointments To Wildlife Board
"Nevada Governor Brian Sandoval has appointed five Commissioners to the Board of Wildlife and named Ken Mayer as Director of the Department of Wildlife. Sandoval has appointed Jeremy Drew, David McNinch, and Jack Robb as Commissioners. He has also reappointed Michael McBeath and Grant Wallace. Jeremy Drew is president of the Northern Nevada Chapter of Safari Club International. Sandoval formally named Ken Mayer as the Director at the Department of Wildlife. Mayer had been serving as Acting Director since Sandoval took office." (Source: State of Nevada Press Release) http://bit.ly/nLDdmz. Jeremy Drew has resigned as president of the Northern Nevada Chapter of SCI upon his appointment to the Wildlife Board on July 1.