July 26, 2010 "In The Crosshairs"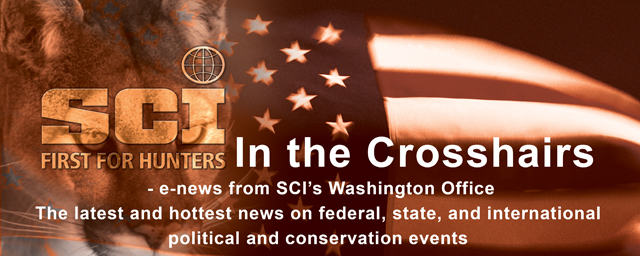 July 26, 2010

Wildlife Protectionist Advocates Op-Ed In New York Times
It is obvious that Endangered Species Act advocates anticipate that a sustainable (and successful) wolf hunting season will again be available this Fall in both Idaho and Montana. As evidenced by the op-ed that ran last week, the anti-hunting organizations are using main stream media to fundraise at the expense of scientifically based sustainable wildlife management. Take a few minutes to read the NY Times Article from July 21 at this link: www.NYTimes.com. Fighting organizations like Wild Earth Guardians in court is a never-ending nightmare for the elk herds of Idaho, Montana and Wyoming. Help SCI today by supporting the fight against anti-hunting organizations! Go to www.safariclub.org/hunterdefense.

SCIF Kicks Off Tajikistan Marco Polo Sheep Survey
SCIF Conservation Committee Chair Joe Hosmer and SCIF Director of Conservation Dr. William Moritz have arrived in Dushanbe, Tajikistan to begin a comprehensive survey of Marco Polo argali sheep. Hosmer and Moritz will be meeting with senior representatives of the Tajik Government to ensure the survey is done collaboratively. This survey will be critical in the process to reopen Marco Polo hunting in the country. SCIF has been meeting with the Tajikistan embassy in Washington, D.C. for over 18 months now and through this growing relationship it is hoped the hunting season can be opened soon.

Sportsmen Against Hunger Feed Millions In Difficult Economy
According to USA Today, 37 million Americans (one in eight) received emergency food aid in 2009--up 46% from 2005. In view of these dire statistics, SCI chapters and individuals helped millions of families in need during 2009 through the Sportsmen Against HungerTM program. Total reported poundage as of publication deadline was 415,039 pounds, representing 1,660,156 meals. Read the full report here.

Historic SCI-Canada Conference A Great Success
SCI's Canada Committee (CC) recently met for the first time ever on Canadian soil. Several members of the Executive Committee and a number of Canadian chapter reps convened at Spectacle Lake Lodge in Ontario to hammer out strategic goals and objectives for SCI's Canadian operations. In addition to the structured work carried out in conference, a lot of less formal, but equally vital, discussion took place over meals and around the campfire. Participants focussed on taking steps to ensure that SCI-Canada will continue its steady growth both in terms of chapters and membership as well as in terms of its broad influence protect Canada's great hunting heritage.

Minnesota To Allow Crane Hunting Season For First Time In 94 Years
"Minnesota will offer hunters the chance to bag sandhill cranes for the first time in 94 years. 'We're happy to be able to offer this opportunity," said Dennis Simon, chief of the Minnesota Department of Natural Resources Wildlife Section. "Ten other Central Flyway states have been hunting cranes for years.' Sandhill cranes haven't been hunted in Minnesota since federal restrictions on migratory-bird hunting were imposed in 1916 but have long been considered recovered and have been hunted in other states in the flyway since 1961." (LA Times Online) Full article here.

Salazar, Vilsack Announce Appointments To Wildlife, Hunting Heritage Conservation Council
"WASHINGTON -- Secretary of the Interior Ken Salazar and Department of Agriculture Secretary Tom Vilsack announced the appointments of 18 people to the Wildlife and Hunting Heritage Conservation Council, a group created earlier this year to advise the two departments about recreational hunting and shooting sports activities and associated wildlife and habitat conservation. 'Inspired by the legacy of President Theodore Roosevelt, hunters long have taken the lead in the conservation of our nation's wildlife and its habitat, and I am pleased so many of the leaders in our nation's hunting and conservation community have accepted an invitation to serve on the Wildlife and Hunting Heritage Conservation Council,' said Salazar. 'At the recent America's Great Outdoors conference, President Obama said that few pursuits are more satisfying to the spirit than discovering the greatness of America's outdoors. I look forward to working with the council to help fulfill my generation's obligation to ensure that the next generation enjoys a thriving wildlife heritage.'" (DOI Press Release) http://bit.ly/8ZZVkB.

USDA Conservation Success Stories
America's farmers and ranchers earn the credit for the Conservation Reserve Program's phenomenal success. This collection of success stories and photos illustrate how CRP participants are using the program to improve their operations and maintain a healthy environment for all Americans. The state-by-state stories reflect the varied benefits of CRP -- reducing soil erosion, improving water and air quality, increasing wildlife habitat and populations, and providing societal benefits. Geographically diverse, the stories cover a wide cross-section of farming operations and CRP practices and initiatives. America's conservation program is achieving far-reaching and long-lasting benefits, thanks to the voluntary participation of farmers and ranchers, America's best stewards of the land. Begin reading success stories by clicking here to Select a State.