June 30, 2007 "In The Crosshairs"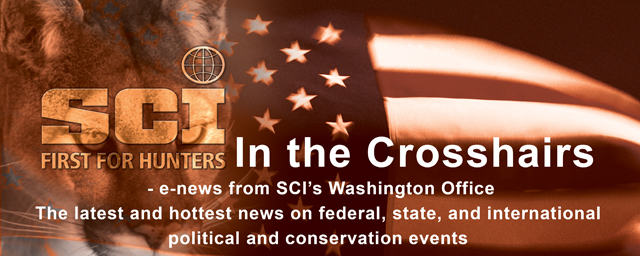 June 30, 2007


Update on California Lead Ban


The California Fish and Game Commission is continuing to consider a regulatory ban of lead ammunition in the condor "range." At a meeting held on July 13, the Commissioners called on the public to provide them with information on (1) the impacts of lead ammunition on condors, (2) the impacts of a lead ammunition ban on hunters and the economy, (3) the availability and cost of non-lead ammunition for all types of hunting firearms, (4) any alternatives they should be considering, and (5) the extent of condor "range." The Commissioners also indicated that they would not plan on implementing any ban they adopt (if that is the outcome) until July 1, 2008. The California Department of Fish and Game is still preparing an "Environmental Document" on the lead ammunition issue and will put it out for public comment when it is completed. The Commissioners have called a special meeting to discuss only the lead/condor issue on August 27, 2007 at 10:00 a.m. in Sacramento. Check the Commission website around August 17 for details, http://www.fgc.ca.gov/. SCI has signed onto comments opposing the ban. We will keep you posted.


SCI Files Brief in Support of Maine's Trapping Program


SCI filed an "amicus curiae" (friend of the court) brief in Federal court in support of the State of Maine's trapping program, under attack by a California-based anti-trapping (and hunting) group. The group, the Animal Protection Institute, claims that by authorizing trapping, the State violated the Endangered Species Act by "taking" the threatened Canadian lynx, because trappers occasionally accidentally trap the lynx. SCI's brief pointed out that API's real goal is to end all trapping (and probably hunting) everywhere and the Court should not allow API to misuse the Endangered Species Act to achieve this goal. The parties will complete briefing in the next month. To read the SCI brief please visit: http://www.scifirstforhunters.org/docs/Amicus_Brief-July272007-Filed Version.pdf


FWS Proposes Early-Season Migratory Bird Hunting Regulations


The U.S. Fish and Wildlife Service has proposed regulations to govern early-season hunting of certain migratory game birds. According to the FWS, "We annually prescribe frameworks, or outer limits, for dates and times when hunting may occur and the maximum number of birds that may be taken and possessed in early seasons. Early seasons may open as early as September 1. These frameworks are necessary to allow State selections of specific final seasons and limits and to allow recreational harvest at levels compatible with population status and habitat conditions." Detailed information can be found here.




SCI Helping to Sponsor Hero-Youth on an African Safari.


As a thank-you from Safari Club International and the Matlou Foundation, Mitchell Hults and his family are spending the next few days in Africa. Hults is the young hero whose sharp eyes caught key evidence in the kidnapping case of two young Missourians. Visit SCI's website for more details and to link to the three-minute live interview with FOX KTVI Channel 2 as the family waited for the plane to depart.


Bison Roaming Outside of Yellowstone National Park


A tentative deal has been brokered that would allow free roaming bison to migrate off of Yellowstone National Park and onto the Royal Teton Ranch. Previously, their movement was monitored in an effort to prevent interaction with livestock herds to limit the possibility for the spread of brucellosis. The proposed deal will work to bring a conclusion to controversy on payments for grazing rights in the Royal Teton Ranch. Please read the full story from the AP.


National Assembly of Sportsmen's Caucuses on the move


Last week in Philadelphia, PA, the American Legislative Exchange Council convened with over 2,000 state legislators, businessmen, and public policy experts participating. For a third year, the National Assembly of Sportsmen's Caucuses held a shoot for conference attendants who support sportsmen's issues. This shoot provided a friendly atmosphere for like-minded legislators to meet one another and address issues of mutual concern.
NASC's efforts to create the Utah Sportsmen's Caucus have been rewarded with a very well attended event in Morgan, UT last week at the Browning headquarters. The Utah Caucus had 70 participants at this, their first, event and hope that future events will bring even more Utah state legislators to the Caucus. Learn more about NASC at www.sportsmenslink.org.