July 31, 2009 "In The Crosshairs"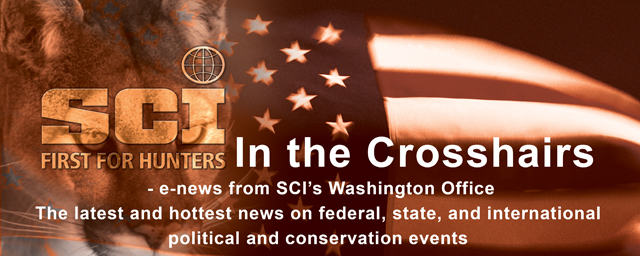 July 31, 2009


Safari Club Goes To U.S. Supreme Court


Safari Club International has taken its litigation efforts to the  nation's highest court with the filing of an amicus brief  before  the U.S. Supreme Court  in the case U.S. v. Stevens.  SCI's brief defends the production and distribution of hunting TV programs and videos – activities of great importance to SCI members and hunters generally.  The case involves a federal law that makes it a criminal offense to produce, sell, or possess a depiction of "animal cruelty."   But the devil is in the details.  The statute's definition of "animal cruelty" could foreseeably include TV or videos that depict lawful hunting.  For example, if an outdoor television program filmed a black bear hunt in Pennsylvania where bear hunting is legal, but distributed it in New Jersey where bear hunting is not currently legal, then those involved could be in violation of the law.  In this example, mere possession of a bear hunting video in New Jersey with the intent to distribute could also be criminalized.  In its brief, SCI argued to the Court that the law as written is unconstitutional under the First Amendment because it criminalizes legitimate speech.  The Congressional Sportsmen's Foundation joined SCI on the amicus curiae brief, filed on July 27.  Many anti-hunting groups, including the Humane Society, lined up on the other side.  The Supreme Court will hear the case on October 6, 2009, the first day of its new term. View the brief HERE.


SCI and CSF Holds Briefing On Conservation Easement Incentive Act


(Washington, DC) - The Congressional Sportsmen's Foundation, Congressional Sportsmen's Caucus, Safari Club International and the Land Trust Alliance hosted the third breakfast briefing of the 111th Congress today, encouraging members of Congress to support the Conservation Easement Incentive Act, H.R. 1831.  CSC members Rep. Mike Thompson and Rep. Eric Cantor are lead sponsors of H.R. 1831, which would make permanent and expiring tax incentives for the donation of conservation easements. So far 139 members of the House have signed on as co-sponsors. MORE…


Wisconsin Bear-Hunting Hounds Killed By Wolves


"Four more bear-hunting hounds have been killed by wolves in northern Wisconsin while running free during bear-hunting training sessions.  The Wisconsin Department of Natural Resources reported today that the dogs were killed, and another injured, in separate incidents the past two weeks in Bayfield, Burnett, Clark and Oneida Counties…Wisconsin has more than 500 wolves that, under a court settlement, were last month returned to federal protection under the Endangered Species Act. It remains illegal under federal law to kill a wolf in Wisconsin, except for federal trappers who kill wolves near where livestock or dogs have been killed. Dog owners also receive reimbursement from the state for the wolf-killed dogs." Source:  Duluth News Tribune Online. MORE…


INTERIOR: FWS Switches Heads Of Endangered Species, Fisheries Programs

"The Fish and Wildlife Service announced today that two of its senior leaders will switch jobs, returning Gary Frazer to oversee the endangered species program as he did under the Clinton administration.  Frazer, currently assistant director for fisheries and habitat conservation, immediately will assume management of the Endangered Species Program, which he headed from 1999 to 2004.  Bryan Arroyo, currently assistant director of endangered species, will become assistant director for fisheries and habitat conservation. The switch will allow Arroyo to manage the Fisheries and Habitat Conservation Program using expertise he gained in the FWS Southwest Region, the agency said." (Source: E&E News Online) More…


Sam Hamilton Confirmed To Lead Fish And Wildlife Service


"The Senate today confirmed Sam Hamilton, a career biologist with the Fish and Wildlife Service, as the agency's newest chief.  The 30-year veteran of the agency was confirmed this afternoon by unanimous consent, despite objections some activist groups have raised over his handling of endangered species decisions in Florida.  In his new role, Hamilton will have a critical role in endangered species and wildlife refuge management and oversee a more than $2.5 billion agency with more than 8,700 employees. Interior Secretary Ken Salazar said in a statement today that Hamilton will take leadership on wildlife conservation and addressing the effects of climate change." (Source: E&E News Online) www.eenews.net.