August 02, 2010 "In The Crosshairs"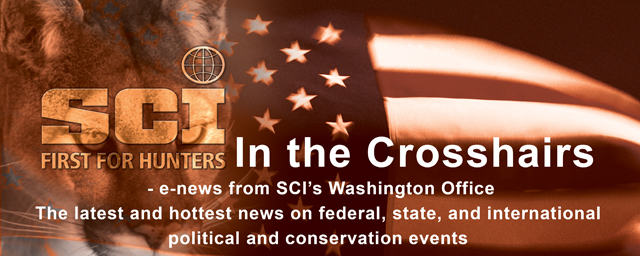 August 02, 2010

Help Needed To Pass Firearms Excise Tax Reform
Safari Club International and the National Shooting Sports Foundation are calling on hunters to ask their Senators to pass Firearms Excise Tax reform before the summer congressional recess. On June 29, the U.S. House of Representatives passed the Firearms Excise Tax Improvement Act of 2010 (HR 5552) by a vote of 412 to 6. The bill is now pending in the Senate.

This legislation corrects a longstanding inequity in the Internal Revenue Code by permitting firearm and ammunition manufacturers to pay the federal excise tax payment on a quarterly basis. Currently, manufacturers pay this tax on a bi-weekly schedule, forcing many manufacturers to borrow money to ensure on-time payment. Industry members spend thousands of man-hours administering the necessary paperwork to successfully complete the bi-weekly tax payments -- monies that are due to the federal government long before manufacturers are paid by their customers. This excise tax is the major revenue source of wildlife conservation in the United States. This legislation will not increase the federal deficit, nor does it reduce the excise tax rate -- it simply changes the payment schedule to match other industries that support conservation through a federal excise tax.

SCI is asking hunters to call their Senators today at 202-224-3121 and ask them to support Senate passage of H.R. 5552 before Congress adjourns for the summer. http://bit.ly/9YgZAi.

Opportunity For SCI Members To Serve As Volunteers In An Elk Cull On Theodore Roosevelt National Park
Up to 240 volunteers may be selected by the National Park Service to participate in an elk cull to be conducted between Nov. 1, 2010 and Jan. 21, 2011 on Theodore Roosevelt National Park (TRNP) in North Dakota. Twenty volunteers will be needed for each of the 12 weeks of the cull. Those selected will participate in a cull and not a hunt. Only cow elk will be taken during the cull. Each volunteer will be entitled to up to one elk at the end of their five-day commitment of volunteer service. Applicants need not possess a hunting license, but must be able to 1) demonstrate a high-level of shooting proficiency using lead-free ammunition, 2) self-certify fitness for rigorous activity, 3) be able to legally possess a firearm and 4) be willing to sign a volunteer agreement after arriving at the park. Volunteers will be selected at random from qualified applicants. Applications must be made on-line, by going to the Theodore Roosevelt National Park website: http://www.nps.gov/thro/naturescience/upload/Application_Instructions.pdf. All applications must be made no later than Aug. 9, 2010.
During TRNP's elk management planning process, Safari Club International strongly supported TRNP's use of volunteers for the cull. SCI is currently involved in litigation to defend a similar program being conducted at Rocky Mountain National Park. We encourage SCI members to apply and would like to know about any SCI members who apply and/or who are selected to volunteer. Please contact Anna Seidman, Director of Litigation, aseidman@safariclub.org or 202-543-8733. For additional information about the cull, please consult: http://www.nps.gov/thro/naturescience/elk-management.htm.

SCI To Defend Against Another Wild Horse Gather Lawsuit
A U.S. District Court has granted SCI's request to help defend against another lawsuit challenging a wild horse and burro gather designed to restore balance to the range and benefit other wildlife, including game animals and birds. Horse advocacy groups want to stop a planned gather of wild horses and burros from the Twin Peaks horse management area in northeast California/northwest Nevada. The gather is planned to start on Aug. 9. The horse groups have filed for a preliminary injunction to halt the gather despite the fact that every day that excess horses are on the range means more damage to the ecosystem and other wildlife. SCI has filed a brief in opposition to the injunction request. The Court will hold a hearing on Aug. 5 in Sacramento. Help SCI to continue defending sound wildlife management.

Of Windmills And Wildlife
"If wind farms get contracts to build on large tracts of federal lands, could public areas become de facto no-hunting areas? Walk onto a modern wind farm and you'll feel like an ant in a field of sunflowers. Modern wind turbines stand 30-50 stories tall. Their blades swinging high above can be more than 130 feet long. Their steel towers are anchored in platforms of more than a thousand tons of cement and steel rebar, which are typically 30 to 50 feet across and anywhere from 6 to 30 feet deep." (American Hunter Online) http://bit.ly/coGFmD.

Another Public Lands Omnibus Bill Coming Soon, Maybe
"The 111th Congress could come up with another massive public lands omnibus bill before convening in January. Congressman Mike Simpson's (R-ID) Central Idaho Economic Development and Recreation Act and Senator Jon Tester's (D-MT) Forest Jobs and Recreation Act could be included, or not. With the severe escalation of partisan politics and divisiveness in recent years, it has become basically impossible to pass a Wilderness bill or any other type of public lands or outdoor recreation legislation on its own. Time on the Senate and House floor is so scarce and closely guarded and partisanship so bitter that the only way public lands legislation has any realistic chance is a relatively new invention called the omnibus bill." Full Article at http://bit.ly/92KH66.