AUG 04, 2011 "In The Crosshairs"
SPECIAL WOLF UPDATE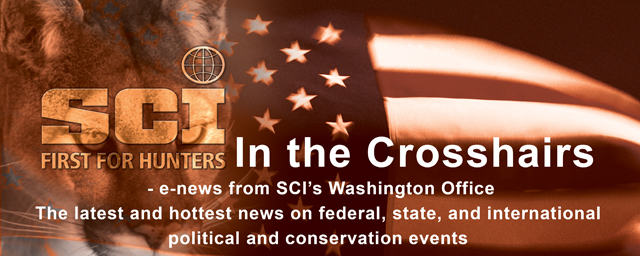 Aug 04, 2011


Northern Rocky Mountain Delisting Statute Upheld
Judge Molloy of the Montana District Court has issued yet another colorful and significant opinion. On August 3rd, he ruled that Congress' legislative fix to the delisting of the NRM wolves is Constitutional. This means that for now, the wolves of the NRM area remain delisted, except those in Wyoming. Montana and Idaho continue to have management authority over wolves within their borders, and scheduled hunts can proceed. Judge Molloy indicated in his ruling that he believes that the law violates separation of powers principles but upheld the law based on Ninth Circuit precedent. That precedent forced him to rule against his own position on the Constitutionality of the wolf law. In many ways, Judge Molloy's ruling looks like an invitation to the Plaintiffs to appeal to the Ninth Circuit – imploring them to test out whether the appellate court actually wants their precedent to be interpreted as the judge concluded he was forced to do. SCI's role in the case is complicated. Our motion to intervene in the District Court was denied and we appealed that denial to the Ninth Circuit. If the Plaintiffs do decide to appeal Judge Molloy's ruling on constitutionality, our appeal of his decision on our intervention may preserve our opportunity to defend the constitutional of the wolf law at the appellate level.

Court Denies Challenge to NRM Experimental Population Rule
This case has been the sort of "red-headed step child" of wolf litigation. The relevancy of this litigation has waxed and waned depending on whether the NRM wolves were on or off the endangered species list – a status that has changed multiple times since the FWS promulgated the Experimental Population rule in 2008. The rule at issue in this litigation gave the FWS authority to grant permission to states to lethally remove wolves having an unacceptable impact on wild ungulate populations. After Congress passed their legislative fix for NRM wolf delisting, the rule became a non-issue for all wolves except a very small population on the Wind River Reservation in Wyoming. Yesterday, the Court dismissed the challenge to the Experimental Population Rule based for a variety of reasons (mootness, ripeness, standing, etc.). SCI was participating as a Defendant-Intervenor in this case. Although the Court did not attribute his ruling to SCI's briefing, some of the arguments upon which he ruled were ones that SCI pursued in our briefing. It is unlikely that the Plaintiffs will appeal this ruling.

Wyoming and FWS Reach Agreement on Wyoming Wolf Management Plan
At long last, the FWS is satisfied that Wyoming has developed a wolf management plan that qualifies as an "adequate regulatory mechanism" – a necessary component for the delisting of Wyoming's wolves. In this plan, Wyoming agrees to manage for a population of at least 10 breeding pairs and at least 100 wolves outside of Yellowstone National Park. Wyoming's Trophy Game Management Area's boundaries will be flexible. In the areas outside the WTGMA, wolves will be designated as predators. The WTGMA boundaries will expand during the period from October 15th through February 28th or 29th in order to protect dispersers during peak wolf dispersal periods. The plan allows for a limited amount of aerial gunning for wolves by the Wyoming Department of Game and Fish in order to control livestock depredations, to achieve ungulate management objectives if wolves are determined to be a significant cause for not meeting those objectives, or to address human safety issues. For more information, please see the U.S. Fish and Wildlife Service and Wyoming fact sheet detailing the agreement here: http://on.doi.gov/n4y1bX

Idaho Sets Wolf Hunting Seasons
The Idaho Fish and Game Commission adopted a 10-month-long wolf hunting season in the upper Clearwater River Basin of the state. Hunters will be allowed to kill two wolves per year. "Department Director Virgil Moore has said the state will manage the hunt to ensure the wolf population stays well above 150 -- the number that could trigger relisting the animals under the Endangered Species Act. There are believed to be about 1,000 wolves in Idaho." (Source: The Standard-Examiner) http://bit.ly/nKGHsy