August 5, 2008 "In The Crosshairs"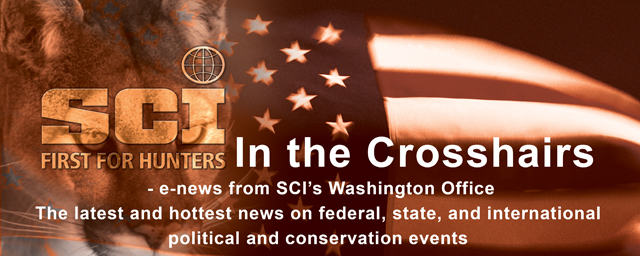 August 5, 2008

 
HSUS Makes Absurd Claim


The National Park Service is currently reviewing regulations that would allow individuals to carry firearms on Park Service lands as long as the individuals are in compliance with local and state laws. In rabid opposition to this common-sense proposal, the Humane Society of the United States (HSUS) has made an absurd statement claiming that law abiding citizens who carry firearms on National Parks will ultimately cause the demise of wildlife in America and incite poaching. Poaching, the illegal and unethical killing of animals is reprehensible to the hunting community. HSUS's absurd statement that allowing American citizens the right to protect themselves on National Park lands will cause a greater frequency of poaching is outlandish. The real truth is that violent crime on federal lands is sadly common, and individuals should be allowed to exercise their right to carry under state and local laws. The comment period on this proposal remains open until August 8. Please submit your comments on-line here (Select the icon next to "Add Comments")

 
Alaska sues U.S. Over Polar Bears' Threatened-Species Status


"The state of Alaska has filed a lawsuit against the U.S. government, in an attempt to overturn the listing of polar bears as a threatened species…The lawsuit was filed Monday with the U.S. District Court in Washington, D.C., Alaska Gov. Sarah Palin announced in a release that day…It comes two months after Alaska asked U.S. Interior Secretary Dirk Kempthorne and the U.S. Fish and Wildlife Service to downgrade polar bears' risk status…Kempthorne declared polar bears to be threatened on May 14, saying the animals' sea ice habitat has dramatically melted and computer models suggest the trend will continue…But Palin stated the federal analysis 'was not based on the best scientific and commercial data available,' arguing that it did not adequately consider polar bear survival through earlier periods of warming." (Source: www.CBCNews.ca) To view the full article: http://www.cbc.ca/technology/story/2008/08/05/bear-lawsuit.html



 
FBI Investigates New Attacks on Calif. Scientists


"The FBI is investigating two bombings that targeted university scientists, the latest in a rash of attacks against biomedical researchers who experiment on animals, authorities say…Both scientists work at the University of California, Santa Cruz. One of them and his family were forced to escape from a second-story window early Saturday when a firebomb was lit on the home's porch, Santa Cruz police said. An adult was treated at a hospital and released…Police Capt. Steve Clark called the bombing 'an attempted homicide.'…Also that morning, a firebomb destroyed a car belonging to another researcher. Clark said authorities were treating the attacks as 'domestic terrorism.'…The attacks came four days after police obtained animal rights pamphlets left at a Santa Cruz coffeehouse that contained the names and home addresses of university scientists." (Source: www.ap.org)

 
U.S. Fish and Wildlife Service Announces New Leadership Team Assignments

"The U.S. Fish and Wildlife Service today announced several changes in assignment for members of its leadership team. All of the positions involved are part of the government's Senior Executive Service, and have been approved by the Interior Department's Executive Review Board. 'The Service and I owe a great deal of gratitude to these leaders. They have served well in their current positions and have stepped up for the long term good of the Service,' said Service Director H. Dale Hall." (Source: www.fws.gov)

 
SCI Applauds North Carolina Regulation of Non-native Mute Swans


Mute swans are a non-native species that can destroy the wetland ecosystems they inhabit and harm native waterfowl. They have caused grave problems in places like the Chesapeake Bay. SCI filed comments with the North Carolina Wildlife Commission supporting regulations to tightly control the release of mute swans into waters of North Carolina. The State adopted the following regulation, which went into effect on July 1, 2008:

 
15A NCAC 10B .0125 Release of Mute Swans


It is unlawful for any individual to release any mute swan (Cygnus olor) into the public waters of North Carolina. Any individual who releases a mute swan to privately controlled waters must ensure that the animal has been pinioned. Individuals who currently possess or confine mute swans on their property must pinion all mute swans on their property by January 1, 2009. For the purposes of this Rule privately controlled waters is defined as: a body of water lying wholly upon a single tract of privately owned land or a body of water lying entirely within private property, even if that property is comprised of multiple tracts owned by one or multiple individuals. In addition, privately controlled waters are waters to which the public does not have access without permission of one or more of the private landowners surrounding the water(s).

 
FWS Proposes Liberal Late Waterfowl Seasons


"The U.S. Fish and Wildlife Service today proposed continuation of liberal hunting season lengths for the upcoming 2008-2009 late waterfowl seasons. Duck hunting season lengths would be 60 days in both the Atlantic and Mississippi Flyways, 74 days in the Central Flyway, and 107 days in the Pacific Flyway. However, in three flyways, the Service Regulations Committee recommends closing the canvasback season due to low populations and restricting scaup harvest due to long-term population declines. Given increasing wood duck populations, the Atlantic and Mississippi Flyways would get an extra wood duck in the daily bag limit. … States select their season from within the frameworks which establish the outer limits of season length, bag limits and season beginning and ending date. … The proposed late season waterfowl frameworks will appear in a mid-August edition of the Federal Register for public comment and on http://www.fws.gov/migratorybirds/fedreg/MGBHR.HTML" [Contact: Nicholas Throckmorton, FWS, 703-358-2235.] Source: FWS Press Release, August 1, 2008.

 
Congressional Statistics for the 110th Congress


Here is a little "Did You Know" from the Washington, DC office. The 110th Congress has passed just 260 laws – and 74 of those were renaming post offices. They have, however, passed hundreds of resolutions, including one recognizing soil as an essential resource and one congratulating the U.C. Irvine Volleyball team.