AUG 05, 2011 "In The Crosshairs"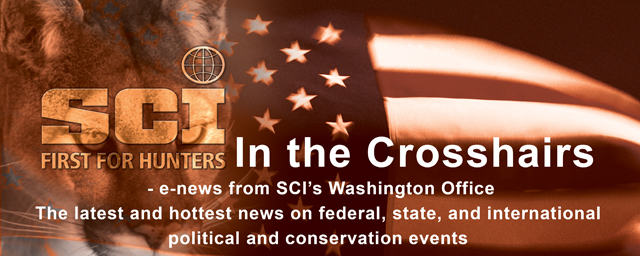 Aug 05, 2011


SCI Foundation Contributes $330,000 To Worldwide Wildlife Conservation Projects In Last Quarter Of Fiscal Year
Safari Club International Foundation (SCIF) announced that it has contributed over $330,000 in the final quarter of their fiscal year to fund worldwide wildlife conservation projects. SCIF strategically focuses funding towards research and management of large predators and their prey, including game species, principally throughout North America, Asia and Southern Africa. (Source: SCI Press Release) http://bit.ly/p5yXDe

Equestrian Village At EPIC Outdoor Game Fair Filled With Cross-Discipline Exhibitions
The Equestrian Village at the EPIC Outdoor Game Fair will feature three full days of exhibitions of equestrian talent and technique as well as clinics from some of the industry's top names. From eventing to polo to jousting to cowboy mounted shooting and precision drill teams, the village will showcase the breadth of equestrian disciplines. Designed to encourage families, youths, and individuals to actively engage in outdoor sporting activities through education, participation, instruction, and competition, the EPIC Outdoor Game Fair will run from September 23 to 25, 2011. The event will be held at Foxhall Resort and Sporting Club in Atlanta, Georgia. (Source: EPIC Outdoor Game Fair Press Release) Learn more at http://bit.ly/ny5ckj.

SCI Helps In Successful Defense Of Nevada Bear Hunt
On Aug. 3, 2011, a Nevada state court denied a challenge to the state's upcoming black bear hunt. SCI joined as a defendant-intervenor with the State of Nevada in defense of Nevada's first bear hunt in history. The hunt is scheduled to begin on Aug. 20.

Botswana Hunting Season Remains Open
After multiple articles were published in the past weeks regarding hunting in Botswana, SCI learned that the nation's hunting season is still in fact open. Botswana government officials issued the following letter to refute the misleading articles. SCI continues to monitor and work with the Botswana government to expose the truth on this issue. Read the letter here: http://bit.ly/o4ytT1.

SCIF Testifies In Support Of International Wildlife Conservation Funding
Safari Club International Foundation (SCIF) testified before the U.S. House of Representatives Fisheries, Wildlife, Oceans and Insular Affairs Subcommittee of the House Natural Resources Committee in support of H.R. 50, the Multinational Species Conservation Funds Reauthorization Act of 2011. This bill would extend funding for important conservation projects until the year 2016. (Source: SCI Press Release) http://bit.ly/qcCDBA

SCI Champions Access For Hunting Before Congress
On behalf of millions of American sportsmen and women, Safari Club International's Director of Hunter Advocacy, Melissa Simpson, testified before the House Committee on Natural Resource's subcommittee on National Parks, Forests, and Public Lands. Simpson provided testimony on H.R. 1581, the "Wilderness and Roadless Area Release Act of 2011" on behalf of a sportsmen's coalition that included the National Rifle Association and the U.S. Sportsmen's Alliance. (Source: SCI Press Release) http://bit.ly/n2Z67y

SCI Seeks To Participate In Case That Threatens The Status Of All Species Currently On The Candidate Species List
SCI has moved to intervene in an Endangered Species Act case filed by WildEarth Guardians and Center for Biological Diversity. The case challenges the U.S. Fish and Wildlife Service's failure to comply with statutory listing deadlines for several species. SCI seeks to participate in the case in order to oppose settlements between the Service and the two animal rights groups that will impact hundreds of species, including the following game animals: greater sage grouse, lesser prairie-chicken, and New England cottontail. Under the proposed settlements, the FWS has promised to decide, within the next six years, whether or not to list every species currently on the candidate species list. The settlement deprives the Service of the authority to retain candidate species status for any of the 251 species currently on the candidate species list. The benefit of species being on the candidate list is that they are managed under state law, and are not subject to the inflexible standards of the ESA.

SCI Joins Case To Defend Triple B Complex Horse Gather
SCI is seeking to participate in its third case concerning wild horse gathers in the West. SCI moved to participate as amicus in a case involving the Triple B Complex Herd Management Area in Nevada. While considering SCI's motion, the Nevada federal district Court denied the Plaintiffs' request for a preliminary injunction to stop the gather. The Plaintiffs appealed to the Ninth Circuit. The appellate court also denied the Plaintiffs' attempt to stop the gather. The gather has begun and is expected to last several more weeks. Plaintiffs are moving forward with their challenges in both the Nevada District Court and the Ninth Circuit. SCI will be participating to defend the gather in both courts.

SCI Supports The Reclassification Of Straight Horned Markhor From Endangered To Threatened Status
SCI filed comments in response the U.S. Fish and Wildlife Service's 90-day finding to downlist the straight-horned markhor of Pakistan from endangered to threatened status. SCI's comments highlighted the role that sport hunting has played in the species' recovery.

Wild Sheep Foundation Joins SCI As Affiliate Member
Safari Club International (SCI) is proud to recognize the Wild Sheep Foundation (WSF) as an affiliate member. Together, SCI and WSF will continue advancing (1) federal policy to promote hunting on public lands and (2) international sheep conservation. (Source: SCI Press Release) http://bit.ly/pAmPOm

Idaho Sets Wolf Hunting Seasons
The Idaho Fish and Game Commission adopted a 10-month-long wolf hunting season in the upper Clearwater River Basin of the state. Hunters will be allowed to kill two wolves per year. "Department Director Virgil Moore has said the state will manage the hunt to ensure the wolf population stays well above 150 -- the number that could trigger relisting the animals under the Endangered Species Act. There are believed to be about 1,000 wolves in Idaho." (Source: The Standard-Examiner) http://bit.ly/nKGHsy

Comments on Proposed Regulations For The Take Of U.S. Captive Herds Of Scimitar-Horned Oryx, Dama Gazelle, Addax Due on August 8th – FWS Denies Request For Extension
The FWS has denied SCI's request for a 45 day extension for the submission of comments on a proposed rule that will require permits for the use and take of members of U.S. captive herds of three endangered exotic antelope species – the scimitar-horned oryx, dama gazelle and addax. The comments on the proposed rule are due on August 8th. Safari Club International encourages members and owners of herds of one or more of the three species to send the FWS a letter describing their herd sizes and conditions, history of ownership, experiences with ESA permitting, and likely plans for their herds if permits are imposed. SCI suggests that comments include suggestions for permit systems that the FWS can adopt that will not interfere with owners' financial abilities to continue to raise, trade, breed and allow for hunting of these animals. For more information on submitting comments, click here.

SCI & SCIF Seeking Candidates For Chief Financial Officer
SCI and SCI Foundation are looking for qualified candidates for the position of Chief Financial Officer. The CFO is responsible for all financial matters of SCI & SCIF and its affiliate organizations and s/he will partner with the senior leadership and the board of directors to develop and implement strategies. S/he must be able to adapt to a continually evolving environment and thrive in an autonomous and deadline-oriented workplace. A full job description is available and interested candidates should apply here. Contact: work@safariclub.org