August 7, 2007 "In The Crosshairs"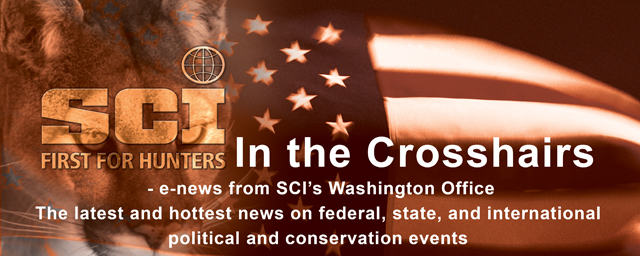 August 7, 2007


Non-Resident Hunting Fees Back in Spotlight


California Representative and Presidential candidate, Duncan Hunter has just introduced the Teddy Roosevelt Bring Back Our Public Lands Act of 2007, HR 3255. This bill will "prohibit a State from charging an individual more than $200 for a permit or license to hunt big game on Federal public lands within that State that are publicly accessible, owned by the United States and managed by an executive agency for purposes that include the conservation of natural resources." Big game is classified as deer, elk, antelope and bear. SCI did extensive research into the issue of resident and non-resident fee disparities in 2005. That data can be found at www.safariclub.org under Governmental Affairs. We will track the above legislation once Congress returns from its August recess and keep you posted.


Air Botswana Gun Fee


SCI's office in South Africa is reporting that Botswana Airlines has imposed a new 'handling fee' for all rifle and bow cases at a cost of R285.00 (US $40.00) per case per trip. Since this airline does not fall under the purview of any U.S. regulatory agency, there isn't much lobbying that can be done from Washington, D.C. However, we are looking into the situation and will report back.


Park Service Proposes to Reinstate Pheasant Hunt in Cape Cod National Seashore

The National Park Service announced today that its final Environmental Impact Statement on the hunting program for Cape Cod National Seashore is available for review. The EIS proposes three alternatives from which the Park Service will chose to govern hunting. The "preferred" alternative (i.e., the one it will probably chose) will expand native bird hunting, reinstate the pheasant hunt (banned since a lawsuit in 2003) but phase it out over 17 years, reduce hunting in a few areas, and monitor certain game species. One of the other alternatives would maintain the status quo regarding hunting (and reinstate the pheasant hunt); the final alternative would eliminate all hunting. In previous written comments, SCI generally supported the preferred alternative, but opposed a mandatory phase out of the pheasant hunt. The Park Service will accept written comments on the EIS for 30 days after publication of notice by the EPA (which should happen on August 10). It will then announce its final decision. You can view the EIS at http://www.nps.gov/caco/parkmgmt/planning.htm under Cape Cod National Seashore.


Waterfowl Season Results


The U.S. Fish and Wildlife Service recently issued a new report summarizing hunter activity and harvest for the 2006 waterfowl season. The reports shows more than 13.8 million ducks were harvested, up more than a million ducks from the previous season. Hunters also harvested nearly 3.6 million geese, down slightly the previous season. Nationally, duck hunters spent about 6.8 million days in the field, compared with 6.5 million days of duck hunting the previous season. Hunters spent more than 4 million days hunting geese which is similar to the previous season. Mallards were the most prevalent duck in the bag for hunters in the United States, with nearly 4.7 million birds harvested last season. Other species popular among waterfowlers were green winged teal with nearly 1.7 million birds harvested; gadwall with more than 1.5 million harvested; wood duck, at more than 1 million harvested; and blue winged teal, with more than 940,000 harvested. The waterfowl hunter activity and harvest estimates for the 2006 hunting season are available here. (Source: FWS)


Waterfowl II


The U.S. Fish and Wildlife Service proposed continuation of liberal hunting regulations for the upcoming 2007-2008 late waterfowl seasons due to improved habitat conditions and waterfowl population estimates. Duck hunting season lengths will be 60 days in both the Atlantic and Mississippi Flyways, 74 days in the Central Flyway, and 107 days in the Pacific Flyway. "Based on Spring duck numbers, improved breeding habitat conditions and an improved outlook for production in many breeding areas, we propose to give hunters a wide range of hunting opportunities," said Service Director H. Dale Hall. "We have five species that are at record or near record highs, including canvasbacks, and there are good breeding conditions on the prairies. (Source: FWS)