August 14, 2007 "In The Crosshairs"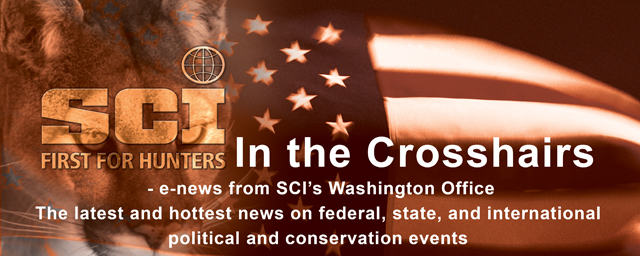 August 14, 2007


National Conference of State Legislators Meet in Boston


The annual National Conference of State Legislators was held last week in Boston to discuss new and pressing legislative issues for the upcoming year. SCI co-hosted a dinner for nearly 25 legislators from around the country, many of whom are associated with the National Assembly of Sportsmen's Caucuses. NASC and SCI work together to help monitor state legislation so this was a great opportunity to discuss upcoming issues with state legislators that will be key to your hunting rights at the state level.


SCI Testifies in Favor of Bear Hunt


As part of its continuing fight to maintain an annual bear hunt in New Jersey, SCI testified on August 8 at a public hearing before the Department of Environmental Protection concerning black bear management in New Jersey. The state is bitterly divided over the issue. The Commissioner of the DEP is opposed to a black bear hunt, favoring exclusively non-lethal management tools. The State Fish and Game Council favors a hunt, along with non-lethal tools. Under a N.J. Supreme Court decision, a bear hunt cannot take place in the state until the Council adopts bear management policies that are approved by the DEP Commissioner. At the highly contentious and emotional hearing, SCI stressed (1) the scientific fact that a regulated hunt is the only effective means of controlling the ever-growing bear population, (2) the risks to the public of not controlling the population, and (3) the State's duty to provide recreational opportunities like hunting. SCI will file extensive written comments on August 15. More info can be found here.


Electronic Duck Stamp


On September 1, the USFWS will debut a pilot program in nine states for purchasing electronic duck stamps. The nine states are Arkansas, Colorado, Florida, Idaho, Maryland, Minnesota, New York, Texas, and Wisconsin. These new electronic duck stamps will allow individuals to purchase their migratory duck stamp on-line which will be valid for 45 days. After 45 days individuals will be required to possess the actual paper duck stamp. To read more about the new duck stamp please view the FWS press release. (Source: USFWS)


National Park Service Finalizes Cape Cod Hunting Analysis


At long last, the NPS finalized its analysis and proposed plan for hunting on Cape Cod National Seashore. With one exception, SCI supports the proposed plan, due to be finalized after the NPS reviews public comments. While the plan generally increases and supports hunting, it also will phase out the popular pheasant hunting program after no more than 17 years. SCI earlier provided comments demonstrating that the NPS should only phase out this traditional activity when hunter and State (which runs the program) interest are no longer sufficient to justify the program. SCI will reiterate this point in its comments, due September 10, 2007. There will be no further opportunity to try to influence the NPS's final decision. SCI encourages all sportsmen and women who enjoy Cape Cod National Seashore to support the plan, but oppose the mandatory phase out of the pheasant hunt. More information about commenting can be found here.


USFWS Releases Preliminary State Data From National Survey


"According to preliminary state data from the new 2006 National Survey of Fishing, Hunting and Wildlife-Associated Recreation, Montanans were most likely to hunt, Alaskans and Minnesotans were most likely to fish and Mainers were most likely to observe, photograph or feed wildlife. In terms of numbers of people participating in these activities, Texas led the nation in 2006 with 1.1 million Texans going hunting at some point during the year, while Florida led the nation in total fishing participation with 2.8 million anglers and California saw 6.2 million of its residents observe wildlife. In 2006, more than 87 million Americans, or 38 percent of the United States ' population age 16 and older hunted, fished or watched wildlife. They spent $120 billion that year pursuing those activities. Further broken down by category, 30 million or 13 percent fished and spent a total of $41 billion on their activities, 12.5 million or 5 percent hunted and spent a total of $23 billion, and 71 million or 31 percent observed wildlife and spent a total of $45 billion. This 2006 National Survey of Fishing, Hunting, and Wildlife-Associated Recreation State Overview report, as well as previous surveys and reports, can be found at http://federalaid.fws.gov/surveys/surveys.html. The Service expects to publish the final National Report in November 2007." (Source: USFWS)


Wolf Meetings in Washington State


"Citizens can comment on gray wolf management in Washington State, during public meetings Aug. 14-23, and in writing through Aug. 31. The series of public "scoping" meetings is being held by the Washington Department of Fish and Wildlife (WDFW) and an 18-member citizen working group that is advising WDFW on development of a draft wolf-management plan. While the state will not re-introduce wolves, the species is expected to re-establish in Washington on its own as wolf numbers increase in neighboring states and Canada. The eventual wolf-management plan is expected to include gray wolf population objectives, wolf-livestock conflict resolution, wolf-game species interactions, wolf-human interactions and other issues. The public meetings will be held from 7 to 9 p.m. in the following locations: Clarkston, Aug. 14; Spokane, Aug. 15; Yakima, Aug. 16; Twisp, Aug. 20; Sequim, Aug. 21; Bellingham, Aug. 22; Vancouver, Aug. 23. More information about the meeting, citizen working group members, the group's operating principles and gray wolf facts can be found on WDFW's website." (Source: WDFW)


The Industry of Wildlife Crime


According to USFWS, the illegal trade industry of wildlife and wildlife products is estimated to generate money in the billions of dollars. The black market for wildlife is considered to be perhaps only second to the drug trade worldwide. During the 1990's one ounce of rhino horn was sold in Yemen for $1,687 which is far greater than the $667 that is the estimated value of gold. The black market trade is thought to be fueled more and more annually by the growing use of the internet by illegal wildlife dealers. The anonymity of the internet is allowing individuals to work undetected, however the Service is also able to pursue wildlife dealers without their knowledge of being wildlife officers. Read more on illegal trade and the service's effort to stop it on The Outdoor Wire: www.theoutdoorwire.com.


Calling All Dianas!


September 1, 2007 is the deadline for getting in applications for this prestigious award to be given at the Reno convention, January 23-26, 2008, along with the other major awards. The Diana Award is presented each year to the woman hunter who has excelled in international big game hunting and remains committed to the SCI mission statement. Of express importance is the time and effort candidates have personally given to enhance wildlife conservation and education. One of the most prestigious awards bestowed in the world of hunting, the Diana Award promotes, encourages and recognizes that special woman hunter who has elevated the sport and inspires others to do likewise. We invite women hunters to participate in this exciting process. The deadline for completion and return of these applications is September 1, 2007. Nomination forms can be sent electronically if you contact Doug Luger at the Trophy Records Department, (520) 620-1220, ext. 265. If you have any questions, please contact Arlene Hanson at (307) 587-5796, or Trophy Records Department.