August 17, 2007 "In The Crosshairs"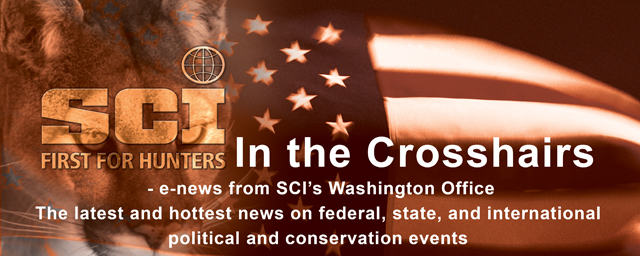 August 17, 2007


President Bush Issues Executive Order Supporting Hunting and Conservation

On August 16, 2007, President George W. Bush signed an important Executive Order promoting the importance of hunting and wildlife conservation and requiring Federal agencies to expand and enhance "hunting opportunities and the management of game species and their habitat." The E.O. directs Federal agencies to consider the impact of Federal activities on hunting and to work with State and Tribal governments, and non-governmental organizations, to advance hunting opportunities and game animal conservation. The E.O. also requires the Federal agencies to "respect private property rights and State management authority over wildlife resources." The E.O. is available at http://www.whitehouse.gov/news/releases/2007/08/20070817.html.


Draft Michigan Wolf Management Plan Available for Public Review


The Department of Natural Resources announced today that the draft Michigan Wolf Management Plan is available for public review and comment until November 14, 2007. This plan will be central to the management of wolves in Michigan now that the Federal government has delisted wolves in the Great Lakes area. The draft plan's goals will be to: 1) maintain a viable Michigan wolf population to avoid re-listing; 2) maintain positive wolf-related interactions at socially acceptable levels; 3) minimize negative wolf-related interactions; and 4) conduct wolf management according to methods acceptable to Michigan society. Comments can be emailed to: wolf_comments@michigan.gov; or mailed to: Wolf Plan Comments, Attn: Endangered Species Coordinator, Michigan DNR Wildlife Division, P.O. Box 30444, Lansing, MI 48909. Following the public comment period, the plan is expected to be completed by Spring 2008.


BLM Withdraws Energy Leases on 42 Parcels in Utah


The Theodore Roosevelt Conservation Partnership reported today that the Bureau of Land Management (BLM) has deferred 42 parcels for its Aug. 21 oil and gas lease sale because of wildlife concerns related to mule deer and sage grouse. The BLM's reversal closely follows a similar decision made by the agency in Montana, in which 73,000 acres were pulled from auction after they were protested by the TRCP due to concerns over planning for sage grouse populations.