August 21, 2009 "In The Crosshairs"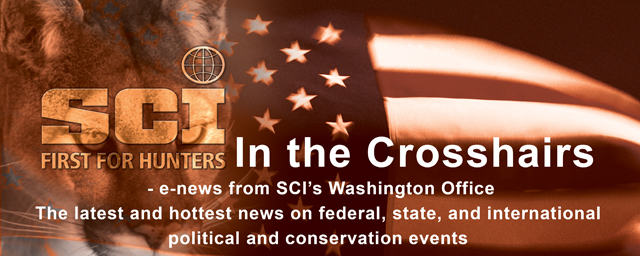 August 21, 2009


Firearms Industry Rejects National Park Service Classification Of Traditional Ammunition As A Health Threat

"NEWTOWN, Conn.--In response to an announcement regarding a National Parks Service program encouraging hunters to voluntarily switch to alternative ammunition, the National Shooting Sports Foundation rejected NPS's categorization of traditional ammunition as a health threat. NSSF is offering to work with the National Park Service to develop measures to educate hunters about steps they can take to prevent scavengers from ingesting lead fragments of spent traditional ammunition. The park service is proposing to ban, at a minimum, the use of lead bullets, shot and sinkers in the park system by NPS personnel.

While no scientific evidence supports restricting the use of traditional ammunition containing lead components, the firearms industry believes that establishing voluntary measures is a more reasoned step than banning traditional ammunition, a drastic policy decision unsupported by science. NPS has raised concerns that lead bullet fragments found in game meat could cause lead poisoning in humans, a charge not borne out in scientific studies, including a recent Centers for Disease Control and Prevention report."  (Source: NSSF Press Release) MORE…


SCI Applauds Defeat Of Expansion Of Lead Ammo Ban In Condor Range


Safari Club International is pleased that the California Fish and Game Commission voted against extending the current lead ammunition ban for big game hunting to the hunting of small game and upland birds in so-called condor "range."  SCI filed comments that agreed with the finding of the California Fish and Game Department that the extension of the ban was not supported by the science.  Hunters must retrieve small game and upland birds and there is no evidence that condors feed on the carcasses of species in the wild in any significant manner.  SCI also pointed out the adverse impact ammunition bans have on hunter participation and recruitment.  The Commission voted 4-1 against the proposed expansion of the lead ammunition ban.  In addition, at the August 6 hearing, members of the public presented a great deal of data and information questioning the scientific basis for the earlier adoption of the big game hunting lead ban.  MORE…


Hunters Would Cull North Dakota Elk Herd Under Agency Plan


"The National Park Service plans to enlist hunters to thin a booming elk population in North Dakota's Theodore Roosevelt National Park. The agency's preferred management plan calls for using volunteers to reduce the elk herd in the park's southern unit from its current 900 animals to between 100 and 400 animals.  If approved, the plan would go into effect next fall. To participate, hunters must demonstrate proficiency with firearms and agree to work in teams under the supervision of park staff. Elk carcasses will be tested for chronic wasting disease, which causes weight loss and behavioral changes in elk and similar species. If negative for infections, carcasses will be donated to the state or approved organizations.  'This approach gets the herd down to a size that park resources can sustain ... and gives us the flexibility we must have to better manage all of the park's wildlife over time,' acting NPS Director Dan Wenk said. An agency spokesman stressed that the plan is not meant as an authorization for hunting, which is banned in national parks, but is aimed at culling a dangerously bloated population. A similar approach is being used in Colorado's Rocky Mountain National Park.  For more than two years, the Park Service has discussed several options for reducing elk herds at Theodore Roosevelt, including using sharpshooters in helicopters, euthanasia, or rounding up and transporting some elk to another location.  The service aims to kill 275 elk per year for two years, after which the plan will be re-evaluated. Should the current plan prove ineffective, the volunteer shooting option may be supplemented with roundups and euthanasia.  The public has a month to comment on the proposal, which a final decision expected sometime by the end of the year.  Sen. Byron Dorgan (D-N.D.), who last month added a provision to the Senate's Interior appropriations bill requiring the Park Service to use qualified hunters, applauded the announcement as a 'victory for common sense.'  'This a good solution that will save taxpayers money, and allow qualified North Dakota hunters to play a part in this elk management plan,' Dorgan said in a statement.  The Park Service informed Dorgan in a letter yesterday that the state could decide to give elk carcasses to volunteer shooters." (Source: E&E News.net; Eric Bontrager)
SCI members are encouraged to comment in support of the plan.  Information about the park's proposal to use hunters as volunteer agents can be found at here.  Comments must be received by the National Park Service no later than September 9, 2009.


Water Dispensaries Keep Mountain Bighorn Sheep Alive


"A herd of desert bighorn sheep deftly scramble up a rocky hillside in the Mojave National Preserve as the rumble of approaching trucks breaks the silence. The pickups, each hauling plastic tanks filled with water, come to a stop in a cloud of dust. Soon, the drivers stretch fire hoses from the truck to two big holding tanks that feed a manmade watering hole -- a lifeline for the bighorn and other wildlife that lay claim to this inhospitable landscape. There are 72 'drinkers' built and maintained across the desert from Interstate 10 north to Death Valley by volunteers with the Society for the Conservation of Bighorn Sheep. The group is a mix of conservationists and hunters whose efforts started 50 years ago when the founders began helping the struggling sheep population. The work has grown more critical in recent years, they say, as desert springs dry up from drought and from a dropping water table as supplies are siphoned away by development in outlying areas." (Source: The Press Enterprise Online) MORE…
SCI Foundation and SCI Chapters have funded a mule deer research project in the East Mohave Preserve that is testing for a behavioral and physiological response to the presence and absence of water in the desert landscape.  In one area of the Preserve, water availability is increased year round with manmade water sources.  If water is a limiting factor to mule deer, the experiment should show differences in recruitment and body condition between the areas with low water availability and areas with high water availability.
"For people who have an opinion about grizzly bear hunting, the time to speak up is now. Three state agencies—Montana Fish, Wildlife and Parks (FWP), the Wyoming Game and Fish Commission and the Idaho Department of Fish and Game—are looking for comments on proposed guidelines for future bear hunting seasons. The hunts, according to the agencies, would only take place if grizzly bear populations are robust enough to withstand the "discretionary" mortality. According to FWP, none of the states is considering a grizzly hunting season at this time. But if populations ever swell to the point where there are "surplus bears," Montana, Idaho and Wyoming have drafted an agreement for developing quotas and other matters related to bear hunting. (The number of grizzlies in Yellowstone National Park and the surrounding ecosystem has increased from about 136 bears in 1975, when they were listed as a threatened species, to more than 500 bears today, the FWP says.)" (Source: New West Missoulan Online) MORE…


Fish & Game Limits Hunters To 220 Wolves


"The Idaho Fish and Game Commission will allow hunters to kill a fourth of the state's estimated wolf population in organized hunts this fall and winter.  Commissioners voted 4-3 at a Monday afternoon meeting in Idaho Falls to adopt the number, one of three options they considered. With about 1,020 wolves predicted to call Idaho home, hunters across the state's 12 wolf-management zones will be allowed to take 220. An arrangement with the Nez Perce Tribe will provide for a 35-wolf hunt on its land, bringing the total to 255 wolves.  The fall hunt - set to start in some areas in just two weeks - will be the state's first. Though a hunt was planned last year, a court injunction and later the return of the wolf to the endangered species list kept the animal under federal control.  The animal was once again taken off the list this spring, and Commission Chairman Wayne Wright - who represents the Magic Valley and who voted for hunting of nearly half the state's wolves - made it clear during an afternoon news conference that the state's had quite enough of sitting on the sidelines. He called for some environmental groups 'to abide by their previous promises,' and for the federal courts reviewing the delisting 'to put science above partisan ideology.'"  (Source: Times-News: Magicvalley.com; Nate Poppino)  MORE…
On August 20, 2009, Defenders of Wildlife and several other environmental groups filed a motion for a preliminary injunction to place the wolves of Montana and Idaho back on the endangered species list, and in so doing prevent Montana and Idaho's from moving forward with their imminent wolf seasons.  SCI has intervened in the litigation and will be filing a brief to support the delisting and to oppose the injunction.  SCI will provide updates on the status of the case in future editions of Crosshairs.