August 29, 2008 "In The Crosshairs"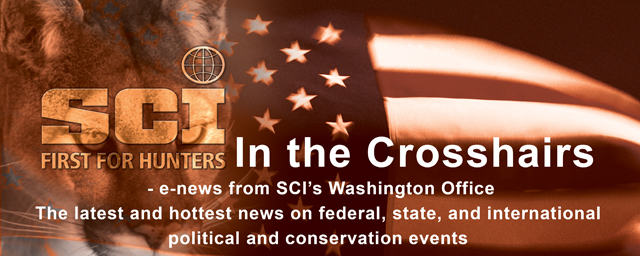 August 29, 2008

 
Victory for Wildlife Conservation and Predator Management in Alaska


Safari Club International (SCI) congratulated the voters of Alaska for defeating Measure 2 on their August 26 primary ballot. Measure 2, defeated by a 55% to 44% margin, would have limited the state's authority to manage predator populations that threaten the state's wildlife, livestock and even pets… "The true winner in this vote was Alaska's wildlife," said SCI president Merle Shepard. "Anti-hunting organizations that ignore science-based conservation should take a lesson from the defeat that Alaskan voters have dealt to them. It's time for the animal-rights groups to try to understand, once and for all, that Alaska's professional biologists at the Department of Fish and Game are best qualified to manage the state's wildlife."…SCI's Alaska Chapter president, Eddie Grasser added, "The misinformation spread by the proponents of this ballot initiative was amazing, but not surprising considering these individuals are not Alaskans and do not understand Alaska's wildlife and ecology. Many organizations rallied together to ensure that Alaskan wildlife management remained the prerogative of the state Department of Fish and Game – not out-of-state extremist groups." Read SCI's full release at www.safariclub.org

 
SCI Advances Hunting/Conservation Interests in Grizzly Bear Litigation

SCI has filed briefs in two cases in federal district court defending the U.S. Fish and Wildlife Service's decision to remove the Yellowstone population of grizzly bears from the list of threatened species under the ESA. This "delisting" returns primary management of the species to Idaho, Montana and Wyoming, paving the way for better management and the possible establishment of grizzly bear hunts in the future when appropriate. There are two cases in Idaho district court and one case in Montana district court. SCI has already filed two briefs and has several more to go. We will keep you posted.

 
Namibia: 'Elephants Under No Threat'


"The Ministry of Environment and Tourism says Namibia has more elephants now than at any other time in the last 100 years…Growing at a rate of 3.3 percent per year, the country's elephant population is more than 20000, up from 16000 in 2004…Minister of Environment and Tourism, Netumbo Nandi-Ndaitwah, said on Monday the entire population especially that of the Kunene Region was healthy and growing, with the levels of consumptive off takes being very conservative and being below the sustainable off takes." (Source: Allafrica.com) Read the full article at http://allafrica.com/stories/200808270368.html

 
Cougar Hunting Education Courses Being Considered in New Mexico


The Bozeman Daily Chronicle ran an Associated Press article last Sunday, August 24th in which various organizations in the American west are asking the state of New Mexico to adopt a hunter education course for cougar hunting. A similar education course has been developed and implemented in Colorado. The education course will address specific ways to identify male and female cougars. Enhanced hunter gender identification skills will help to reduce the number of females shot each year and will encourage a continuous breeding population of females. (Source: Bozeman Daily Chronicle)

 
Michigan's First Case of Chronic Wasting Disease Detected at Kent County Deer Breeding Facility

"LANSING - The Michigan departments of Agriculture (MDA) and Natural Resources (DNR) today confirmed the state's first case of Chronic Wasting Disease (CWD) in a three-year old white-tailed deer from a privately owned cervid (POC) facility in Kent County…The state has quarantined all POC facilities, prohibiting the movement of all - dead or alive - privately-owned deer, elk or moose. Officials do not yet know how the deer may have contracted the disease. To date, there is no evidence that CWD presents a risk to humans…DNR and MDA staff are currently reviewing records from the Kent County facility and five others to trace deer that have been purchased, sold or moved by the owners in the last five years for deer and the last seven years for elk. Any deer that may have come in contact with the CWD-positive herd have been traced to their current location and those facilities have been quarantined." (Source: http://www.michigan.gov/dnr) Read the full release by the Michigan Department of Natural Resources at http://www.michigan.gov/dnr/0,1607,7-153-10371_10402-198865--,00.html.

 
Roadless Rule Ruling Creates New Headaches


On August 12, 2008, Wyoming federal district court Judge Clarence Brimmer struck and issued a preliminary injunction against the U.S. Forest Service's application of the "roadless rule" – a regulation, adopted by the Clinton Administration, that prohibits the building of new roads in undeveloped forest areas. Judge Brimmer's injunction operates in direct conflict with another court ruling, in which a California federal District Court judge ordered the Forest Service to comply with the Roadless rule. The Forest Service finds itself in a precarious legal position in which compliance with one court's order will result in the violation of the other court's order. The California court's ruling has been appealed to the Ninth Circuit Court of Appeals and it is likely that the Tenth Circuit will be asked to review Judge Brimmer's ruling. At the moment the fate of the Roadless Rule remains both confusing and uncertain. SCI will keep you apprised of new developments as they arise.