August 31, 2010 "In The Crosshairs"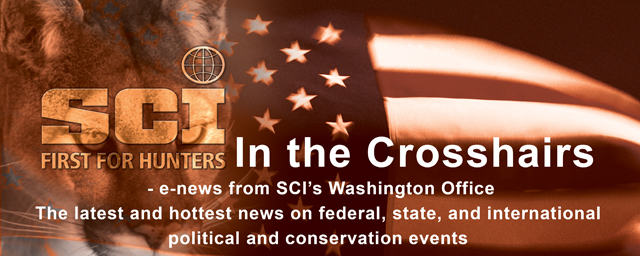 August 31, 2010

EPA Denies Petition Calling For Lead Ammunition Ban
"Washington, DC – The U.S. Environmental Protection Agency (EPA) denied a petition calling for a ban on the production and distribution of lead hunting ammunition. EPA sent a letter to the petitioners explaining the rejection – that letter can be found here." (Source: EPA.gov) Read the full press release at this link: http://bit.ly/bbb4Bw.

SCI-PAC Summer Newsletter – Gearing Up For 2010 Elections
SCI's efforts to build the Political Action Committee (SCI-PAC) into a formidable electoral force are bearing fruit - and our right to hunt will be the beneficiary. SCI-PAC is fully engaged in the 2010 election cycle with several new efforts to protect the hunting rights of SCI members. Read all about these endeavors in the 2010 Summer SCI-PAC Newsletter: HERE.

Have You Hunted Bear or Caribou on Unimak Island in Alaska?
SCI's Litigation staff is researching a lawsuit filed by the State of Alaska against the U.S. Fish and Wildlife Service that concerns wolf and caribou populations that live on Unimak Island. Due to heavy wolf predation, the caribou on the island have all but disappeared. Recently, the U.S. Fish and Wildlife Service refused to allow the Alaska Department of Fish and Game to lethally remove seven wolves from the island in order to conserve the caribou herd. SCI is looking for members who have in the past or plan in the future to hunt caribou or bear on Unimak Island and who would be willing to sign a sworn statement that could help SCI participate in the litigation to defend Alaska's ability to manage predator populations on federal lands within the state. Please contact SCI Director of Litigation Anna Seidman at aseidman@safariclub.org or 202-543-8733.

The Outdoor Channel's Conservation Corps And National Public Lands Day
Safari Club International is working with the Outdoor Channel in conjunction with National Public Lands Day (NPLD) to strengthen volunteer efforts and to tackle the ever increasing problem of access to America's back yard – public lands and chapters are invited to join in this amazing effort to keep the Great Outdoors great. This Sept. 25 more than 175,000 Americans will take part in NPLD, the nation's largest one-day effort to protect, beautify and restore our nation's public lands. National Public Lands Day offers people of all ages, in cities, suburbs and rural areas the opportunity to pitch in and help America's lands by planting trees, restoring trails, removing invasive species and more. Learn more about the Outdoor Channel's efforts on National Public Lands Day by clicking HERE.

U.S. Senate Passes Legislation Important To America's Gun Industry, Hunters
The United States Senate passed a major piece of pro-sportsmen legislation that will help firearm and ammunition manufacturers grow business and help strengthen wildlife conservation funding. The Senate, by unanimous consent, passed H.R. 5552 the "Firearms Excise Tax Improvement Act of 2010" or so-called FAET legislation sponsored in the U.S. House of Representatives by Congressional Sportsmen's Caucus (CSC) Member and former Co-Chair Rep. Ron Kind. The bill passed the U.S. House last month by an overwhelming 412-6 vote.
Safari Club International lobbied on behalf of the Firearms and Ammunition Excise Tax legislation at the past two May Legislative Lobby Days. The legislation was supported by a broad coalition of sportsmen and conservation groups, including the Congressional Sportsmen's Foundation (CSF), National Shooting Sports Foundation (NSSF), and the National Rifle Association (NRA). (Source: AmmoLand.com) Full Release.

Updates On Gray Wolf In Northern Rocky Mountains
· Legislation Removing Gray Wolf from Consideration under Endangered Species Act – H.R. 6028 would remove the gray wolf from consideration under the Endangered Species Act by amending the 1973 act "to prohibit treatment of the Gray Wolf as an endangered species or threatened species." The move comes in response to a recent court ruling effectively reinstating endangered status for the wolf. H.R. 6028, was introduced by Texas Rep. Chet Edwards. Full Press Release.
· Montana will appeal wolf ruling - Montana's top wildlife official confirmed today that his agency will appeal the recent district court ruling that returned the region's recovered wolves to the federal endangered species list. Joe Maurier, director of Montana Fish, Wildlife & Parks, told a coalition of wildlife conservation and livestock groups that Montana has "a recovered wolf population and we will appeal." http://es.pn/cyvFIW

Elk Cull -- Was Your Volunteer Application Selected?
Theodore Roosevelt National Park has selected the volunteers who will help the park cull its elk population. The National Park Service has just notified all successful applicants. If your application was successful, please contact SCI's staff to help prepare to defend against any challenges to the cull and the use of volunteers. Please contact Anna Seidman, Director of Litigation, at aseidman@safariclub.org or 202-543-8733.

New Jersey Offers Bear Hunting Seminars
"The NJ DEP Division of Fish and Wildlife is currently offering free Bear Hunting Seminars, which uncertified hunters must attend in order to obtain a permit for the bear season included in the recently adopted Comprehensive Black Bear Management Policy (CBBMP). The CBBMP will become effective upon publication in the NJ Register in early fall. Certifications remain valid for hunters who attended a NJ Bear Hunting Seminar from 2003 to 2006. Those who are interested in bear hunting but do not have certification are encouraged to register for a seminar as soon as possible. The first round of seminars is now posted at www.wildlifelicense.com/nj/ALS/course/course_report.php where hunters must register to attend. Seminars will be offered monthly until the season opens, including the weekend before the season to accommodate hunters coming from out-of-state." http://www.state.nj.us/dep/fgw/index.htm.

Updates On SCI Legal Battles
SCI Assists In Minnesota Wolf Delisting Lawsuit – A Minnesota federal court has granted SCI amicus status to assist two Minnesota citizens in the suit they have filed against the U.S. Fish and Wildlife Service over the agency's failure to delist the wolves of the Western Great Lakes. Shortly after the two plaintiffs brought suit, the FWS filed a motion to dismiss the case. SCI, together with the NRA, has filed an amicus curiae brief to defend against the motion to dismiss. Plaintiffs, SCI and the NRA are arguing that the wolves of Michigan, Minnesota and Wisconsin are recovered and do not belong on the endangered and threatened species lists and that the FWS has a duty to complete the wolf delisting that the agency attempted but withdrew back in September of 2009.
SCI Secures Victory In Wild Horse Case – SCI helped defeat an attempt to stop a major Bureau of Land Management (BLM) wild horse and burro gather at the Twin Peaks horse management area in northeast California/northwest Nevada. After granting SCI amicus status, the U.S. District Court rejected an emergency request from a horse group, In Defense of Animals (IDOA), to halt the gather, which was scheduled to being on August 11. SCI members in Nevada again stepped up to provide declarations in support of SCI's participation in the case. SCI filed a brief and participated in the hearing, emphasizing the harm that the excess horses and burros cause the range and other wildlife, including game species. After its defeat in the District Court, IDOA asked the Ninth Circuit Court of Appeals for an emergency injunction to halt the gather. SCI again obtained amicus status and filed a brief in opposition to the request. The day before the gather was set to begin, the Ninth Circuit also rejected that request. The gather began as scheduled. In the first week, the BLM gathered 592 horses and burros, with no gather related deaths. SCI will continue to participate in the District Court case.