September 5, 2008 "In The Crosshairs"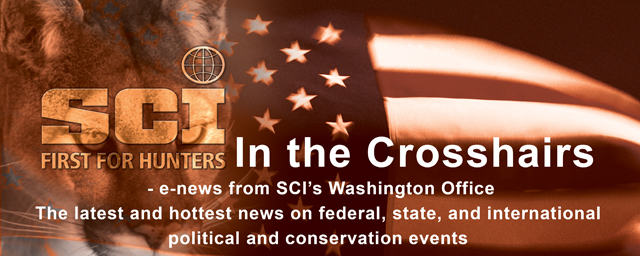 September 5, 2008

 
Namibia: Conservation Could be Engine For Growth


"TOP business personalities and conservation experts from 26 countries are gathering in Namibia this weekend to discuss links between business expertise and environmental projects in Africa to unlock the potential of protected areas for socio-economic development…Launching this year's council meeting of the Leadership for Conservation in Africa initiative, which was started in 2006, President Hifikepunye Pohamba said in Windhoek yesterday that the development of protected areas into 'economic engines' would contribute to poverty alleviation and employment creation on the continent, while international business expertise and investments could help unlocking this potential through tourism, trophy hunting and sustainable management." (Source: allafrica.com) Read the full article at http://allafrica.com/stories/200809050970.html.

 
PA Game Commission: Minimum Age Lowered for HTE 'Independent Study'

"HARRISBURG, Pa. Aug 29, 2008 -- Joining a nationwide trend among conservation agencies to provide quality hunter education on-line, the Pennsylvania Game Commission announced that it is lowering the minimum age required for its 'independent study' Hunter-Trapper Education Class to 14 years of age. When first initiated in 2006, the course was open to any interested first-time hunter who was at least 17-years-of-age… 'While hunting is recognized as an opportunity for families to spend quality time together, the actual process of obtaining a first-time hunting license is often the main impediment to people wanting to start out. Distance learning allows students to conveniently study at their own speed with a minimum amount of classroom time.' …Registration is available on-line at the Game Commission's website ( www.pgc.state.pa.us ) by clicking on the "Hunter Education Classes" icon in the center of the homepage. After reading the instructions on how to register, click on the 'Go to Calendar' button at the top of the page, and then scroll down and select an "Independent Study" class meeting your scheduling needs." (Source: www.marketwatch.com) To read the full release from the PA Game Commission: http://www.pgc.state.pa.us/pgc/cwp/view.asp?Q=174849&A=11

 
Deer Breeders Welcome News that Kent County Chronic Wasting Case was Isolated

"GRAND RAPIDS -- Test results on more than 50 deer killed and taken off a northern Kent County deer breeding farm last week all have come back negative for chronic wasting disease, Michigan Department of Agriculture officials said Wednesday…That finding means only one deer, a 3-year-old doe, was found to be infected with the fatal neurological disease. Officials are waiting for test results on four other deer taken off two deer farms, in Osceola and Montcalm counties. Both were breeding facilities that received deer from the Kent County farm, which has not been identified…'It's a relief that we don't have 40 that are positive,' said Steve Halstead, the state veterinarian. 'That (result) would suggest that anything that moved out of that herd would be positive.'…Deer breeders also are relieved. A negative test means the MDA can start to selectively lift the quarantine imposed on 559 deer farms last week. The quarantine was put in place to stop deer from moving between facilities, possibly spreading the disease… Negative test results for CWD in the last four deer could mean some quarantines will be lifted starting next week. Agriculture officials are working up the details for how that would happen." (Source: Grand Rapids Press Online) Please read the full article here.

 
National Hunting and Fishing Day, Saturday, September 27, 2008


"Everyone knows about the great traditions and family values that make hunting and fishing special, but fewer people realize the tremendous conservation and economic benefits provided by America's sportsmen and women. Are you aware of the benefits to your state? Take a closer look at a force as big as all outdoors. Please join our nationwide celebration of National Hunting and Fishing Day and help us build public support for outdoor lifestyles." http://www.nhfday.org/index.php

 
Hunting Season has Begun


Hunters, as the season approaches for most big game adventures it is important to keep a few things in mind. Hiking through the woods in pursuit of game can be extremely taxing and individuals should take proper precautions when going afield. Especially with the heat of early fall, bring enough water for yourself. If you're hunting with your most trusted hunting partner (Fido, Rover, or Rooster) and in dry conditions, bring some for him or her too.

 
SCI Web Radio Covers Vital Issues


SCI newly available Web Radio features interviews and commentaries on the varying topics that are currently affecting hunters. Please check out Episode 5 today. www.safariclub.org/webradio.