September 11, 2009 "In The Crosshairs"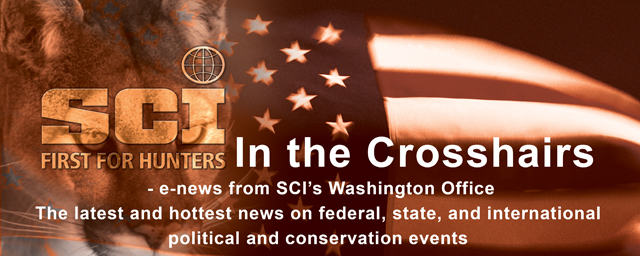 September 11, 2009


Safari Club International Condemns Rhino Poaching By Criminals Posing As Hunters

Safari Club International (SCI) condemns the recent poaching of white rhinoceros in South Africa committed by criminals posing as legitimate hunters.  This elaborate impersonation scheme has allowed several poachers to obtain rhino hunting permits, then put the rhino horn into the illegal commercial trade. 
SCI President Dr. Lawrence Rudolph applauds the new laws that the South African Minister of Water and Environmental Affairs, Buyelwa Sonjica, has introduced to deal with this and pledged SCI's support to raise awareness of this issue.   "We call upon the officials of other governments, both those that may be involved in the export of the illegal rhino parts and those on the importing end, to work closely with South Africa to put an end to this trade and upon hunt outfitters to report any suspicious approaches to the authorities," said Dr. Rudolph. MORE…


Victory in Court – Judge Allows Wolf Hunts In Idaho And Montana To Continue

Washington, DC – The participation of Safari Club International (SCI) in a federal lawsuit has helped ensure that hunters in Idaho and Montana can continue hunting wolves under state seasons. The Montana federal court denied a preliminary injunction requested by Defenders of Wildlife and other plaintiffs who sued to stop the hunting season, and to challenge the delisting of Idaho and Montana's wolves.   
Following the April 2009 delisting of wolves, Idaho authorized a hunt of up to 220 wolves and Montana authorized a hunt of up to 75 wolves per season. The anti-hunting groups sued to reverse the delisting and asked Judge Donald Molloy, of the U.S. District Court for Montana, to halt the scheduled hunts on an emergency basis.
SCI is participating in the case to defend the wolf delisting and filed a brief in opposition to preliminary injunction. SCI argued that the delisting was proper, and that Montana and Idaho's limited hunts would not harm the wolf population, which is many times the number deemed necessary for continued recovery. SCI included with their brief expert testimony about the state of Alaska's wolf harvests and the difficulties Alaska has had with managing its wolf population despite large bag limits and long seasons.  MORE…


Remembering September 11, 2001…


As we go about our lives today, please take a moment to remember the atrocities of September 11, 2001.  Let us not forget those that perished needlessly on that day. Let us not forget the First Responders that bravely went into the fire to save others.  Let us not forget those that continue fighting to preserve the freedoms we all enjoy.  Let us remember that our freedom comes at a cost so please thank the members of the military who serve and protect every day.  Let us never forget…