September 17, 2008 "In The Crosshairs"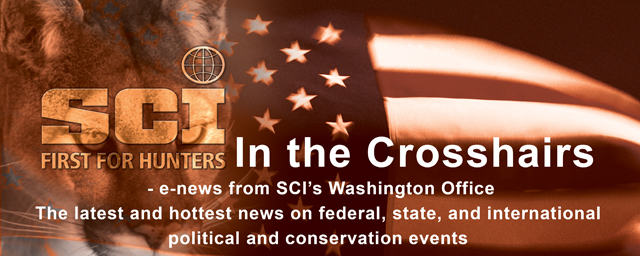 September 17, 2008

 
D.C. Second Amendment Enforcement Act Passes House, Moves to Senate

"Fairfax, VA - The U.S. House of Representatives voted today to approve the National Rifle Association (NRA)-backed 'Second Amendment Enforcement Act' in an overwhelming bi-partisan vote of 266-152. The Act, passed as an amendment to H.R. 6842, will overturn the District of Columbia's gun control restrictions that defy the recent Supreme Court ruling by continuing to limit D.C. residents' right to self-defense. This bill is necessary to enforce the U.S. Supreme Court's decision in District of Columbia v. Heller…Following passage, Chris W. Cox, NRA's chief lobbyist remarked, 'From the moment the Supreme Court overturned this failed gun ban, elitist politicians have sought to undermine the Court's decision with bogus emergency regulations that all but stop residents from exercising their Second Amendment rights. NRA wants to make sure D.C. residents are able to protect themselves and their families.' (Source: www.nraila.org) Please read the full article at http://www.nraila.org/News/Read/NewsReleases.aspx?ID=11548.

 
Hunter Green, The People Behind a Conservation Success Story


"Today's green movement uses certain buzzwords -- organic, locavore, renewable -- to the wry amusement of 15 million to 20 million of us who've actually lived the eco-friendly lifestyle that these words describe… We are hunters…As a subset of America, we're admittedly somewhat smaller than we used to be. Our numbers have been steadily pressed beneath a culture growing ever faster, more complex and distant from its rural ancestry. Now, like growing vegetables, gathering fresh eggs and raising farm animals for the table, the proclivity and skill to harvest Earth's bounty of wild game -- and to pass on this tradition to those longing for simpler ways of life -- reside in only a relative few of us…The meats that hunters and their families consume are grown unfettered by hormones, processed feeds or fences. Low in fat and cholesterol, high in protein, wild game is organic defined. The American Heart Association and American Cancer Society recommend venison, rabbit, pheasant and duck over many commercially produced, packaged and distributed alternatives…Today, every state has thriving game populations in habitats that sustain hunted as well as non-hunted species. It's a richness of life that many Americans enjoy regardless of their environmental persuasion. Yet most also take it for granted, unaware of the mechanisms that sustain this public resource. They see more wildlife every year but are oblivious to why that's so…Begun well over a century ago, the success of modern conservation can only be fully understood against the backdrop of historical slaughter for markets that took 40 million buffalo to the brink of extinction and 5 billion passenger pigeons beyond it. It was hunters who led a revolution of new values, new science and new approaches for responsible use of these resources. Seasons, game limits and wildlife conservation funds all came from hunters, and we are immensely proud of that effort. Because of us, white-tailed deer, pronghorn antelope, elk, wild turkeys, wood ducks and hundreds of other cherished life forms transitioned from vanishing to flourishing." (Source: Washington Post Online) Read the full article by National Shooting Sports Foundation President, Steve Sanetti at http://www.washingtonpost.com/wp-dyn/content/article/2008/09/14/AR2008091401640_pf.html.


Hunting, Without Limits


"For some years, Marylanders Mark Hoke and Tracy Groves have organized hunting outings for veterans coming back from the war with disabilities. They go to a lot of trouble arranging food to eat, fields to hunt and amateur guides to help. In the end the show goes on, but often few of the principals show, sometimes none at all…So it was last week, as 20 or so well-meaning folks turned out to host a half-dozen recovering soldiers from Walter Reed Army Medical Center at a dove shoot at Cody Kittleman's farm in Howard County, complete with steamed crabs, corn on the cob and barbecued beef. The Paralyzed Veterans of America planned to send six young men from the hospital for the day, but in the end the guests opted not to come… It's a pity, because it was a beautiful day to be out, and mixed into the crowd were a trio of extraordinary role models for anyone facing the challenge of life in a chair. 'I've been in one for over 50 years,' said Paul McDowell of Bowie, who's fit, busy and content as he nears 70. 'I have no complaints.'… McDowell spent three weeks this past spring on a hunt in Africa sponsored by the Safari Club of America[Safari Club International]. He has photos of his exploits there, where he successfully hunted kudu, springbok, blue wildebeest and several other big-game species. Last fall, he and fellow wheelchair hunter Bob Tharpe of Laurel drove out west and bagged antelope and mule deer, as they had several times before." (Source: Washington Post Online) Read the full article at http://www.washingtonpost.com/wp-dyn/content/article/2008/09/13/AR2008091301876.html.

 
Safari Club International Continues Fight in Support of Grizzly Bear Delisting

SCI recently has filed a total of four legal briefs in two separate lawsuits to defend the delisting of grizzly bears in the Yellowstone area. The delisting returns primary management of this species to the States and paves the way for future sustainable hunts of grizzly bears when appropriate. The cases are in district court in Idaho and Montana. SCI has stressed that well-regulated hunting and other limits on mortality help ensure the grizzly bear remains recovered into the future. SCI also presented legal arguments on issues such as habitat protection, future translocation of bears to ensure genetic diversity, the adequacy of funding for state management plans, and the historic range of the species. Of the three cases challenging the delisting, briefing in two of the cases is done or nearly done. Briefing in the other case has not yet begun.

 
Namibia: Country to Draft Strategy to Protect Lion Population


"Namibian experts will draft a national strategy to conserve the country's approximately 900 lions, which mostly live in protected areas…While they draw many tourists, they are also a problem for farmers living on the borders of game parks…The strategy is part of a larger project: in 2006, southern African countries set the goal of preserving the region's lion populations and of striking a balance between their value for tourism and trophy hunting and the threat they pose to livestock in farming areas." (Source: AllAfrica.com) Please read the full article at http://allafrica.com/stories/200809151156.html.

 
Safari Club International Files Lawsuit Challenging Polar Bear Listing


SCI filed a lawsuit on September 8th challenging the listing of the polar bear as "threatened" under the Endangered Species Act. The listing led the U.S. Fish and Wildlife Service (FWS) to ban imports of polar bear trophies from Canada. SCI's lawsuit, filed in the U.S. District Court for the District of Columbia, asks the Court to reverse the listing of the polar bear, in order to effectively eliminate the import ban. In a separate lawsuit filed in May 2008, SCI asked the same court to reverse the ban on imports. The State of Alaska has also filed a lawsuit challenging the listing of the polar bear in the same court. By cutting off importation by U.S. citizens, FWS's listing of the polar bear interferes with the positive conservation benefits of well-regulated hunting. The economic benefit U.S. hunters bring to the native communities helps make polar bear conservation more important, with the Canadian governments spending well over $1,000,000 annually on polar bear conservation and management. In the U.S., the over 900 imports since 1994 have created close to $1,000,000 for polar bear research and conservation.

 
Polar Bear Action Alert


Thank you to all the SCI members who responded to an earlier action alert about polar bear hunting and importation. We are reviewing your responses and, if needed, will be in contact with you. At this time, we are not able to respond to everyone individually.
If you hunted a polar bear this Spring (2008) and submitted an import permit application to the U.S. Fish and Wildlife Service, but have not already provided us with your contact information, please do so right away. Contact SCI Litigation Counsel Doug Burdin at dburdin@safariclub.org. Thank you.