September 19, 2008 "In The Crosshairs"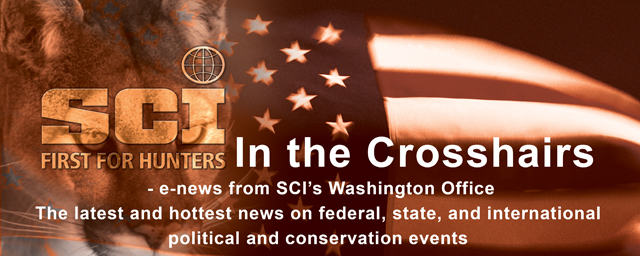 September 19, 2008

 
The Sportsman's Choice: Field & Stream Interviews the Presidential Candidates

"Every four years, politicians who wouldn't know a duck gun from a deer rifle start talking quite a bit about hunting and fishing. That's because they know that sportsmen care passionately about issues like conservation and gun rights, and we vote…This year is no different. Neither the Democratic nor the Republican nominee spends much time in the field personally, but each has spent a lot of effort trying to convince sportsmen that he is their better choice. And the stakes have never been higher. As the country's energy crisis deepens, fish and wildlife are being threatened by development like never before. And the recent victory for gun owners in the Supreme Court is not going to keep gun control advocates from trying to restrict the Second Amendment…The next president is going to influence sportsmen in a major way, so we sat down with each contender to hear his opinions on conservation, guns, and the outdoors. A note on the interviews: For over 100 years it has been Field & Stream policy not to make endorsements. We know our readers are too smart to be told whom to vote for. Instead, we try to give you the information you need to make up your own mind." (Source: Field & Stream Online) Read the full interview with both candidates at http://www.fieldandstream.com/article/Hunting/The-Sportsmans-Choice-Field--Stream-Interviews-the-Presidential-Candidates

 
VITAL INDUSTRY LEGISLATION – LEGISLATIVE TIME CRUNCH: U.S. House and Senate MUST VOTE on Excise Tax Reform Bills

"Legislation to rectify a longstanding inequity in the collection of the firearms and ammunition excise tax (FAET) – a major source of wildlife conservation funding – needs to be heard before the end of the current legislative session in both the U.S. House of Representatives (H.R. 6310) and the U.S. Senate (S. 3331). If we are going to ensure hunting and conservation efforts throughout the United States, passage of this legislation is essential… While this legislation (H.R. 6310 and S. 3331) will not reduce the amount of the tax collected, it will allow the firearms and ammunition industry to pay the FAET on a quarterly basis, the same payment schedule as every other industry that supports conservation. Currently firearms and ammunition manufacturers must pay the FAET bi-weekly. This payment schedule forces many manufacturers to borrow money to ensure on-time payment, and industry members spend thousands of man-hours administering the necessary paperwork to successfully complete the bi-weekly payments -- monies that are due long before manufacturers are paid by their customers." Please read NSSF's full alert at http://nssf.org/legal/links/s3331.cfm.
The National Shooting Sports Foundation has been working with Safari Club International and other sportsmen's organizations to help promote and pass this vital legislation.

 
Hunting in California Condor Range – Confusion High; Turnout Low


"While knowledge about the lead ammunition ban within condor range is extremely high among hunters, the number of sportsmen participating in the A zone deer season is off this year, according to Department of Fish and Game wardens patrolling the hunt zone. …  Roland Takayama, DFG warden captain for the Ventura and Santa Barbara county area, said that while virtually all hunters contacted during the A zone opener in late August knew about the non-lead ammunition requirement, there was still confusion about what ammunition was legal. ... He also said that a lot of hunters -- because of the cost of the new ammunition and gasoline -- simply didn't show up to hunt this year. The wardens' anecdotal car counts and hunter contacts show that participation was down by 50 to 70 percent, depending on area. Takayama said he spoke with hunters in one camp who said some of their relatives just decided not to do it anymore because it was getting too expensive. For hunters who would purchase $8 boxes of .30-30 ammo, the idea of now paying $50 or $60 for that ammo, combined with $4-plus per gallon gasoline, kept many of them home."   Excerpted from article by Jim Matthews, The Sun, San Bernardino and the Inland Empire, 09/12/2008.  See the full article at http://www.sbsun.com/sports/ci_10442731.

 
Off-Road Hunting Rules are Confounding at Best (Minnesota)


"Hunters, hunters who ride off-highway vehicles (OHVs) and recreational OHV riders can be forgiven if they're confused by the Department of Natural Resources announcement Thursday that OHVs will be banned from "DNR forest trails'' during most upcoming firearms deer hunting seasons…The DNR said the action is intended to reduce conflicts and potential conflicts between firearms deer hunters and recreational OHV riders -- the latter defined, for this purpose, as OHV riders during most firearms deer seasons (the restriction won't apply during the October antlerless season or the muzzleloader season) who do not hold deer hunting licenses." (Source: Minneapolis Star Tribune) Read the full article here.